Following her performance in Thursday's GOP "undercard" debate, Carly Fiorina was repeatedly asked by MSNBC host Chris Matthews whether or not she believes that Bill and Hillary Clinton have a "real marriage."
The tense and awkward exchange that followed came after Fiorina opened up the undercard debate firing shots. She told the crowd that she was not just another political insider hungry to be on the campaign trail, and "unlike another woman in this race, I actually love spending time with my husband."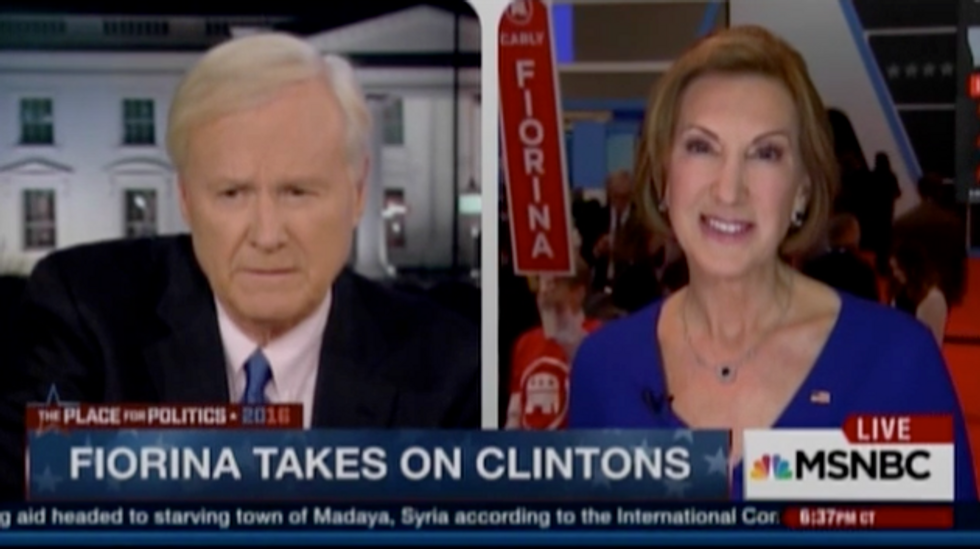 Image credit: Youtube/screenshot
However, Fiorina never fully answered Matthews' question, and instead, she just smiled and told him that the Clintons "have been married a very long time."
But that did not satisfy Matthews and he continued to press Fiorina. Still, she did not waiver and continued to offer the same answer each time.
After an awkward pause, Matthews finally asked, "Why are you hiding from an answer?"
"I'm not. I am answering your question. They've been married for a long time," Fiorina told Matthews. "Chris there are so many other things we could talk about."
Instead, Fiorina told Matthews that Clinton should be prosecuted, reminding him that she has not been "prosecuted for things that took a great warrior — Gen. David Patreus — out of office," she said. "So let's talk about that Chris."
Watch the tense exchange below:
—
Follow the author of this story on Twitter and Facebook:
[facebook //www.facebook.com/plugins/like.php?href=