Long an advocate for the release of the Iranian American Pastor Saeed Abedini, Kentucky Sen. Rand Paul praised the U.S. government as it was announced that the pastor was among four prisoners freed by Iran Saturday.
"Our prayers have been answered today, as Pastor Abedini will return home to his wife and children in America," Paul, a Republican candidate for president, said in statement Saturday. "Pastor Abedini is an incredibly brave man for risking his life for his Christian beliefs and I am pleased that our government did not sit idly by while an American citizen was persecuted abroad due to religious intolerance."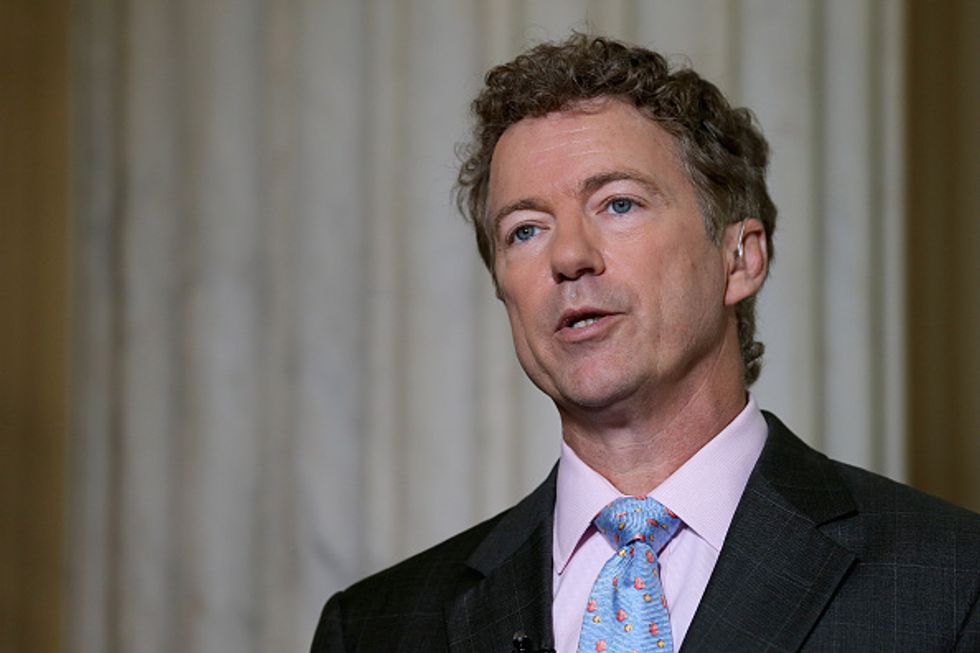 U.S. Sen. Rand Paul (R-KY). (Photo by Chip Somodevilla/Getty Images)
"The United States stands as a beacon of freedom and hope for those across the globe, and as such, we must continue to fight for the safe return of those wrongfully imprisoned abroad based on their religious beliefs," Paul said.
The libertarian-leaning senator has called for the release of Abedini, who was imprisoned in 2012, for several years. In 2013, Paul co-sponsored a Senate resolution that demanded the Iranian government release the man.
"Saeed Abedini is an American pastor that has been imprisoned indefinitely due to his Christian faith. Across the globe, Christians are under attack and this Administration is doing nothing to stop it," Paul said at the time, criticizing the U.S. government for not helping Abedini or others.
Abedini was reported to be among the four prisoners released Saturday in exchange for the U.S. dropping charges or pardoning seven Iranians. Washington Post bureau chief Jason Rezaian was reportedly also among the four freed.
"This has been an answer to prayer," Naghmeh Abedini said in a statement following her husband's release. "This is a critical time for me and my family. We look forward to Saeed's return and want to thank the millions of people who have stood with us in prayer during this most difficult time."
The Associated Press reported that the prisoners will be flown to Switzerland in a Swiss plane from Iran.
The major diplomatic breakthrough was announced Saturday as the implementation of a landmark nuclear deal appeared imminent.
In a tweet Saturday, Rep. Mark Meadows (R-N.C.) reminded his followers of another American hostage, Robert Levinson, who was taken hostage in Iran in 2007.
We're still learning details of the #Iran exchange, but I'm happy& relieved Pastor Saeed & others will be reunited with their families.

— Mark Meadows (@RepMarkMeadows) January 16, 2016
The U.S. still needs answers on American #RobertLevinson, who was last known to be jailed in #Iran.

— Mark Meadows (@RepMarkMeadows) January 16, 2016
The Associated Press contributed to this report.