Sen. Bernie Sanders (V-I) defended both his health care plan and his own health on Sunday amid suggestions that he might not be healthy enough to run for president.
Sanders, 74, promised Sunday morning during an interview on CNN's "State of the Union" that his campaign will release his medical records in order to dispel any rumors that he is not in the best of shape to be the Democrat's presidential nominee.
"Of course we're going to release our medical records. Thank God I am very healthy," Sanders said. "We will get our medical records out the same that Secretary [Hillary] Clinton has gotten her records out. It is not a problem."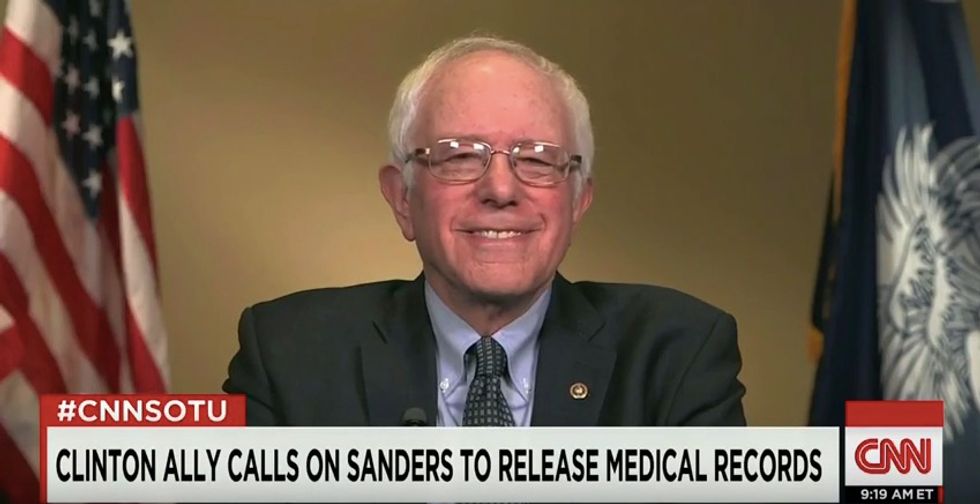 Image source: YouTube
David Brock, Clinton surrogate and founder of the Correct the Record PAC — a PAC which defends Clinton — reportedly plans to demand Sanders release his medical records as Clinton has already done, according to Politico. However, Clinton's campaign has seemingly distanced itself form Brock's demands.
.@davidbrockdc: Chill out. We're fighting on who would make a better President, not on who has a better Physical Fitness Test.

— John Podesta (@johnpodesta) January 17, 2016
Following Politico's report of Brock's plans, Sanders' campaign released a fundraising email Saturday night.
"With just two weeks to go before the Iowa caucuses, the super PAC coordinating with Hillary Clinton's campaign is reportedly launching one of the most desperate and vile attacks imaginable: they are insinuating Bernie is too old and unhealthy to be our next president," Jeff Weaver, Sanders campaign manager, said in the emai.
Speaking from North Charleston, South Carolina ahead of Sunday's Democratic presidential debate, Sanders addressed the recent attacks from presidential rival Hillary Clinton's daughter, Chelsea, on his health care plan. He said that while he was a "little disappointed" by Chelsea's recent and "inaccurate" remarks, he understood that she is campaigning on behalf of her mother.
Politifact has labeled Chelsea's comments regarding Sanders' health care plan as "mostly false."
"I've known Hillary Clinton for 25 years. I have a lot of respect for her, but her campaign should not be suggesting that my ideas will leave millions of people without health insurance," Sanders told CNN's Jake Tapper.
"I will continue the vision of FDR, of Harry Truman. I believe health care is a right for all people," the self-described socialist continued. "It will be politically difficult to achieve, but I will maintain that vision and fight for it. That's the goal I want to see."
According to Real Clear Politics' aggregated polling data, Clinton leads the Democrats vying for the nomination at 51.0 percent. Sanders follows at 38.3 percent.