GOP presidential contender Florida Sen. Marco Rubio continued to slam the Obama administration on Sunday for its dealing with the Iranian government in order to secure the release of five imprisoned Americans.
"First, let me say, they're not prisoners. These people that were being held are hostages. None of them had violated any real laws, and in fact, some of them weren't even charged," Rubio said during an interview on CBS' "Face the Nation" that aired on Sunday.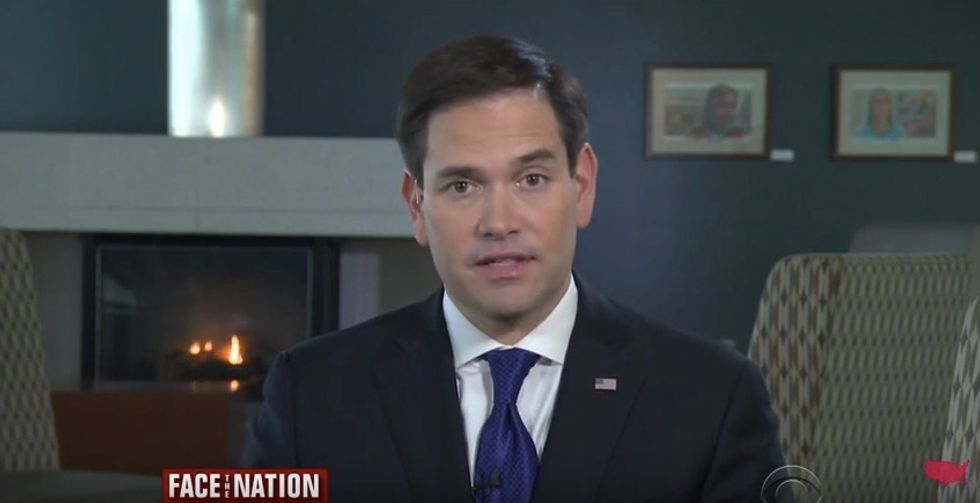 Image source: CBS News
"These people were hostages. The people America is releasing, they were convicted in a court of law after due process of helping violate sanctions," Rubio continued. "The president has pardoned them in exchange for a release of hostages, which had done nothing wrong, and it proves, once again, that nations and enemies of America around the world know there's a price for Americans. If you take an American hostage, Barack Obama will cut a deal with you."
Rubio, along with several other Republican presidential candidates, has been outspoken about the deal reached over the weekend which freed Pastor Saeed Abedini and Washington Post journalist Jason Rezaian among others.
"We're happy they're coming home, but they never should have been held prisoner in the first place," Rubio said Sunday.
The Florida senator also asserted that the Iranian capture of 10 U.S. sailors — and subsequent release — was an effort to show how powerful Iran was compared to the U.S.
"They are not our allies, they are not our friends," Rubio said. "Ultimately they released them, but only after achieving what they wanted from it, and that is to prove that if they wanted to they can grab American sailors and subject them to this treatment."
In an address to the nation on Sunday, Obama heralded the release of the five Americans as a "smart" diplomacy move.
"This is a good day," he said from the White House. "When Americans are freed and returned to their families, that's something we can all celebrate."
As the Associated Press noted, Rubio wrote to Secretary of State John Kerry in July and criticized the administration for striking the nuclear deal with Iran while Americans were still being held prisoner.
"These American citizens deserve to be released unconditionally, and I urge you to use every tool at your disposal to secure their freedom," Rubio said then.
Watch Rubio's remarks on "Face the Nation" below.