British Parliament will decide today whether  or not Republican presidential candidate, Donald Trump will be permitted to enter the U.K.  
After Trump first suggested temporarily barring all Muslims from entering the United States back in November, Britons filed a petition to deny the controversial political figure entry into their country.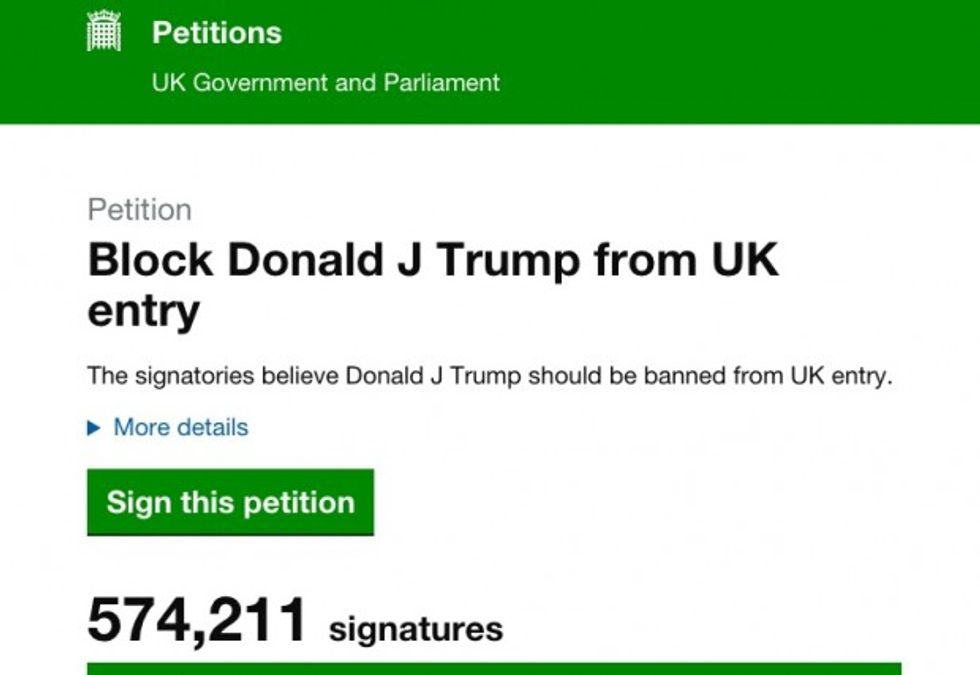 Image source: U.K. Government and Parliament
Just one day before the debate in Parliament, the petition had nearly 575,000 signatures—almost six times the 100,000 required for parliament to address the issue.
To learn more about the banning process and other cases involving well-known Americans, TheBlaze spoke with Senior Immigration Lawyer Jocelyn Howorth of Westin Associates, U.K.
Howorth described two ways a person can be barred from the U.K. One case involves an individual facing criminal charges outside of the U.K. Famous Americans who have received this type of ban in the past include Martha Stewart and Snoop Dogg. Stewart was banned for tax evasion charges, and Snoop Dogg was banned for marijuana-related charges. Both bans have been lifted, though Howorth indicated that Snoop might soon face an additional ban for a similar offense.
Another case for ban involves someone who applies to enter the U.K. and is rejected because his or her entry is "not conducive to the public good." Howorth described this as a broader criterion that has "no set definition" and allows the Secretary of State or anyone acting on her behalf to exercise "wide interpretation."
The so-called "banned list" is not  available publicly unless Secretary of State chooses to publish it, which happened in 2009. Americans Michael Savage and Mike Guzovsky have been banned for speech deemed contrary to the public good.
Back in 2013, American activists Pamela Geller and Robert Spencer were banned for expressing "anti-Islamic sentiment" on their blogs. They were due to speak at the English Defence League at the time of the ban.
"If you're on the Secretary of State's banned list, you could probably remain there indefinitely," Howorth said. This, however, is almost never the case.
In light of Trump's status as a presidential candidate Howorth deemed a ban "highly unlikely." After the issue is debated in the House of Commons, there will be a vote, after which the Secretary of State will make the final decision.
"It could destroy relations with the U.S." she explained. "I just don't think it will happen."
The measure to ban someone from entering the U.K. deals with the issues of public safety and public contentment. Howorth explained that in Trump's case, safety is not the concern.
"I certainly think this debate is a result of a petition that received over 500,000 signatures," she said. "I think this debate is about appeasing angry citizens."
But not everyone agreed that Trump's comments warranted a ban. An additional petition opposing a Trump ban received over 40,000 signatures.
Today's debate will take place at 2 p.m. local time in the House of Commons.
---