The Republican National Committee has officially dropped NBC as the host of next month's Super Tuesday debate in Houston and has instead replaced the peacock network with CNN.
"The Republican National Committee has decided to move forward without NBC's participation in our February debate in Houston, Texas," RNC chairman Reince Priebus said in a statement Monday. "The RNC has awarded the debate to CNN, who will broadcast it on Thursday, February 25th in Houston at a location to be decided."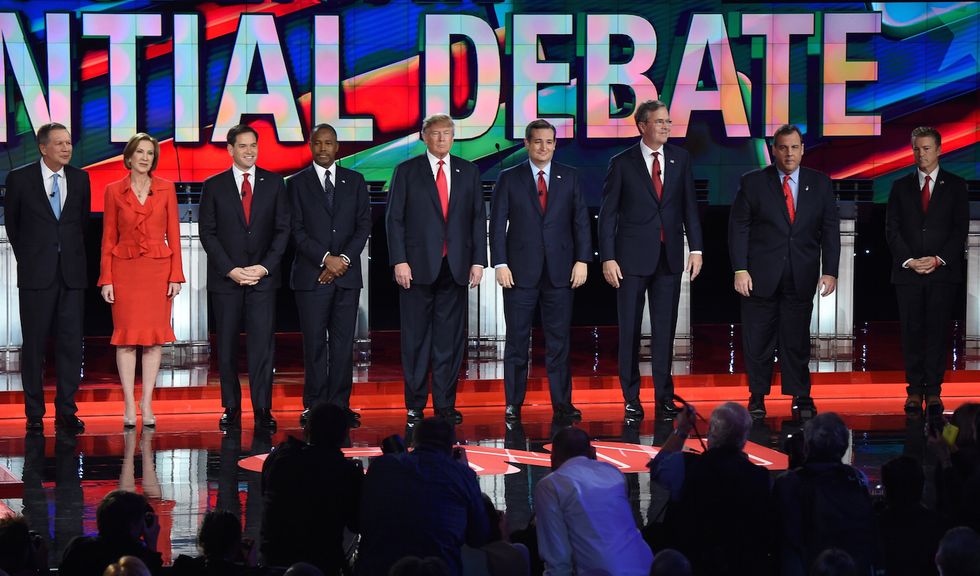 Republican presidential candidates (L-R) Ohio Governor John Kasich, businesswoman Carly Fiorina, Florida Sen. Marco Rubio, retired neurosurgeon Ben Carson, businessman Donald Trump, Texas Sen. Ted Cruz, former Gov. Florida Jeb Bush, New Jersey Gov. Chris Christie and Kentucky Sen. Rand Paul take the stage at the start of the Republican Presidential Debate, hosted by CNN, at The Venetian Las Vegas on December 15, 2015 in Las Vegas, Nevada. (ROBYN BECK/AFP/Getty Images)
The debate will take place just five days before "Super Tuesday," when voters in Texas and 13 other states cast their ballots and caucus for who they think should be the next president. CNN reported that it has not yet announced who the moderator will be.
The development comes after the RNC suspended its partnership in with NBC News over CNBC's handling of an earlier GOP primary debate. CNBC moderators Carl Quintanilla, Becky Quick and John Harwood were sharply criticized by Priebus, among others, for asking "'gotcha' questions, petty and mean-spirited in tone, and designed to embarrass [the candidates]."
What took place...was not an attempt to give the American people a greater understanding of our candidates' policies and ideas," Priebus said in a statement following the November debate.
Much was made about what might happen if the RNC did, in fact, go through with dropping NBC as host of the February debate, and speculation continued to swirl for weeks with regard to which other news organization would replace the network.
TheBlaze TV was among the list of possible hosts. TheBlaze founder, Glenn Beck, sent the RNC a letter in November requesting the the network host the event, promising a "new kind of debate, in both substance and distribution."