(TheBlaze/AP) Oregon State has suspended Jarmal Reid at least four games for tripping a referee during Sunday night's loss at Utah.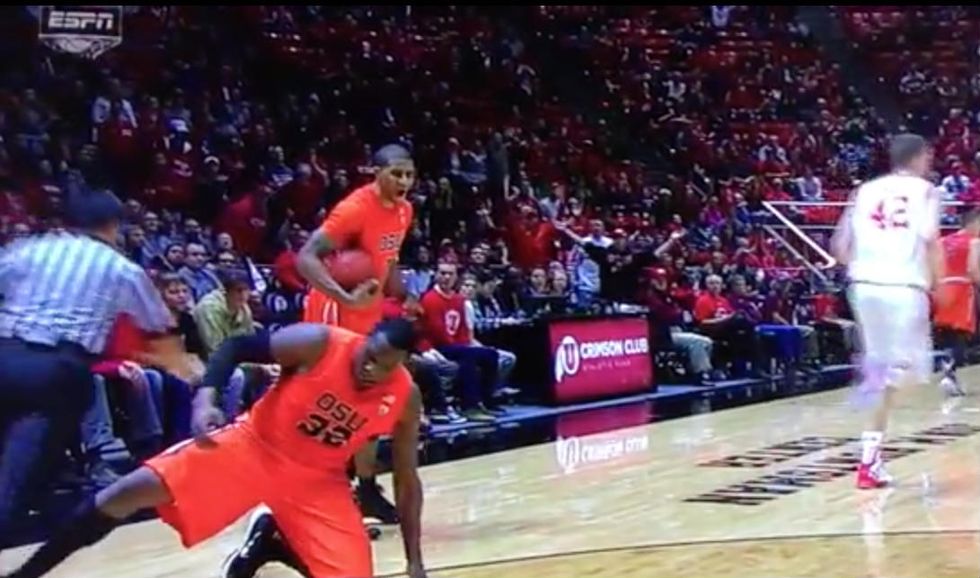 Image source: ESPN
Coach Wayne Tinkle announced the suspension on Monday.
"We are obviously very disappointed and apologize to everyone involved. Our university and our program do not condone this type of conduct on or off the court. We acted swiftly and severely, but also fairly with the understanding that we are dealing with a 22-year-old young man that we need to help grow through this tough situation," Tinkle said, according to USA Today.
Reid also issued a statement apologizing for his actions, saying that he "embarrassed" his family, as well as the university and the Oregon State basketball program.
"I was not raised to act in that manner that was displayed on that play. I'm well aware that I made a mistake that has damaged my image. My actions are inexcusable and I am willing to accept any and all consequences that are to follow," Reid said.
Tinkle said Reid's conduct over the next two weeks will determine if additional discipline will be taken.
Reid sent referee Tommy Nunez tumbling to the court and was ejected with 2:56 remaining in Utah's 59-53 victory over Oregon State on Sunday night.
After stealing the ball from Utah's Jacob Poeltl, who was driving to the basket, Reid tried dribbling upcourt. But Poeltl appeared to bump Reid and the Oregon State forward slipped and fell to the floor.
Reid, a senior, complained that there was no foul call, and while getting up he seemed to make eye contact with Nunez. Then, he stuck his right leg out and Nunez tumbled to the court.