Tessa Piety, 22, is one of 29 children. That's no mistake. Her parents had two children of their own and decided to adopt 27 more.
In a conversation with TheBlaze, Tessa, who was adopted, shared her views on family, motherhood and faith — which began with her parents, both 69, who always knew that they wanted a big family.
"My mom read a book called 'The Family That Nobody Wanted' when she was about 13, and my dad felt called by God at an early age to have a large family," Tessa explained.
Her parents adopted their first child, Rosalind, who is biracial, as a baby while it was still illegal in Tennessee for white parents to adopt black children.
Tessa, who is black, was also adopted as a baby, and she is one of two Piety children who has had the chance to live with each child at some point in time — having lived with up to 22 siblings at once.
Right now, she lives with 12 siblings when she is home from Berry College. The rest of the children are grown up and living on their own. Rosalind, the first Piety "kid," is now 40 and married with a daughter Tessa's age. In fact, Tessa and her niece went to high school together and attended the same college their freshman year.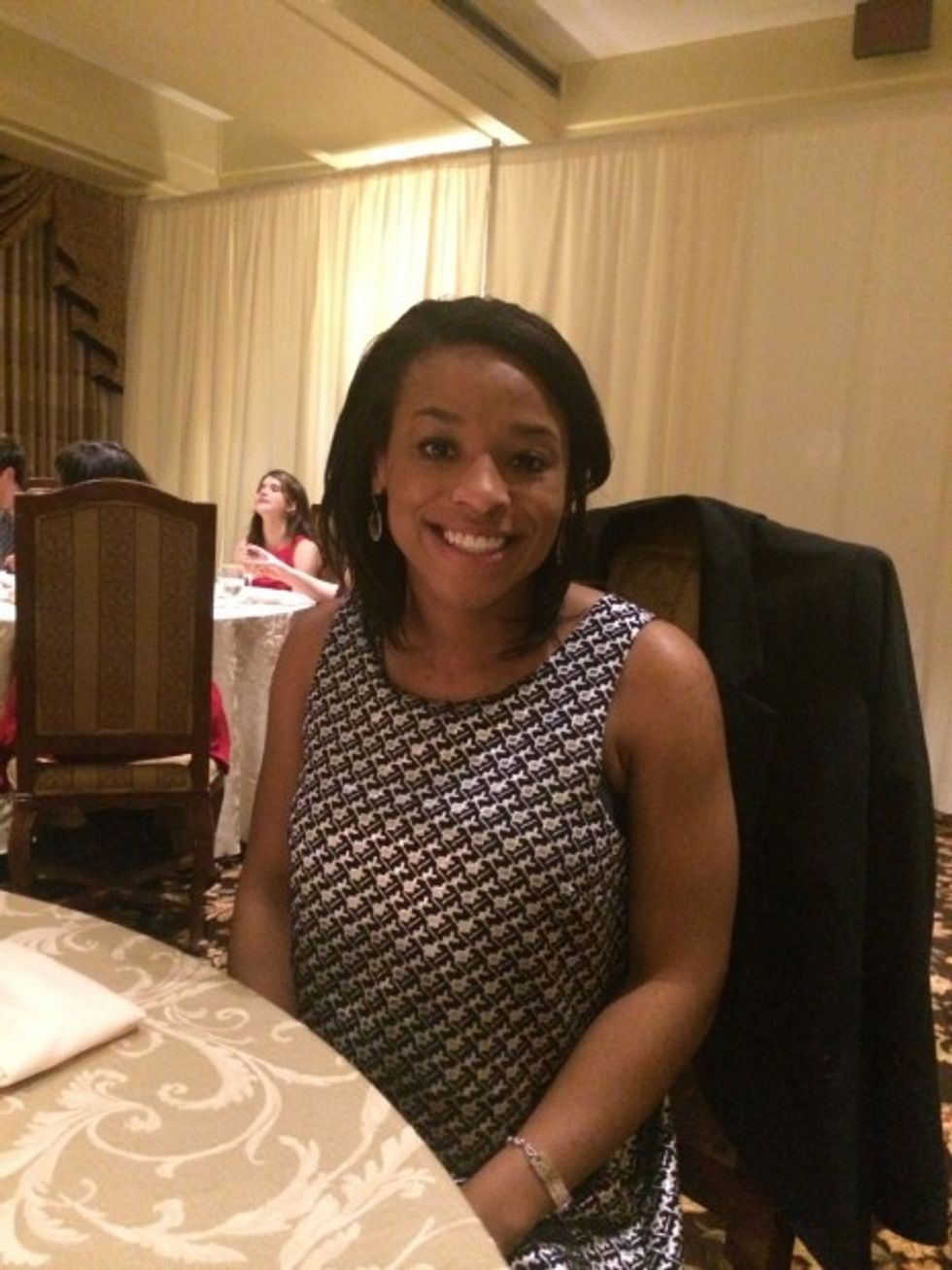 Tessa Piety (Carly Hoilman/TheBlaze)
Recalling how the older siblings always had a fair amount of responsibility in taking care of the younger kids, she said, "We leaned on each other a lot," but added that "there was always someone to play with."
With such a large family, there were the inevitable hard times that one might imagine. Tessa recounted several occasions when the family didn't know where the next meal was going to come from, but, she noted, "We never went hungry for a meal."
The aptly named Piety family relied on God's provision during times of struggle. "Life doesn't shield you from pain," Tessa said. "But it's been really cool to see God work through the different siblings that I have."
Many of the Piety children have special needs, but that didn't stand of the way of close-knit family bonds.
Tessa said that her sister Katie, who is severely disabled, is one of her best friends. "She's 34, and the doctors said that she would never walk or talk or anything, and she does more than that," she explained. "So she is definitely an inspiration to me."
And Tessa's sister Carey has cerebral palsy and is confined to a wheelchair. Tessa's oldest sibling, Charles, 50, is also mentally challenged and will live at home for the rest of his life. He loves sports and cheers for the University of Tennessee Lady Vols basketball team — the team his mother used to play for.
Carey and Charles have motivated Tessa, a competitive soccer player who has torn her ACL five times, to push through the pain and embrace her physical gifts when she wanted to quit. Tessa recalled a specific instance that affected her particularly deeply: "I was pretty young — like 11 — when Carey's birthday came around, and she was crying and very upset," Tessa explained. "And we had a hard time trying to figure out why she was upset because it can be hard to understand someone who has cerebral palsy."
Eventually, Tessa's parents figured out that the reason Carey was upset was because she had prayed that God would enable her to walk.
"And that hasn't been God's plan for her," Tessa said. "But she has been inspirational in the way that she never gives up and always gives her all, so just seeing that drive has been an inspiration for me to live my life."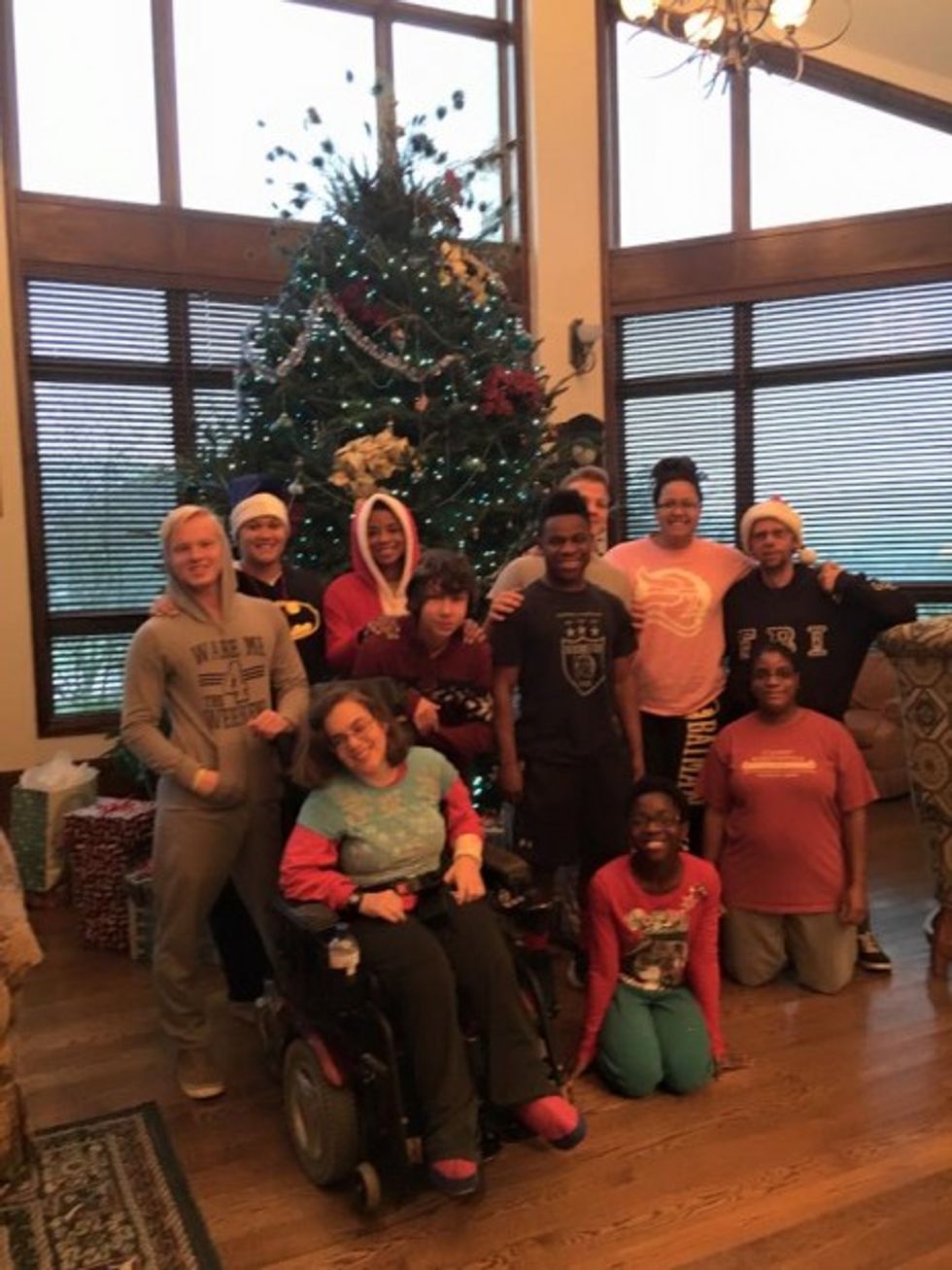 Tessa, center left, and 10 of her 28 siblings at Christmas. (Image via Facebook)
In addition to the four siblings who have pronounced mental and physical difficulties, Tessa mentioned that several others were recently found to have Fetal Alcohol Syndrome, which has led to medical and learning complications later in life.
Tessa said she always reminds herself that when things get rough, they "can always get worse."
Tessa's parents had no formal care taking experience prior to adopting their first chid. She shared that when they first started adopting, their five-bedroom house was not even handicap accessible.
"Over the years, they've been able to figure it out," she said.
The Tennessee farmhouse that the Piety family currently lives in is handicapped-accessible. Tessa's parents took on the project with the intention of hosting various camps and retreats on their property for hundreds of special needs children.
Tessa shared what she called a "fun fact" about her family: They have never accepted any government aid. "I think it's pretty cool because they've been able to see God's provision," she said. "They always trusted and believed that God had put those children in our family for a reason."
And that faith has had a major impact on her views of family: Though she has met her biological mother and has a relationship with her, Tessa is sure to point out that she is a member of the Piety family.
"I greatly respect and appreciate that my birth mom had me and chose to go through my birth, but my adoptive parents are my parents," she said. Tessa's birth mother has six other children of her own, and Tessa has had the chance to meet them, too.
The Pietys' faith and love have also formed Tessa's views on motherhood as something biological and spiritual.
"I really want to be a mom," she said. "And I honestly at this point don't know how God will bring me the children. I would love to get pregnant and have a child, but there is such a need for children to be adopted that I am obviously not opposed to that."
Tessa said that even if she is unable to have her own children, she would still like to adopt several children and "walk in life" with younger women through counseling and mentorship. She currently mentors three girls living in the inner city of Knoxville, Tennessee.
"It's been a challenge getting them to trust and see that even though I don't live in the inner city and didn't grow up in that atmosphere, I still understand where they're coming from," she said. "But I feel like we've broken down that barrier in the past year."
Tessa said the most rewarding part of the two-year mentorship has been being able to see her words take shape in the lives of those girls.
"I realize that you can have children yourself, which I want to do," Tessa explained. "But there is something to be said about spiritually caring for children. I think that's a really cool thing to have the opportunity to do."