Former Alaska Gov. Sarah Palin took aim at the establishment Republican Party Tuesday when endorsing businessman Donald Trump in Iowa, painting the 2016 race as an us-vs.-them bid to upset Washington's status quo.
"As long as the politicos, they get to keep their titles and their perks and their media ratings, they don't really care who wins elections," Palin bellowed at a crowd in Ames, Iowa. "Believe me on this."
She accused the GOP of attacking its own frontrunner in a way that the Democratic Party never would, adding: "They dont eat their own, they dont self-destruct."
For Republicans to be going after Trump and even whispering that they'd support Democratic candidate Hillary Clinton over the business mogul, it shows that they'd rather keep Washington the same than shake it up, Palin said.
"They are so busted with the way that this works," she said.
Establishment Republicans can't afford to change the status quo, Palin argued, because then they'd have to stop "slurping off the gravy train that's been feeding them all of these years."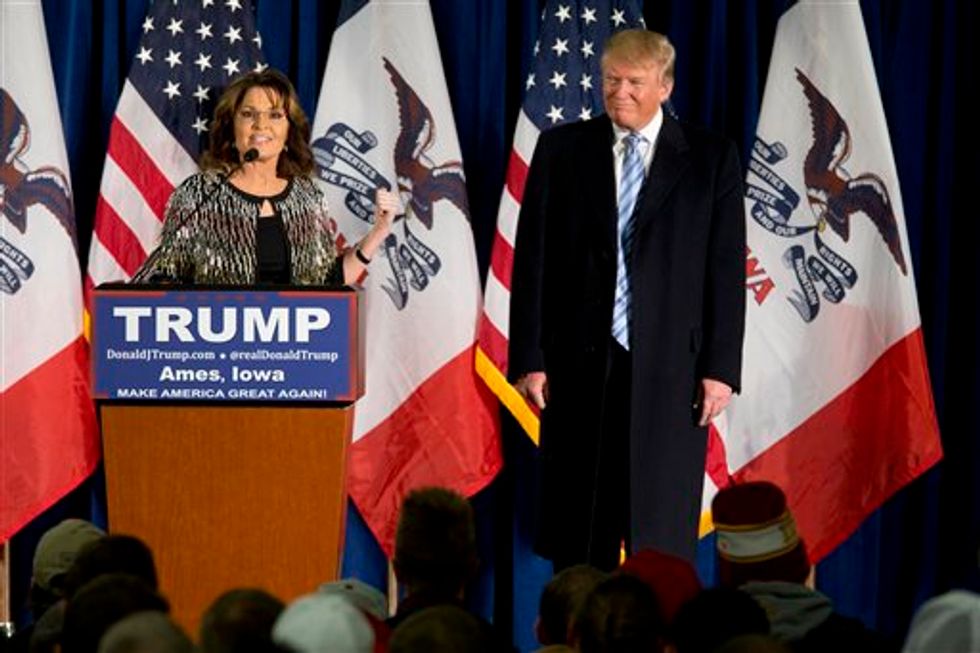 Former Alaska Gov. Sarah Palin, left, endorses Republican presidential candidate Donald Trump Tuesday in Ames, Iowa. (AP/Mary Altaffer)
Palin's speech tapped into populist anger over the way the U.S. is headed and painted Trump as the right person to disrupt the country's direction.
"We are mad, we have been had, and they need to get used to it," she said. "Yes, the status quo has got to go, otherwise we're going to just get more of the same."
Trump spoke for a while at the outset of the event and was interrupted at one point by protesters, which he said was "the only way they show the crowd." He called Palin a "special, special person" and added that he was "so honored" to find out that she planned to endorse him.
When Palin took the stage, she poked at the media in attendance, telling Trump: "You're right, look back there in the press box, heads are spinning, media heads are spinning. This is going to be so much fun."
Trump has been "really ticking people off" with his stances on issues like immigration and what to do with Muslim refugees, but Palin said that those stances have only caused him to rise in the polls.
[sharequote="center"]"He's going rogue left and right, that's why he's doing so well."[/sharequote]
She nodded to the fact that she had endorsed others of the GOP candidates in the past — not naming Texas Sen. Ted Cruz, but lumping him among "some friends" who are also seeking the Republican nomination.
"[But] only one candidate's record shows he has mastered the art of the deal," Palin added.
She also poked fun at President Barack Obama, borrowing from her 2008 speeches while running for vice president on a ticket with Sen. John McCain, calling Obama a "weak-kneed capitulator-in-chief" who negotiates with the skill of "a community organizer maybe organizing the neighborhood tea."
Palin argued that Trump would be tough when it comes to foreign policy, like negotiating over the U.S. sailors who were temporarily captured by Iran last week.
"No more pussy-footing around. Our troops deserve the best, we deserve the best," she said. "Are you ready for a commander in chief who will let our warriors do their job and go kick ISIS's ass? ... Are you ready to make America great again?"
Trump promised to spend a lot of time in Iowa in the days leading up to the Feb. 1 caucuses.
"You're going to get so sick of me," he said. "You're going to say, 'Please tell him to get out of here, tell him to leave.'"
—
Follow the author of this story on Twitter and Facebook:
[facebook //www.facebook.com/plugins/like.php?href=