The National Review published on Thursday night a scathing editorial and essays from 22 prominent conservative thought leaders opposing the candidacy of Republican frontrunner Donald Trump.
Titled "Against Trump," the blistering editorial went directly after the businessman, asserting that he is no friend to conservatives.
"Donald Trump is a menace to American conservatism who would take the work of generations and trample it underfoot in behalf of a populism as heedless and crude as the Donald himself," editors wrote.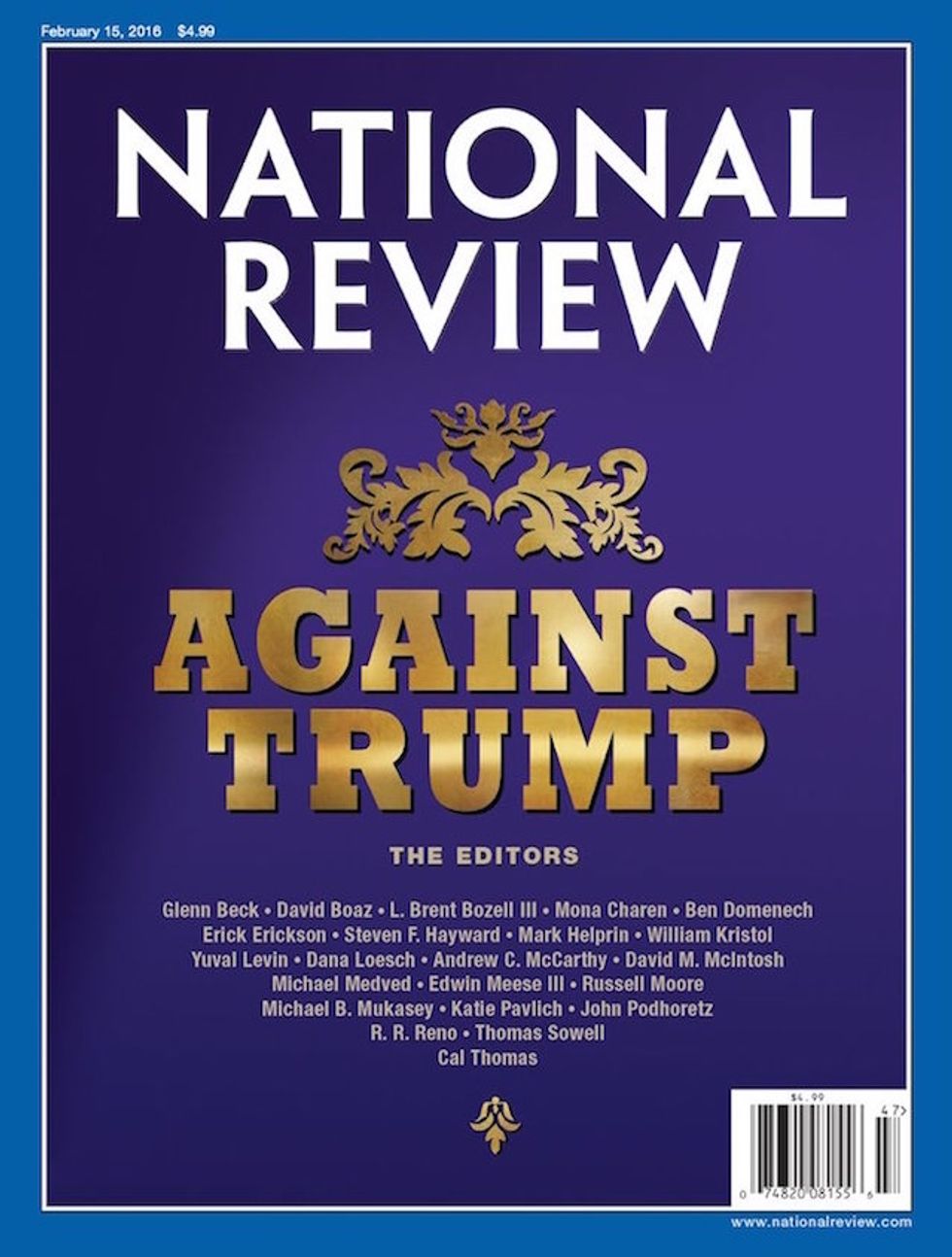 Image source: National Review
The conservative magazine, founded by William F. Buckley, took a swing at "some conservatives" who "have made it their business to make excuses for Trump and duly get pats on the head from him."
The National Review also published opinion pieces from other prominent conservatives in the movement — including Glenn Beck, Brent Bozell, Erick Erickson, William Kristol and Dana Loesch.
Beck, who has been one of the most vocal critics of Trump, argued in his piece that "when conservatives needed allies, Donald Trump sided with Obama."
"Over the years, there have been endless fractures in the façade of individual freedom, but three policies provided the fuel that lit the tea-party fire: the stimulus, the auto bailouts, and the bank bailouts," Beck wrote. "Barack Obama supported all three. So did Donald Trump."
Bozell contended that a "real conservative" should have a record of standing with the movement, such as speaking annually to allied groups, writing op-eds to support policy and raising money for candidates.
"Until he decided to run for the GOP nomination a few months ago, Trump had done none of these things, perhaps because he was too distracted publicly raising money for liberals such as the Clintons; championing Planned Parenthood, tax increases, and single-payer health coverage; and demonstrating his allegiance to the Democratic party," Bozell wrote.
Trump responded on Twitter:
National Review is a failing publication that has lost it's way. It's circulation is way down w its influence being at an all time low. Sad!

— Donald J. Trump (@Donald J. Trump)1453435004.0
Very few people read the National Review because it only knows how to criticize, but not how to lead.

— Donald J. Trump (@Donald J. Trump)1453435017.0
The late, great, William F. Buckley would be ashamed of what had happened to his prize, the dying National Review!

— Donald J. Trump (@Donald J. Trump)1453435042.0
—
Follow the author of this story on Twitter and Facebook: