UPDATE 9:11 p.m. ET: A Facebook spokeswoman on Friday told TheBlaze it doesn't comment on individual cases.
Original story below
A video has surfaced of a German teenager apparently telling Chancellor Angela Merkel that she's "destroyed" their country by allowing a huge influx of migrants, which was followed by reported mass sexual assaults.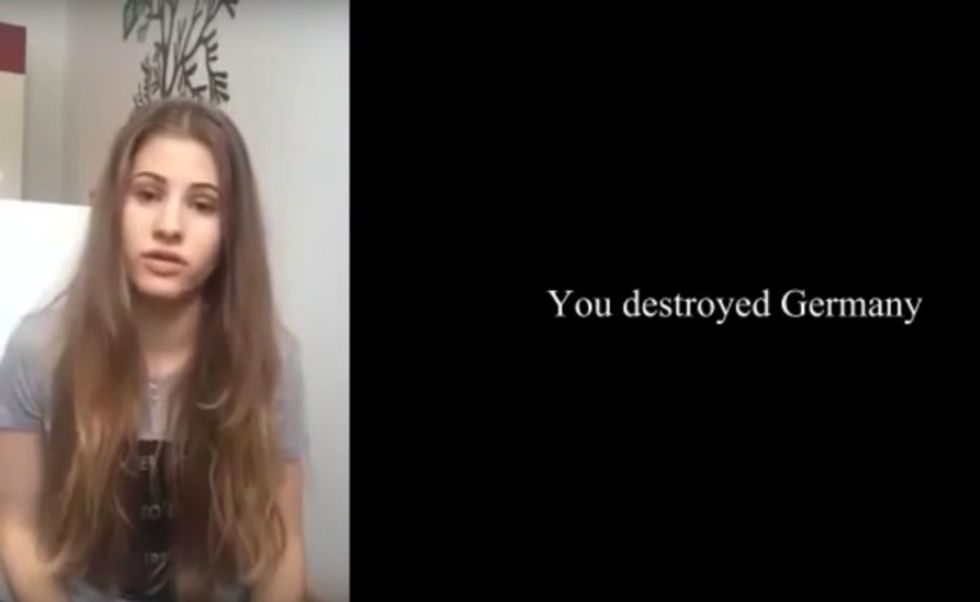 Image source: YouTube
And there are questions about whether the clip has been censored by Facebook in Germany.
The girl in the video, apparently named Bibi Wilhailm, sat down in front of a camera and spent 20 minutes outlining what she's observed in Germany since the huge migration of refugees there. She apparently noted rapes, women afraid to go out in public alone, refugees benefitting from the government while the German homeless get nothing — and those in charge who let it all happen.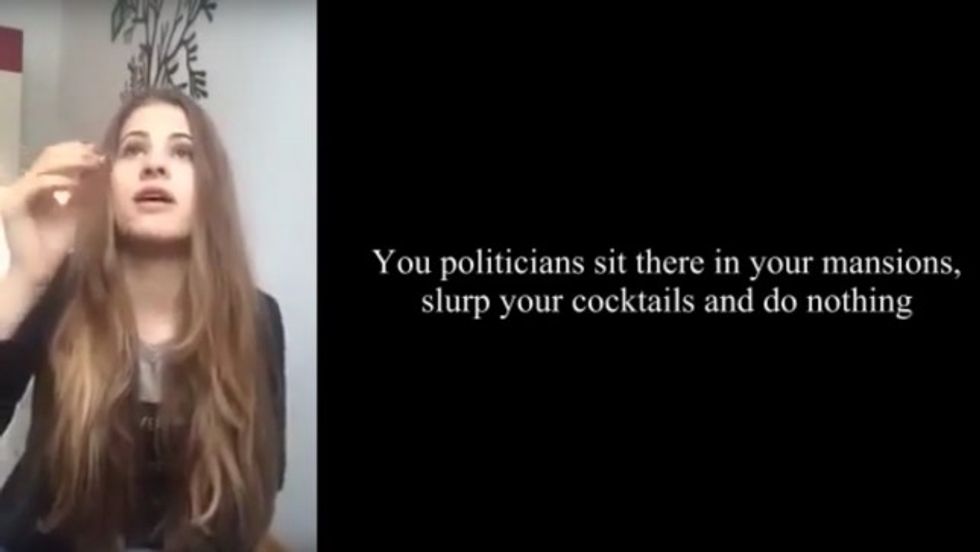 Image source: YouTube
Wilhailm spoke German in the video, and there's some dispute on the Internet about the English translation of her words.
A translation offered by Breitbart included a section, for example, in which Wilhailm called out "Arabs" who were demonstrating and yelling, "Kill those infidels!" But a translation embedded into one of several YouTube clips of Wilhailm's video doesn't include those words in that section. The same clip omits the word "Muslims" from another section.
But it seems clear even from the video containing the less-pointed translation — in which Wilhailm repeatedly complained about protesting "immigrants" who want others to believe in "Allah" — that she's referring to Muslim refugees.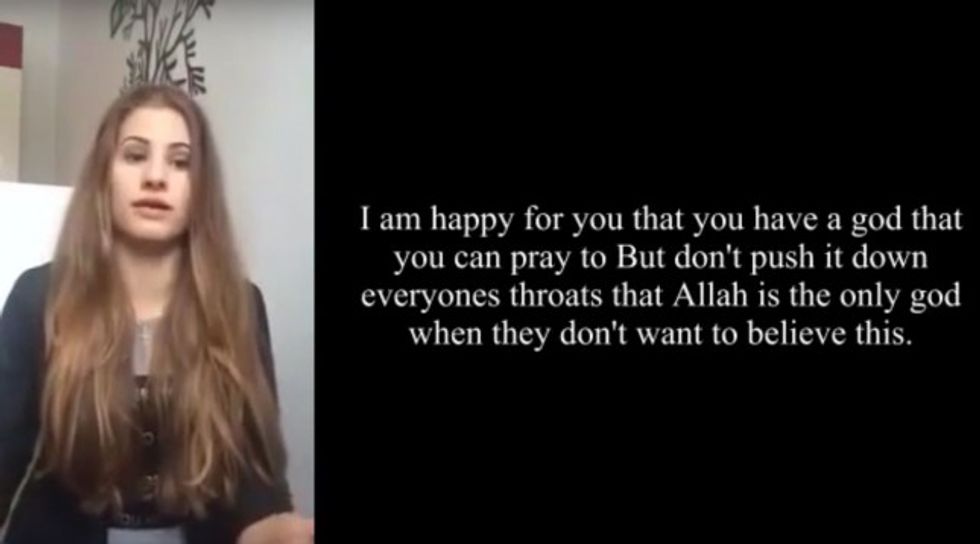 Image source: YouTube
And indeed that translation quotes Wilhailm as saying, "Qur'an free of charge," "Allah only god Allah Allah," "Angela, it's my sincere thank you that you destroyed Germany like this," "Why won't these people get deported?" and "Because you still haven't closed the borders and you still want to take more of them."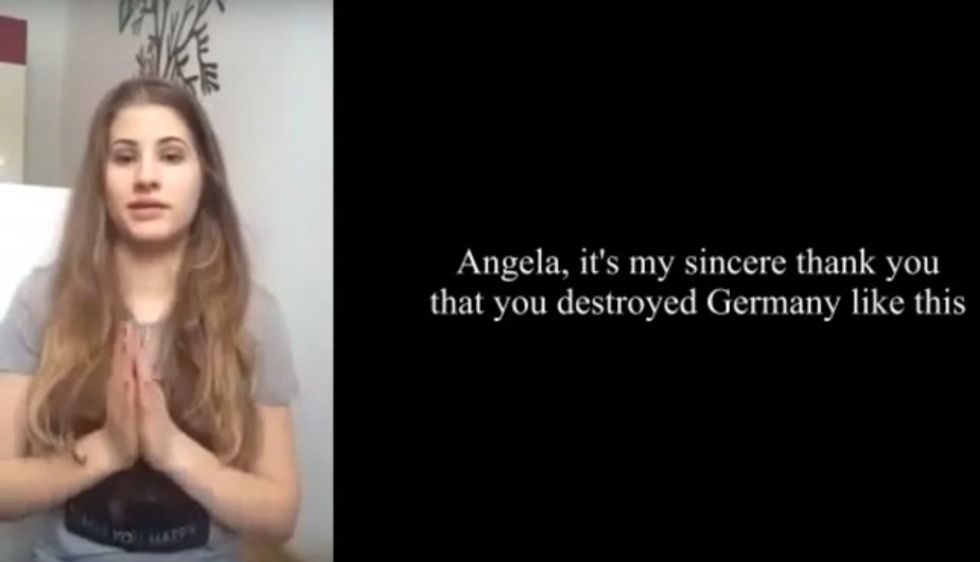 Image source: YouTube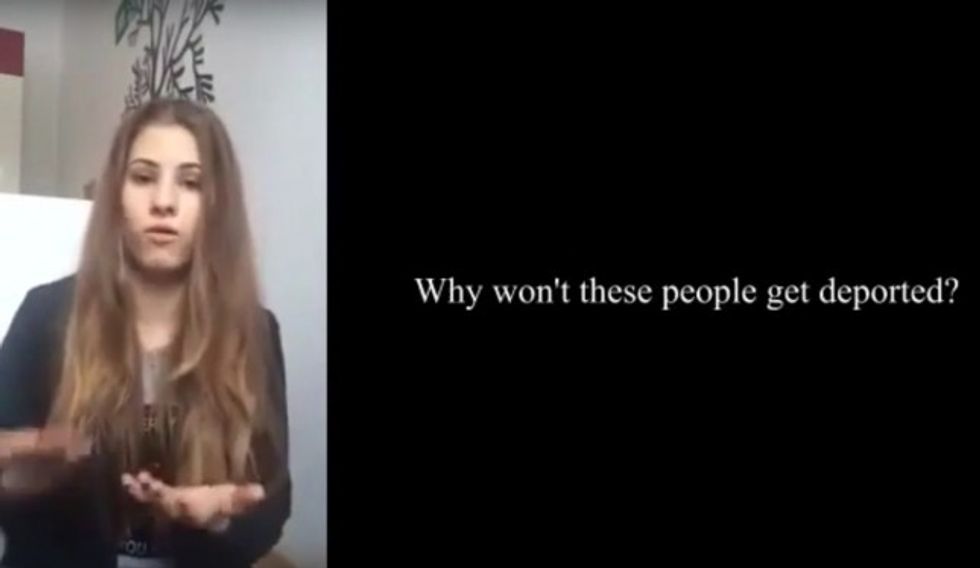 Image source: YouTube
While the clip is viewable via stateside Facebook posts, there are questions about whether it's being censored in Germany, which has been working with the social media giant to curb what's deemed "hate speech." Last month Germany said Facebook — along with Google and Twitter — agreed to delete hate speech from their websites within 24 hours in an attempt to stem the tide of xenophobic comments in German on the web as the huge migrant influx continues.
Both Wilhailm's video on Facebook, along with Wilhailm's Facebook page, were down Friday. It's also possible that she took them down herself.
But on Friday, when TheBlaze attempted to contact a German organization apparently critical of the video being removed from Wilhailm's Facebook page, the private Facebook message to the group came back with the following red-letter notice: "Warning: This Message Contains Blocked Content." The message did not appear to go through.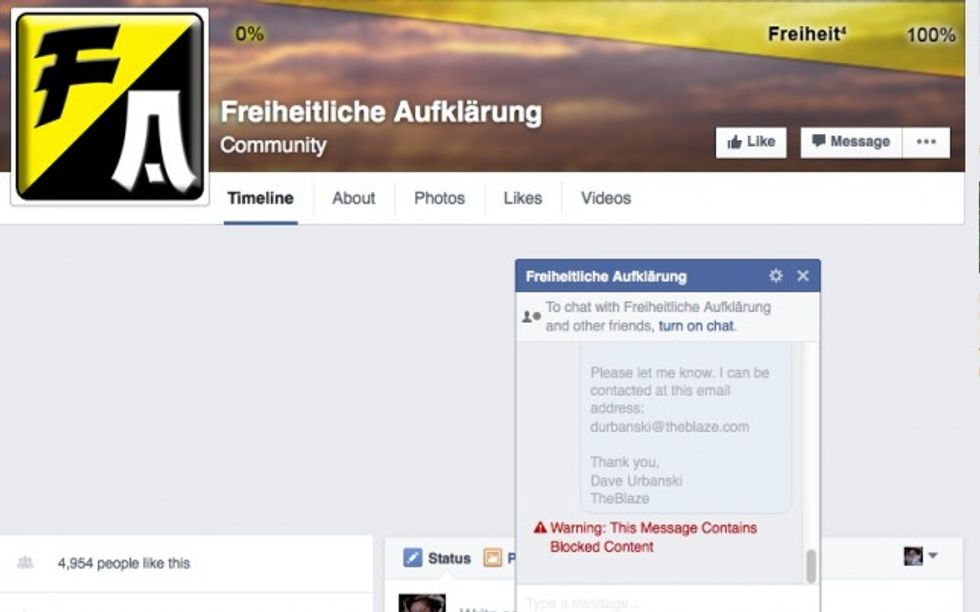 Image source: Facebook
Facebook did not immediately reply to TheBlaze's request Friday for comment on this issue.
Here's the clip via YouTube. (Content warning: Some profanity):