Police in Houston, Texas, have arrested a suspect in possible connection to the fatal shooting of a 15-year-old girl in a fast-food parking lot.
Gabriel Cantu, 18, was arrested Wednesday for the Jan. 4 killing of 15-year-old Victoria Cantu. The girl was shot and killed in the parking lot of a Whataburger restaurant, KTRK-TV reported.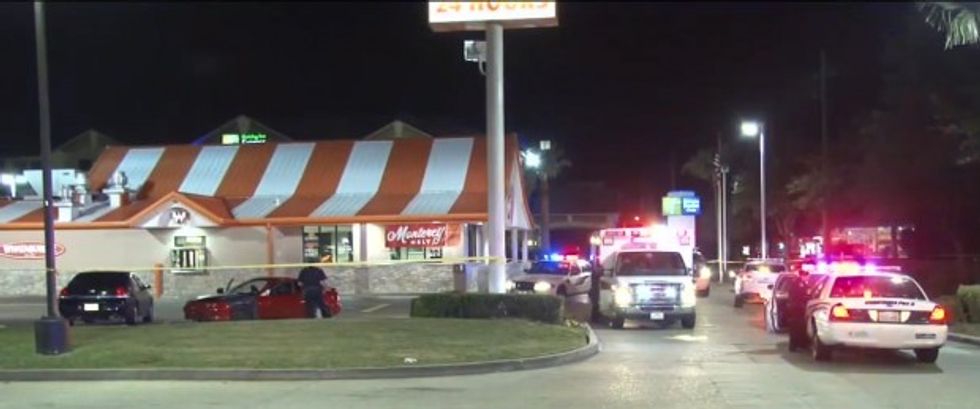 Image source: KTRK-TV
Investigators say Victoria Cantu was with friends when the group got into a confrontation. They then drove four miles to the fast-food location, seeking help, where surveillance video shows a man hanging out of a Chevy Malibu car firing what police say is an AK-47 rifle. Police say the man was not alone in the car.
The man who pulled the trigger, resulting in the 15-year-old's death, according to police, was Gabriel Cantu. According to Victoria Cantu's mother, Nicole Keddie, the two were not related, despite having the same last name.
The identity of the man hanging out of the car window was unclear to authorities until Thursday, however. That's when Keddie said she got the call from law enforcement, saying that they had their suspect.
"We got contacted by [the] U.S. Marshal's service, Gulf Coast Violent Offenders Task Force and a Montgomery County Sheriff's Office SWAT Team," Sheriff Greg Capers said. "They were looking for a murder suspect."
Capers said officers went to one house where they believed Cantu was staying, but found he wasn't there.
"We moved to another location based on some information we gathered at the first house," Capers said. "When we approached the second house, he hit the woods and he run about 50 yards away from the front door back to the north and he was located by Montgomery County SWAT in the woods."
Cantu was taken into custody soon after – and police say more arrests could be made.
"Nothing will ever bring Victoria back no matter what happens," Keddie said. "But it's just an amazing feeling to know that there will be justice served and that they will not walk the streets free."
(H/T: KTRK-TV)
–
Follow Jon Street (@JonStreet) on Twitter