Attacks from establishment candidates are not new to Florida Sen. Marco Rubio as they serve as an example of his campaign's "momentum," he said on Sunday.
When Fox News' Chris Wallace asked Rubio about recent attack ads — specifically from former Florida Gov. Jeb Bush's camp — during an interview Sunday morning, Rubio chuckled.
"It's an affirmation of what I've been saying, and that is, you don't attack a candidate who is not just credible but doesn't have momentum. That's a lot of money," Rubio said. "You only spend it if you feel someone is a threat."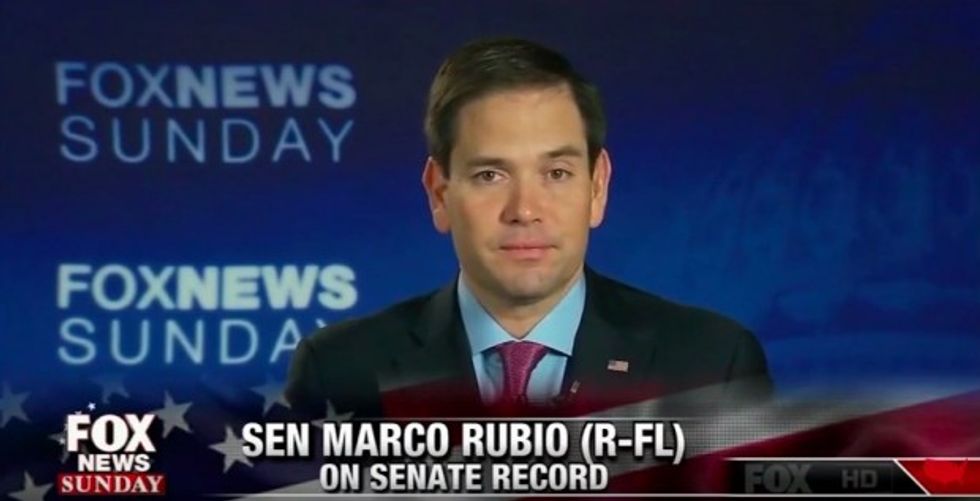 Image source: YouTube
"We have a path not just to the nomination, but also defeating [Democratic candidate] Hillary Clinton," Rubio continued. "In the end, voters are going to vote on someone they know is going to help turn this country around."
Rubio contended that he is used to being attacked from establishment politicians when he runs for office.
"You say establishment candidate. Every time I've ever run for anything at this level, I've taken on the establishment," he said. "I had to do it when I ran for the Senate and even now, when I decided to run for president. Most of the establishment said to me, 'you can't run, it's not your turn, you need to wait.'"
"We are a campaign that is gaining momentum and support, and obviously other candidates view that as a threat so they're responding, but we'll be fine in the end," Rubio said.
Rubio asserted that he has more experience and better judgement on national security issues when compared to other GOP presidential candidates.
Rubio also said that he has not "spent a lot of time" thinking about what a potential independent presidential run by former New York City Mayor Michael Bloomberg could mean to the 2016 race. He said that he has only spent a little time with the politician but does not agree with him on some political issues.
"I think this is a great country when the son of a bartender and a maid can run for the same office and have the same opportunity as a millionaire or, for that matter, the son of a president," Rubio said. "It's extraordinary. In no other country in the world would that be possible."
The Florida senator recently received the much-coveted endorsement of the Des Moines Register. Watch Rubio's interview on "Fox News Sunday" below.