A Sarah Palin endorsement of GOP presidential candidate Donald Trump could only mean one thing for "Saturday Night Live" this week — a Tina Fey return.
In the venerable comedy show's cold open, Palin said she "took a break from her full time career of writing things on Facebook" to make her endorsement of the business mogul.
"I'm here because we Americans are struggling," Palin's character said. "So many of us have lost our jobs at the factory or reality shows about Alaska. We've seen our own children targeted by the police for no reason other than they've committed some crime. We turn on the news every morning and are shocked to see we're not even on it because we've been replaced by immigrants like Geraldo Rivera."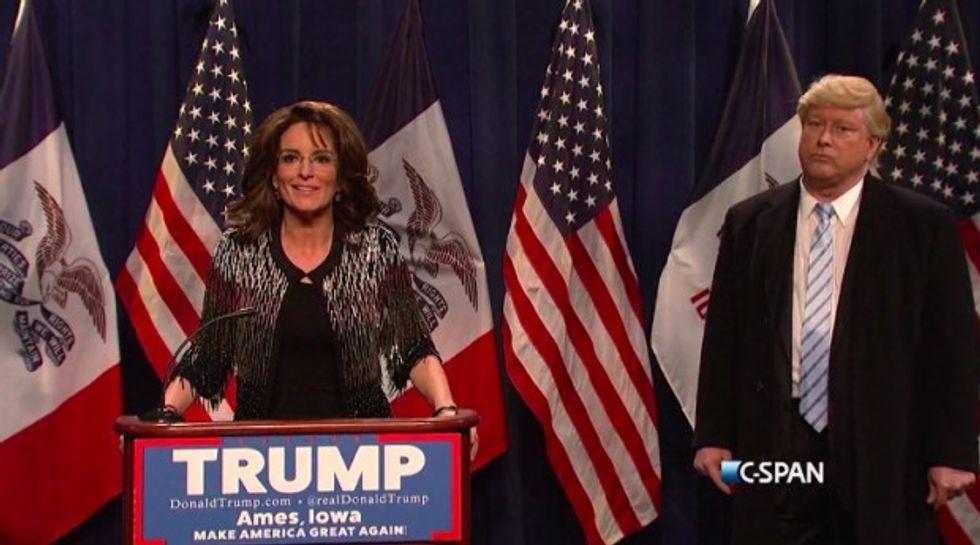 Image source: NBC
"Hey, America, isn't she great? Just the total package — smart, legs, yelling, everything," said Trump's character. "I haven't seen a woman this impressive since Jeb Bush."
While Palin gave her endorsement speech, Trump often interjected with his own commentary — at one time saying that she sounded like "a greeting card at a Chinese dollar store."
Palin said she was only there to endorse Trump because he promised her a job in his Cabinet.
"And I belong in a cabinet because I'm full of spice, and I've got a great rack," she said.
Watch the hilarious cold open — including Palin's rhymes — below.