When a Sikh protester in a red turban was escorted out of GOP presidential frontrunner Donald Trump's rally in Iowa Saturday night, the business mogul uttered a short question that the media immediately picked up on: "He wasn't wearing one of those hats, was he?"
Trumps' simple question made headlines in the national media, and Gawker even led it's piece on the event with speculation that the presidential candidate is "continuing his campaign for Racist in Chief." However, liberal Mediaite columnist Tommy Christopher realized that Trump was likely referring to the iconic red "Make America Great Again" hats the billionaire and his supporters frequently sport — not the bright red turban the man was wearing.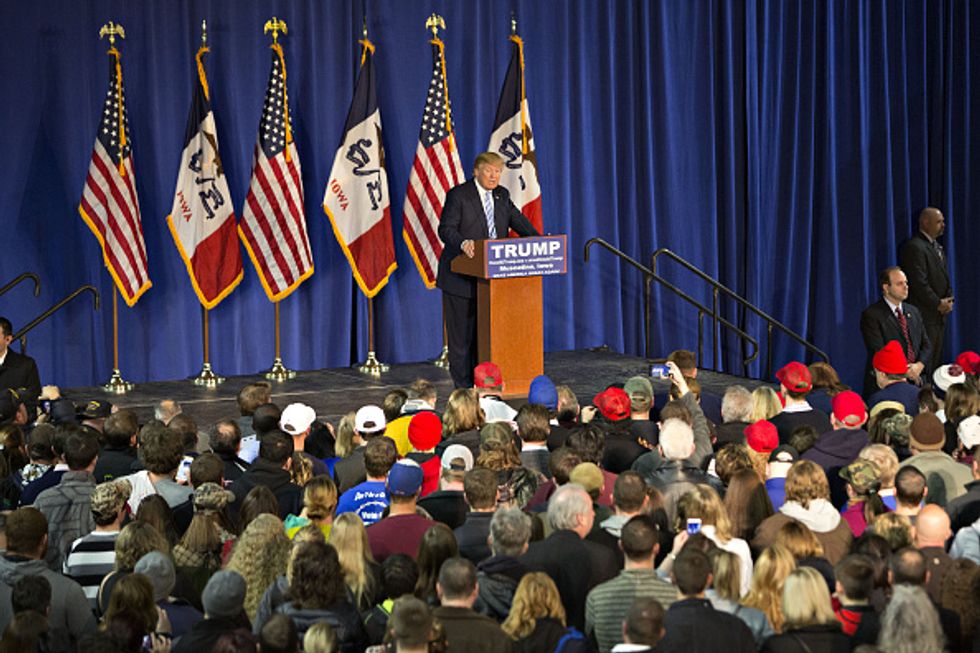 Donald Trump speaks during a campaign rally in Muscatine, Iowa, Jan. 24,. (Daniel Acker/Bloomberg)
Writing for Mediaite, Christopher wrote:
He was still trying to insult the guy as not wanting America to ever be great again, but it wasn't a shot at his "head garb," as one reporter put it. It was enough of a screw up for ABC News to stealth-edit "mockery" out of its story, which is still out there in aggregated form.

This wasn't a moment that needed to be oversold as xenophobic mockery, it was already ugly enough. Forget that it gives Trump yet another beachhead in his war with the media, because he will take that ground whether it's offered to him or not. It was just stupid, at best, and dishonest at worst. Yellow is more like it.

When Rick Santorum was accused of saying something about "black people" but really didn't, I was one of about two people who reported the thing accurately, and people would ask me "Why are you defending that tool Santorum," as if being a liberal meant that I should ignore plain facts, as if there ought to be some sort of tension between my role as a reporter/analyst and as a commentator/opinion journalist. The exact opposite is true, of course. My opinion and analysis are only valuable to the extent that I get the other things right. That's not true of someone who's only concern is selling a story, like Donald Trump mocking some dude's turban.
The man who was escorted out of Sunday's rally was with another protester — the two of them had held a large banner that read, "stop hate." While the pair was escorted out of the high school auditorium in Muscatine, Iowa, Trump supporters led a chant of "USA."
"He wasn't wearing one of those hats, was he?" Trump asked the crowd. "Was he wearing one of those? And he never will. And that's okay, but we gotta do something, folks, because it's not working. And all over the world people are talking about it. And frankly, I have friends who are Muslims. They call me up — not all of them, but some of them — and they say, 'You're doing a great service because there's tremendous hatred,' and we have to get to the bottom of what's going on."
"He wasn't wearing one of those hats, was he?" Trump asks after men, one in a turban, interrupt rally https://t.co/2NJWSyGUhm

— MSNBC (@MSNBC)1453661254.0