President Barack Obama believes that much of Vermont Sen. Bernie Sanders' support comes from Democrats who are frustrated with how former President Ronald Reagan set the terms of political debate and are seeking a "shiny object" in comparison to Hillary Clinton, who he said is ready to take the job from day one.
Obama went on to suggest that Republican primary voters were just "venting" with their support for real estate mogul Donald Trump and Texas Sen. Ted Cruz and that they will "settle down" when the party nominates someone.
"I've gotten to know Hillary really well, and she is a good, smart, tough person who cares deeply about this country, and she has been in the public eye for a long time and in a culture in which new is always better," Obama said in an interview with Politico published Monday. "You're always looking at the bright, shiny object that people don't, haven't seen before. That's a disadvantage to her. Bernie is somebody who although I don't know as well because he wasn't, obviously, in my administration, has the virtue of saying exactly what he believes, and great authenticity, great passion, and is fearless. His attitude is, 'I got nothing to lose.'"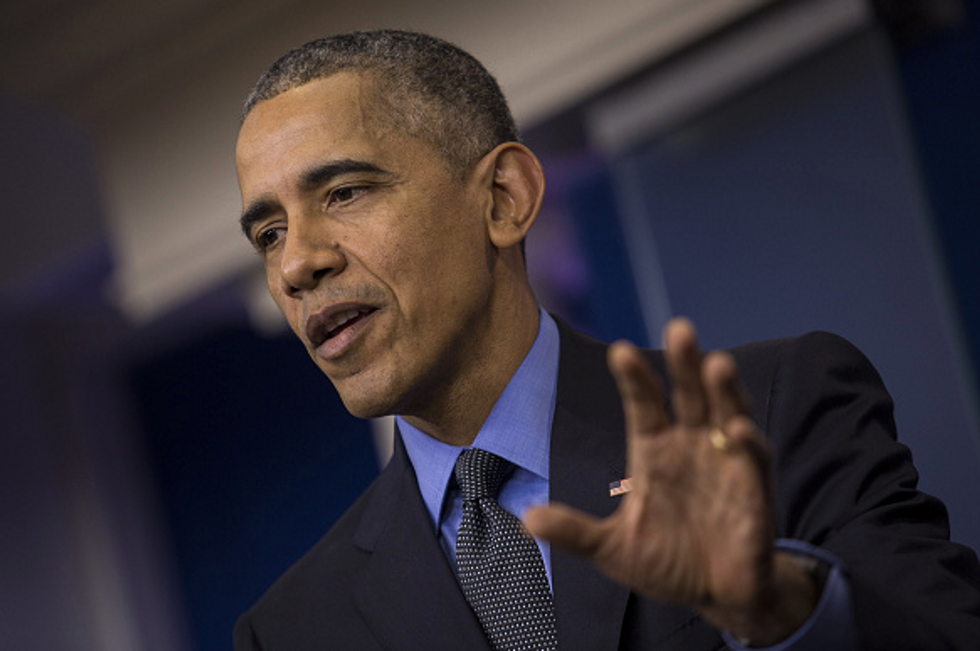 Drew Angerer/Bloomberg via Getty Images
Obama talked to Politico reporter Glenn Thrush just more than a week before the 2016 Iowa caucuses in an interview that covered several angles of the 2016 presidential campaign but also touched on the 2008 presidential campaign, in which a resounding Iowa victory propelled him to the presidency.
"Well, there's no doubt that Bernie has tapped into a running thread in Democratic politics that says: Why are we still constrained by the terms of the debate that were set by Ronald Reagan 30 years ago?"  Obama said. "You know, why is it that we should be scared to challenge conventional wisdom and talk bluntly about inequality and, you know, be full-throated in our progressivism? That has an appeal and I understand that."
Obama didn't endorse a candidate, but credited former Secretary of State Hillary Clinton with being the most qualified for the job of the presidency and noting that "Hillary is really idealistic and progressive."
"Her strengths can be her weaknesses. Her strengths, which are the fact that she's extraordinarily experienced — and, you know, wicked smart and knows every policy inside and out — sometimes could make her more cautious and her campaign more prose than poetry, but those are also her strengths," Obama said. "It means that she can govern and she can start here, day one, more experienced than any non-vice president has ever been who aspires to this office."
He also weighed in on the Republican presidential contest.
"My hope — not just for me or the Democratic Party but for the Republican Party and for America — is that this is an expression of frustration, anger that folks like Trump and, to some degree, Cruz are exploiting," Obama said. "It's real within the Republican Party and the Republican base, but that after this venting, Republican voters will settle down and say, 'Who do we want actually sitting behind the desk, making decisions that are critical to our future?' And I've always said I want a healthy, two-party system where there's vigorous debate but both parties are contributing to a constructive vision of the country and help us make progress, and it will be interesting to watch, during the course of this campaign, whether or not Republican voters steer back toward the center."