After feet of snow covered much of the East Coast, motorists found themselves wrestling with the concept of dug-out parking spot "dibs."
In Washington, D.C., Police Chief Cathy Lanier warned residents today that putting a traffic cone or a folding chair in a parking space — a common practice in places like Boston and Chicago — doesn't save the space for when they return.
According to the mostly-unwritten rules documented by the Chicago Dibs Tumblr, "'Dibs' refers to the practice of holding a shoveled-out parking space after a heavy snowfall by putting chairs, laundry baskets, or other items in the street to mark the claimed space."
But "squatters' rights" do not apply to D.C. parking spots, Lanier said.
"No one owns a parking space," she said. "As tempting as it might be, once you pull out, that spot can be taken by someone else."
After Lanier's message, one Capitol Hill resident took matters into their own passive-aggressive hands — typing, printing out and water-proofing a message to any drivers considering parking in the spot they dug out.
Andrea Noble of the Washington Times tweeted a photo of the sign: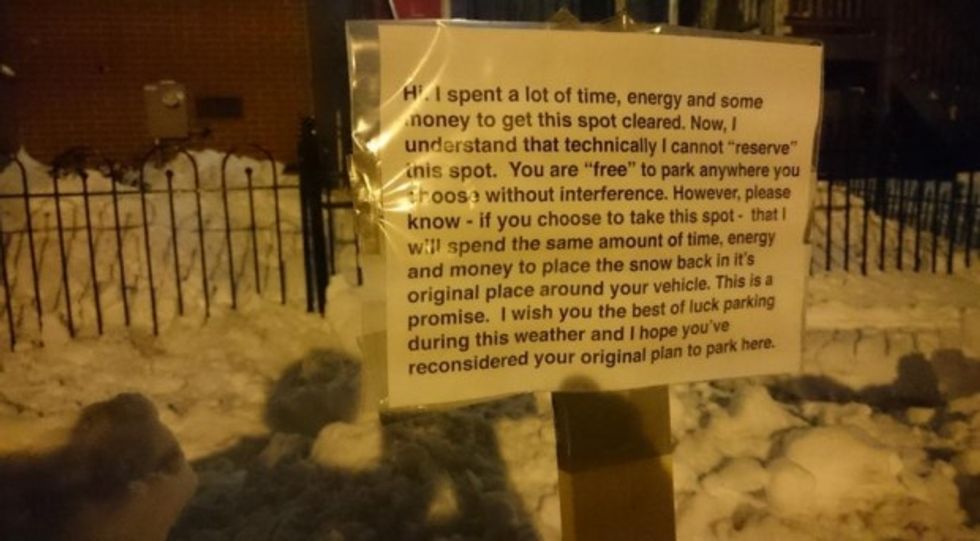 Washington, D.C. "dibs" sign. (Andrea Noble)
The text reads:
"Hi. I spent a lot of time, energy and some money to get this spot cleared. Now, I understand that technically I cannot "reserve" this spot. You are "free" to park anywhere you choose without interference. However, please know — if you choose t take this spot — that I will spend the same amount of time, energy and money to place the snow back in it's (sic) original place around your vehicle. This is a promise. I wish you the best of luck parking during this weather and I hope you've reconsidered your original plan to park here."
Meanwhile, in Philadelphia, a resident took a slightly different approach:
A photo posted by David (@crust.life) on
Regardless of personal style, parking-space disputes can get ugly fast — in Boston, a man was reportedly shot earlier today after an argument over a dug-out spot. Fortunately, his injuries were not life-threatening.
—
Follow the author of this story on Twitter and Facebook:
[facebook //www.facebook.com/plugins/like.php?href=