Standing in front of the White House Wednesday, Democratic presidential candidate Vermont Sen. Bernie Sanders took a swipe at his primary rival Hillary Clinton.
"I voted against the war in Iraq. That's a point of major difference between Secretary Clinton and myself. We both received the same information, and we both arrived at different conclusions," Sanders said after meeting in the Oval Office with President Barack Obama and Vice President Joe Biden. "In my small state of Vermont, we went to too many funerals of wonderful young people."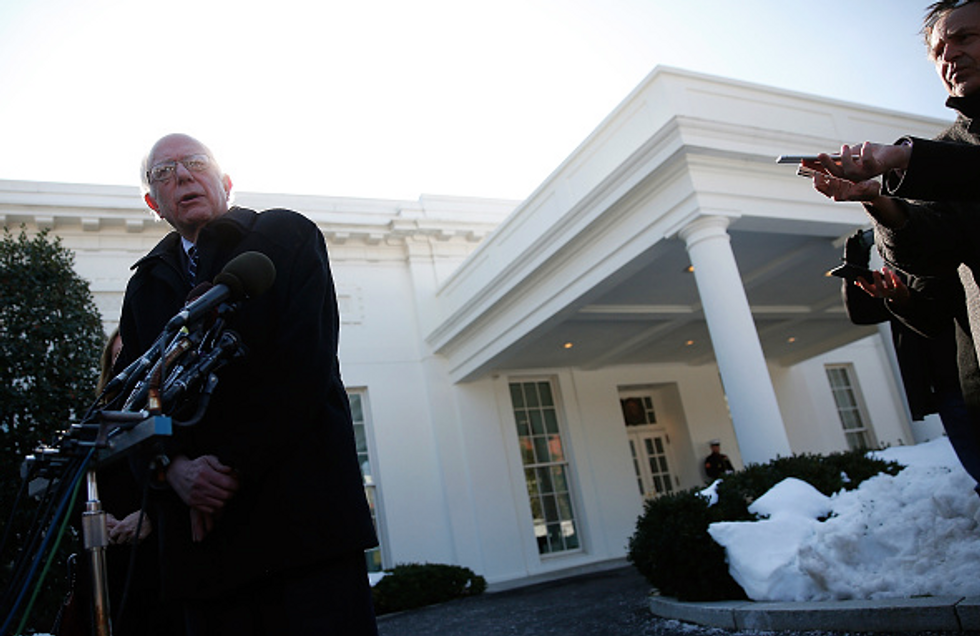 Democratic presidential candidate Sen. Bernie Sanders (Vt.) answers questions outside the White House after meeting with President Barack Obama and Vice President Joe Biden Wednesday. (Win McNamee/Getty Images)
He went on to say he would follow Obama's model of avoiding and ending wars.
I'm very happy to tell you that in the last few years we have not gone to so many funerals of young men and young women in our military. I think what the president is trying to do is the right thing. He is trying to keep our young men and women in the military out of a perpetual war in the quagmire of the Middle East. What he is trying to do and what I will try to do is put together a coalition with the Muslim people on the ground.
Just five days before the Iowa caucuses, where he is neck and neck with Clinton, Sanders said he doesn't expect to repeat in Iowa what Obama did in 2008, but he said his campaign's future hinged on a heavy voter turnout.
"If there is a large voter turnout — I'm not saying we could do what Barack Obama did in 2008, I wish we could, but I don't think we can — but if there is a large turnout, I think we're going to win. If not, I think we are going to be struggling," Sanders told a heavy gathering of reporters outside the White House after his meeting with Obama and Biden.
The 45-minute meeting came after what seemed to be a testy week between the president and the self-avowed socialist senator.
Obama later talked about the meeting in an interview on Wednesday.
"I had a good meeting," Obama told WWBT of Richmond. "The goal is to make sure all the Democrats … are focusing on the progress we've made."
In an interview published Monday, Obama seemed to all but endorse Hillary Clinton for president, dismissively describing the Vermont senator as a "bright, shiny object" compared to his former secretary of state, who he said "can start here, day one, more experienced than any non-vice president has ever been who aspires to this office." The next day Sanders announced he would block Obama's nomination for commissioner of the Food and Drug Administration.
"What the president has tried to do, what the vice president has tried to do, is to be as even-handed as could be. I know there was some discussion the other day about a Politico interview where he was tipping the scale toward Secretary Clinton," Sanders said. "I don't believe that at all. I believe he and the vice president have tried to be fair, even-handed in the process."
White House press secretary Josh Earnest said that Sanders asked for the meeting during the congressional holiday party at the White House in December. Earnest, when asked about whether gun control came up, said he didn't know. Clinton has attacked Sanders for opposing some gun control laws.
Sanders praised the Obama record, asserting that Americans should "remember how far we have come in the last seven years under the leadership" of Obama and Biden.
This post was updated to include a comment from President Barack Obama.