As Michael Moore appeared on Fox News' "The Kelly File" Tuesday to promote his new documentary, the controversial liberal filmmaker fixated on only one thing — the well-being of host Megyn Kelly and her feud with GOP front-runner Donald Trump.
The documentarian could not move away from the topic of Trump's decision not to participate in the upcoming Fox News Republican debate as he brushed away Kelly's questions regarding his new film "Where to Invade Next?" and the Democratic presidential candidates. At one point, Moore said that he expected to see a more dejected Kelly and thought he was going to have to take her out to dinner following the show.
"Thank you for having me, and on this day, too," Moore said at the beginning of Tuesday night's interview. "I don't know what this must feel like for you because you don't want to be the story. You're a journalist."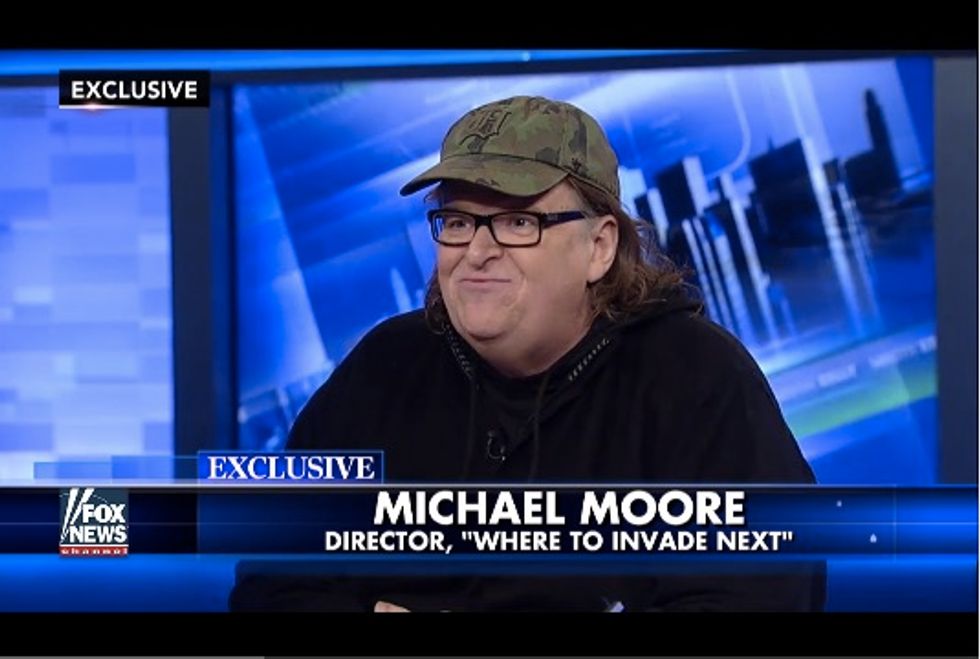 Image source: Fox News
"I feel bad for you that you're being attacked by [Trump]. I mean, what's he afraid of? I'm sitting here. I don't feel any fear," Moore continued.
Kelly often had to ask Moore to "move on from the Trump situation," at one point sitting with her arms crossed.
"You have done something that Jeb Bush, Chris Christie, Rubio, Cruz, none of them have been able to do — which is to essentially frighten him, make him run, shut him down," Moore said. "Everyone has tried to do this for months, and you did it."
Eventually, Moore was able to move past "the Trump situation" for a few minutes and discuss his disillusion with President Barack Obama and previous comments he's made regarding Hillary Clinton.
Moore also heaped praise on the host for asking Trump about the "war on women" during a previous debate and then went on to say that being on Fox is essentially a requirement for election:
And before I leave, I just want to say again, you know, Roger Ailes, Rupert Murdoch — to get elected in this country, you have to come on this network. You have to play ball with this network. Donald Trump today said, "I'm not playing ball with this network.' That's a historic moment, and it's going to be interesting to see where the real power is. Trump thinks he doesn't need Fox News. I think Fox News probably has something else to say about that, and it will be interesting to see where do the powers that be go with this.
"Again, you've made this happen, you've caused a crisis upstairs here," Moore said.