Over the last two weeks, Republican front-runner Donald Trump has been endorsed by several prominent names — former Alaskan Gov. Sarah Palin, Liberty University President Jerry Falwell Jr., and Maricopa County Sheriff Joe Arpaio — but Iowa Rep. Steve King (R) says the reasons for their endorsements go beyond just believing Trump is the right man to be the next president.
King, who has already endorsed Texas Sen. Ted Cruz, told Politico Tuesday evening that these prominent names are endorsing Trump so that they, too, can benefit.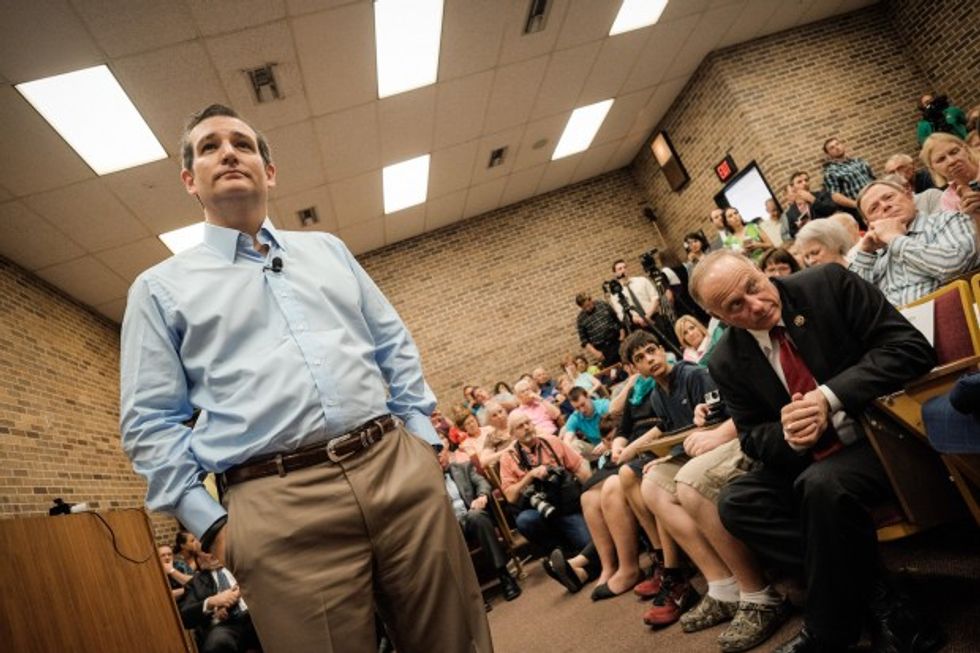 Rep. Steve King (R-Iowa) and Sen. Ted Cruz (R-Texas) listen to voters during a town hall meeting April 1. (Getty Images/Eric Francis)
"Let's just say this: When Donald Trump decides he wants somebody on his team, he has an unlimited reservoir of resources that he can bring to bear," King said. "One of them is money, but it may not be."
"It might be fame, it might be the mystique of the Trump machine, it might be people are afraid of retribution, and it might be people that are looking for opportunities down the line," he continued. "And it might be any combination of those things and others that I haven't said."
King added, "That explains most of what you've seen come behind Donald Trump in one way or another."
Both Cruz and Trump are spending the remaining four days preceding Monday's Iowa caucuses locking down endorsements. 
According to the RealClearPolitics average of Iowa polls, Trump currently has a handful of points over Cruz, 32.7 percent to 26.9 percent.
—
Follow the author of this story on Twitter and Facebook:
[facebook //www.facebook.com/plugins/like.php?href=