Donald Trump's campaign manager Corey Lewandowski said Wednesday morning that he cannot envision Fox News receiving high ratings for the Thursday GOP debate without the front-runner on stage, charging that only "1 or 2 million" people might tune in.
"I just don't see in any way where Fox is going to have a successful debate now when you've got the clear GOP front-runner who has decided to walk away from this debate because he can't be treated fairly at the debate," Lewandowski said on "Morning Joe."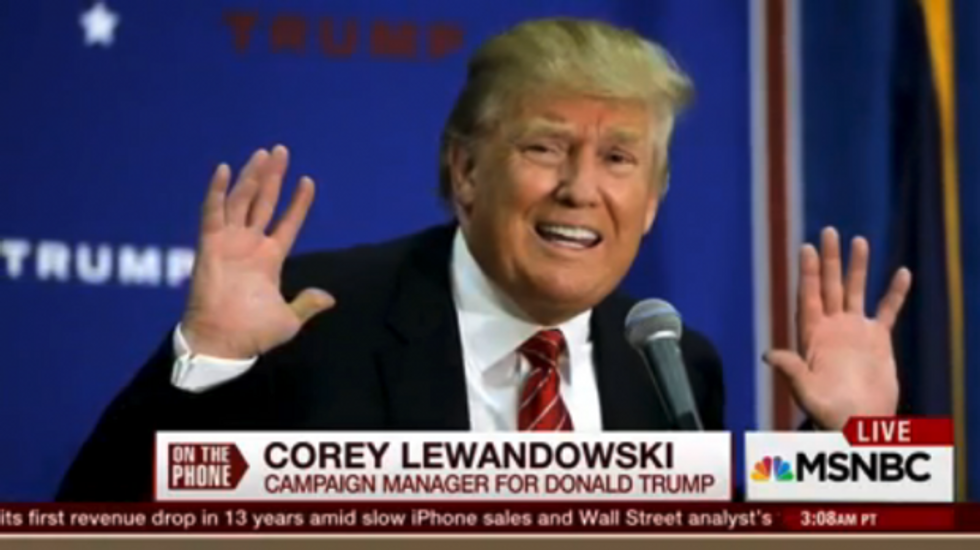 Image source: MSNBC/Morning Joe
"You know, maybe Fox News was going to have a 20-25 million person debate," he added. "But without Mr. Trump's participation, I think they may have a 1 or 2 million person debate."
Lewandowski, who is Trump's main media surrogate, went on to tell the MSNBC hosts that it makes "no sense" for Trump to participate in the debate when one of the moderators is "biased" and "obsessed" with him.
"It's very hard to appear with someone from a network which is going to be as biased as it has been against him," he said, speaking of Fox host Megyn Kelly, who will be one of three debate moderators. In addition, she will be joined by Chris Wallace and Bret Baier.
"It just doesn't make sense," he continued. "What we know is that Megyn Kelly is totally obsessed with Mr. Trump. She has done show after show about why the media shouldn't be having him on television."
[sharequote align="center"]"What we know is that Megyn Kelly is totally obsessed with Mr. Trump."[/sharequote]
Lewandowski added that Trump is not backing out of the debate because he is afraid to defend himself, but rather because he knows when to "walk away from a bad deal." He also contended that Trump is the "best debater on the debate stage."
Late Tuesday, Trump vowed to skip Thursday' Iowa debate, citing "lightweight journalist" Megyn Kelly. Instead, he will be hosting an event of his own during the debate time.
A Trump campaign spokesperson did not immediately respond to a request for comment from TheBlaze.
Watch Lewandowski's interview below:
—
Follow the author of this story on Twitter and Facebook:
[facebook //www.facebook.com/plugins/like.php?href=