Following Thursday's Republican debate, retired neurosurgeon Ben Carson is calling for a reform of the debate process.
Speaking on "Fox & Friends" Friday morning, Carson suggested that one of the reforms the Republican National Committee should make concerning the debates is a time clock.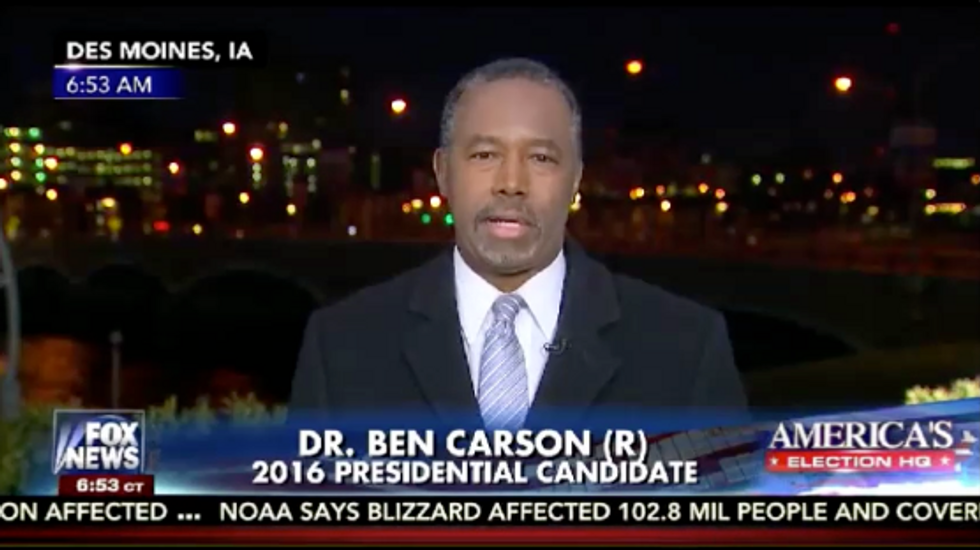 Image via Twitter/FoxandFriends
"I do think that, at some point, they need to readjust some of the formats, and actually have a clock and time the amount of time that people talk," Carson said. "Just because someone mentions your name you get twice as much time, or three times as much time. That really doesn't make a lot of sense."
Carson's sentiment about a debate clock is likely driven by the fact that he received the least amount of speaking time during Thursday's debate.
For the first time, Marco Rubio had the most speaking time at a #GOPDebate: https://t.co/iYR3iShz7j #washex2016 https://t.co/g26R1FqiSR

— Jason Russell (@Jason Russell) 1454083083.0
According to the Washington Examiner's Jason Russell, Carson only received 9.1 percent of the time last night to speak. That's a far cry from the amount of time allotted to Rubio and Cruz, who both surpassed 19 percent (19.9 and 19.6 respectively).
"I probably had the least time to speak, but perhaps had the most to say," Carson added during his interview on "Fox & Friends."
"It's important to be able to get the messages out, and I think the forum last night was more conducive to that than some of the others have been," Carson went on to say, noting that Donald Trump's absense gave each candidate a larger platform to pitch their message.
"I had the least time to speak but...the most to say." @RealBenCarson calls for a change in how debates operatehttps://t.co/fhwW8wiqfH

— FOX & Friends (@foxandfriends) January 29, 2016
—
Follow the author of this story on Twitter and Facebook:
[facebook //www.facebook.com/plugins/like.php?href=