The FBI is itching to indict Democratic front-runner Hillary Clinton and her longtime aid Huma Abedin on charges of conducting classified and sensitive work on unsecured venues, according to former House Oversight and Government Reform Committee Chairman Rep. Darrell Issa (R-Calif.).
"I think the FBI director would like to indict both Huma and Hillary as we speak," Issa told the Washington Examiner Thursday during a debate watch-party.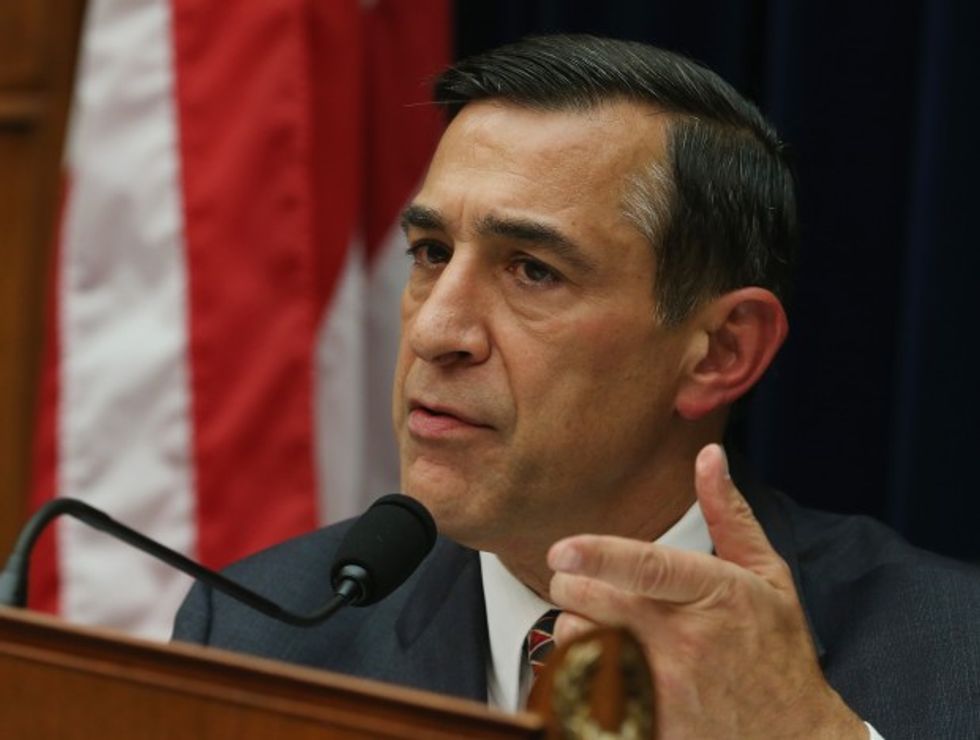 Darrell Issa speaks during a House Oversight and Government Reform Committee hearing on Capitol Hill. (Getty Images/Mark Wilson)
Referring to FBI Director James Comey, Issa continued, "I think he's in a position where he's being forced to triple-time make a case of what would otherwise be, what they call, a slam dunk."
Issa, who also previously headed the special House Committee on Benghazi, added that he believes Clinton's wrongdoings are fairly obvious.
"You can't have 1,300 highly sensitive emails that contain highly sensitive material that's taken all, or in part from classified documents, and have it be an accident," he said. "There's no question, she knew she had a responsibility and she circumvented it. And she circumvented it a second time when she knowingly let highly-classified material get onto emails in an unclassified format."
[sharequote align="center"]"There's no question, she knew she had a responsibility and she circumvented it."[/sharequote]
Clinton has been under increased scrutiny since it was revealed early last year that she exclusively used a private email server to conduct her business as Secretary of State.
Issa's comments come just days after former House Majority Leader Tom DeLay told Newsmax TV that he has friends in the FBI who've told him that the FBI is ready to indict Clinton.
"They're ready to recommend an indictment, and they also say that if the attorney general does not indict, they're going public," DeLay said.
Things, however, continue to get worse for Clinton. It was reported by the Associated Press Friday afternoon that the Obama administration is finally recognizing the fact that Clinton's email server contained some very highly classified emails and information, including seven email chains that have been marked "top secret" — the highest classification.
—
Follow the author of this story on Twitter and Facebook:
[facebook //www.facebook.com/plugins/like.php?href=