The New York Times editorial board announced Saturday that it's behind Hillary Clinton and John Kasich for the Democratic and Republican presidential nominations, respectively.
And regarding the separate pieces on each candidate, Clinton's was about twice as long as Kasich's — and the piece on the Ohio governor didn't mention his name until more than halfway through it.
The Times lauded Clinton, calling her "one of the most broadly and deeply qualified presidential candidates in modern history." It noted her previous experience as secretary of state and as a U.S. senator — as well as her time as first lady with "her brilliant and flawed husband, President Bill Clinton."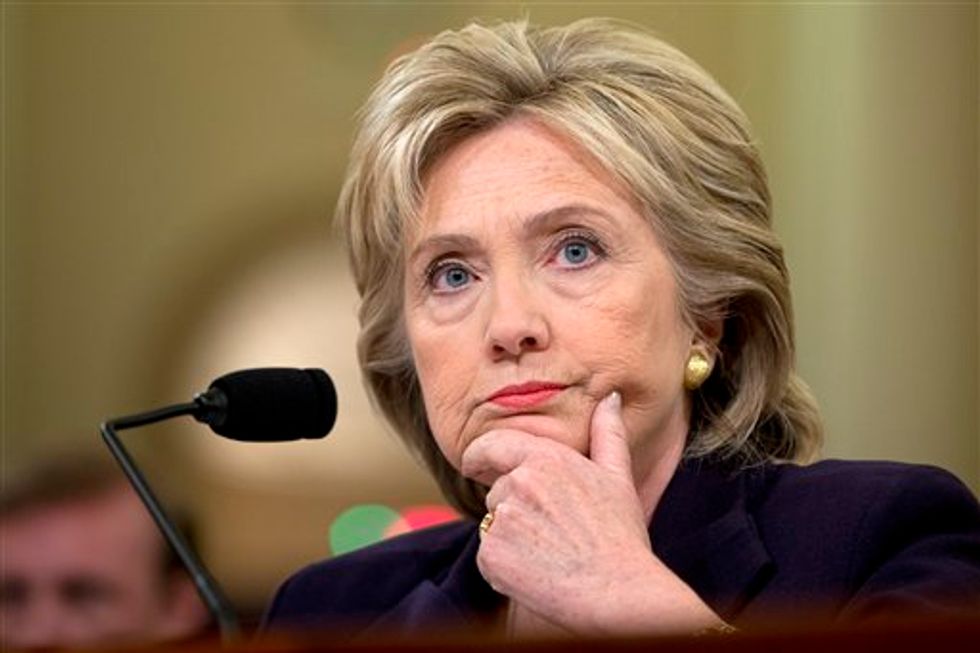 Democratic presidential candidate and former Secretary of State Hillary Rodham Clinton, listens as she testifies on Capitol Hill in Washington, Thursday, Oct. 22, 2015, before the House Select Committee on Benghazi. (AP Photo/Carolyn Kaster)
The paper added that Clinton is a "strong advocate of sensible and effective measures to combat the plague of firearms" and said her "economic proposals for financial reform reflect a deep understanding of the 2010 Dodd-Frank financial reform act, including the ways in which it has fallen short."
"As secretary of state, Mrs. Clinton worked tirelessly, and with important successes, for the nation's benefit," the Times said. "She was the secretary President Obama needed and wanted: someone who knew leaders around the world, who brought star power as well as expertise to the table."
The paper also credited Clinton with helping to make it possible to "impose tougher sanctions on Iran, which in turn led to the important nuclear deal now going into effect" and said she "would use American military power effectively and with infinitely more care and wisdom than any of the leading Republican contenders."
The paper made one mention of the email scandal haunting the Democratic frontrunner, saying questions about it "are legitimate and deserve forthright answers."
The Times' piece announcing Kasich as the paper's choice for the GOP nomination characterized him as a "distinct underdog" — and it was about half as long as the Clinton piece, which came in at over 1,100 words.
Additionally, the Times' article on Kasich (about 600 words) didn't mention his name until more than halfway through it; the majority of the copy criticized other GOP candidates.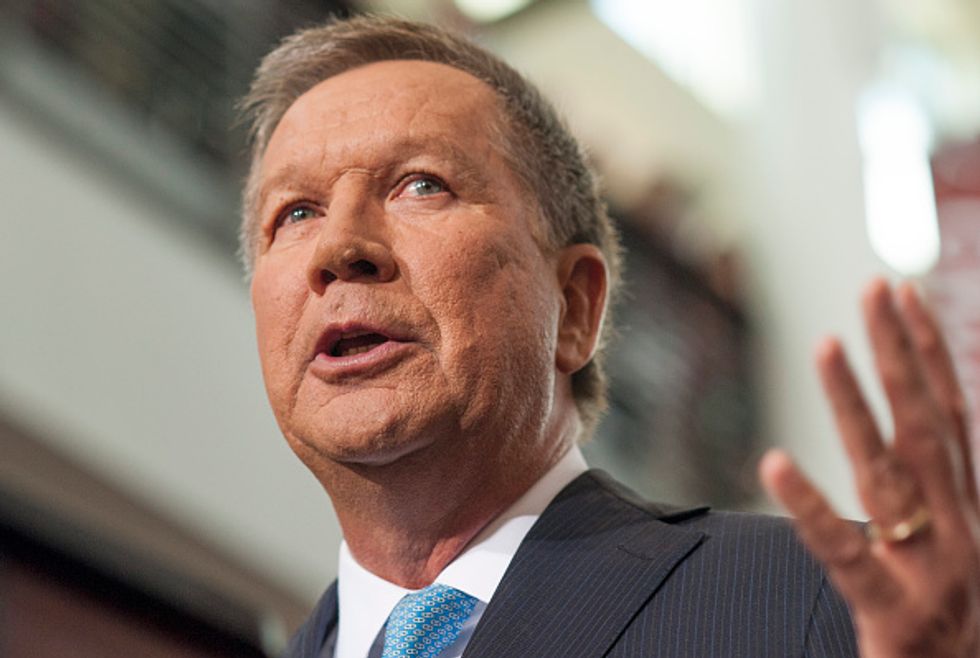 Ohio Governor John Kasich gives his speech announcing his 2016 Presidential candidacy at the Ohio Student Union, at The Ohio State University on July 21, 2015 in Columbus, Ohio. (Photo by Ty Wright/Getty Images)
Here are the three paragraphs the Times wrote about Kasich:
Gov. John Kasich of Ohio, though a distinct underdog, is the only plausible choice for Republicans tired of the extremism and inexperience on display in this race. And Mr. Kasich is no moderate. As governor, he's gone after public-sector unions, fought to limit abortion rights and opposed same-sex marriage.

Still, as a veteran of partisan fights and bipartisan deals during nearly two decades in the House, he has been capable of compromise and believes in the ability of government to improve lives. He favors a path to citizenship for undocumented immigrants, and he speaks of government's duty to protect the poor, the mentally ill and others "in the shadows." While Republicans in Congress tried more than 60 times to kill Obamacare, Mr. Kasich did an end-run around Ohio's Republican Legislature to secure a $13 billion Medicaid expansion to cover more people in his state.

"I am so tired of my colleagues out here on the stage spending all their time talking about Barack Obama," he told a town hall crowd in New Hampshire. "His term is over." Mr. Kasich said recently that he had "raised the bar in this election. I've talked about hope and the future and positive things." In this race, how rare that is.
The Real Clear Politics polling average has Kasich at 2.4 percent, behind six other GOP candidates.
This story has been updated.