UPDATE 8:34 p.m. ET: DENVER (TheBlaze/AP) — Denver's police chief said one person was fatally shot and seven others were wounded when a fight broke out a motorcycle expo Saturday.
Police Chief Robert White told reporters it was unclear what prompted the incident at the National Western Complex, where the Colorado Motorcycle Expo was being held this weekend. He said other events associated with the expo have been canceled.
White said investigators believe there was an exchange of gunfire. In addition to the person who was shot and killed, three others were shot. White says another person was stabbed and three others suffered injuries from a fistfight.
Police were keeping a heavy presence at the hospital where the injured people were being treated to prevent the incident from spreading from the expo.
—
UPDATE 6:04 p.m. ET: DENVER (AP) — Dr. Kevin McVaney of Denver Health Medical Center said six people were admitted to the hospital. He said three were in critical condition and three were stable.
McVaney did not release details about what injuries they were being treated for.
—
UPDATE 5:48 p.m. ET: Denver Health and its emergency department had been under lockdown after the shooting and stabbing as a precaution, but those lockdowns have been lifted.
Denver police will remain around the Denver Health campus until further notice, and our ED remains under heavy security. Lock downs lifted.

— Denver Health (@DenverHealthMed) January 30, 2016
Denver Health tweeted initially that its paramedics were responding and that nine people were taken to area hospitals.
Reports of shots fired at the National Western Complex. @KDVR pic.twitter.com/U1Tf0aWA1W

— Drew Smith (@drewsmithvideo) January 30, 2016
Original story below
DENVER (TheBlaze/AP) — Denver police say one person is dead and others injured in a shooting and stabbing at a motorcycle expo.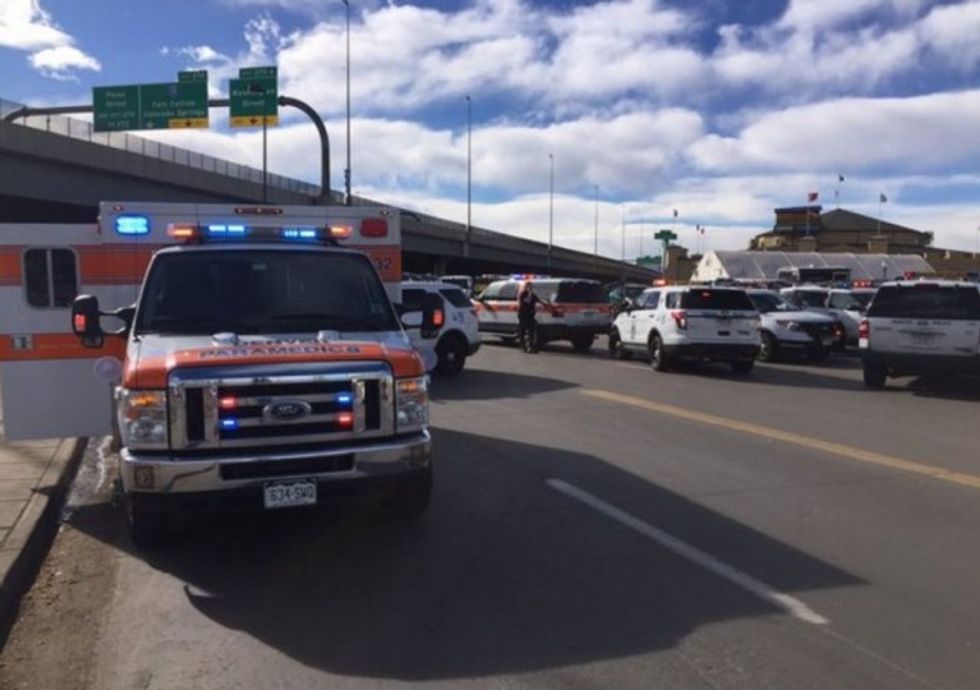 Image source: Denver Police
Police spokeswoman Raquel Lopez says the incident occurred about 1 p.m. Saturday at the National Western Complex. The Colorado Motorcycle Expo is being held this weekend at the complex.
Lopez says multiple people were injured but she couldn't provide an exact number. She couldn't say whether any gangs were involved.
Lopez says police evacuated people from the complex. No arrests have been made.
A source told KUSA-TV the incident involved two motorcycle clubs.
More from KUSA:
Police say the motorcycle expo is ongoing, though some road closures are in effect. Other events scheduled at the National Western Complex Saturday night will continue as scheduled.

Darren Moffitt was eating in a nearby restaurant when the shooting happened. He said he remembers somebody yelling for everyone to get on the floor, and crawled under the table.

He said the air smelled like smoke, and when he left the restaurant, he walked through a puddle of blood.
This story has been updated.