Speaking to TheBlaze this week, Speaker Paul Ryan talked about the divided state of the Republican Party and his views on immigration reform. But, the newly-minted House leader also took some time to answer a set of wide-ranging questions in a rapid-fire format.
When you log on the Internet, where do you go for your news?
"I do email, I do my downloadable books — the Wall Street Journal, Politico, Milwaukee Journal Sentinel, local newspapers. I do Yahoo News, because I'm on Yahoo," Ryan said.
"And of course, I look at all the various things. I look at Real Clear Economics and Politics. And I also read Drudge and RedState and others," he added. "National Review Online is probably the one I go to most of the conservative websites."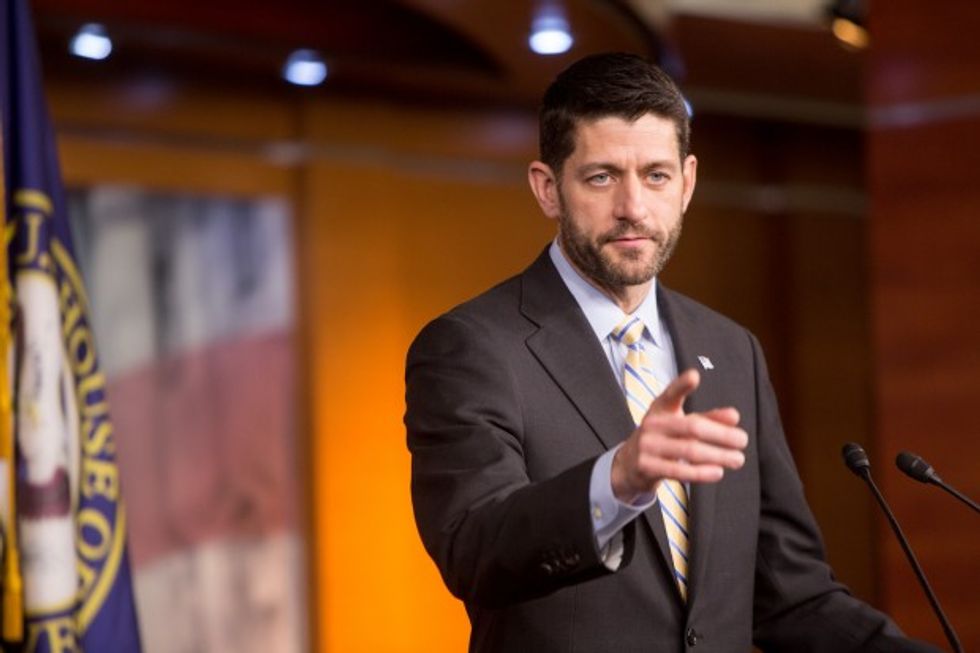 Allison Shelley/Getty Images
Who do you listen to on talk radio?
"In Wisconsin I listen to Charlie Sykes and Mark Belling and Jeff Wagner. It's Sykes and Belling who I mainly listen to, who are Wisconsin guys," Ryan said.
"Nationally, it depends on wherever I am," he explained. "Whether it's Levin or Hannity or Hewitt or Rush. Depends where I am in the country and based on whatever I popped up on the radio. Rush, Hewitt, Hannity and Levin."
Did you pick the song for the blizzard live-stream that broadcasted from the Speaker's Balcony?
"I wish I could take credit for it," Ryan said. "It was good though, wasn't it?"
(It was Ryan's staff who came up with the idea and selected the song.)
Are you currently binge-watching anything on Netflix?
"Yeah I watch Hulu and Netflix," Ryan said.
"I just watched this really strange series — it's sort of brain candy at night to help me turn off my mind and go to sleep," he continued. "It was actually on Amazon. This 'Man in the High Castle.' It was a really strange alternative history. If we lost World War II what the world would look like. And it was very interesting. And I just watched that series."
Super Bowl predictions?
"Yeah, you know I would love to see Peyton Manning go out like John Elway. On top, winning the Super Bowl," Ryan said. "I would love to see that."
"But it's going to be really hard to see them defeat the Panthers," he continued. "Those guys are on fire. It's interesting to see Cam Newton — I like seeing a Heisman Trophy winner go on. He'll be the MVP I'm sure. He should be. He's exciting to watch. And to see the young up and comer versus the old, elder statesman of the NFL."
"To be honest, I just want to see a good game. My guess is the Panthers probably win it because they are so good, but it would be nice to see Peyton go out on top like Elway did."
—
Follow the author of this story on Twitter and Facebook: