JOHNSTON, Iowa — Third-place Democratic presidential candidate Martin O'Malley is banking on siphoning voters from the Hillary Clinton and Bernie Sanders campaigns in the Iowa caucuses.
"On caucus night, there's a dynamic that usually defies all polling," the former Maryland governor explained Sunday outside a supporter's home in Polk County, on the outskirts of Des Moines. "And that is the dynamic that happens after the first alignment, when people see opportunities to further their candidate's goals oftentimes by realigning and sending supporters to other camps."
For example, former Secretary of State Hillary Clinton's voters could realize that O'Malley isn't going to get 15 percent support within an individual caucus — the minimum amount for "viability." But rather than have O'Malley be ruled not viable and some of his supporters go to Sen. Bernie Sanders, Clinton voters could send some of their people to O'Malley.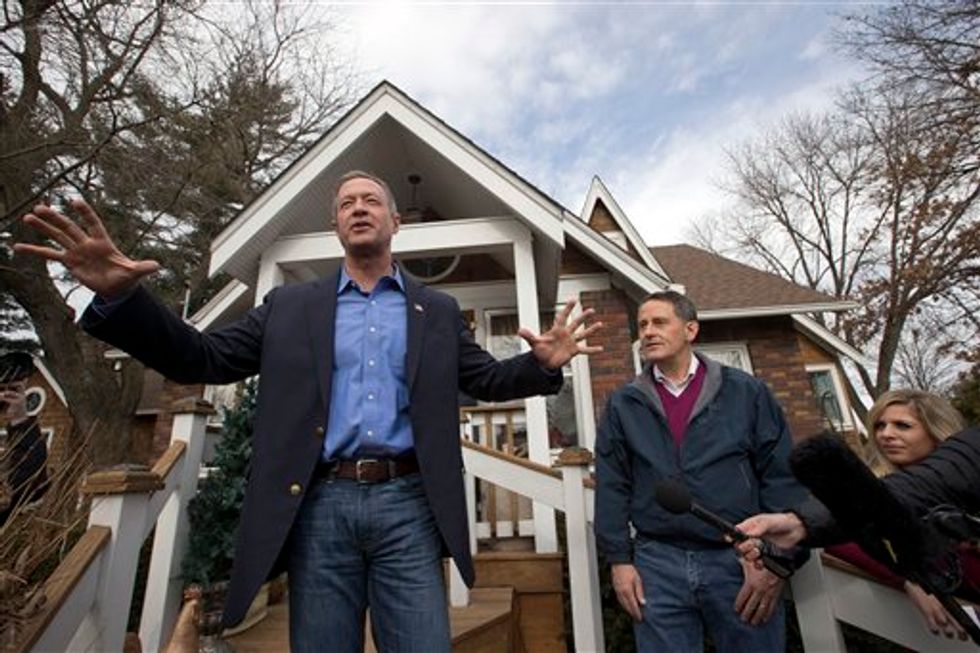 Former Maryland Gov. Martin O'Malley speaks to voters in Johnston, Iowa. (AP/Mary Altaffer)
And vice versa for Sanders, who's been polling within the margin of error to beat Clinton in Iowa at Monday's caucuses.
"That's why we need to hold strong," said O'Malley, who argued that those second-choice alignments might lead to a better showing than expected in Iowa for his campaign.
"In the reshuffling and the realignment, all sorts of things can happen," he said. "That's why the results on caucus night usually defy the polls. ... There's no real way to poll on that."
And a better showing than expected in Iowa could launch his campaign into a better position moving into New Hampshire and South Carolina, O'Malley added.
"The Iowa caucuses usually have a way of changing the dynamic of this race," he said. "I am a challenger candidate in the same vein as many other candidates that none of us ever heard of until they surprised in Iowa — Jimmy Carter and many, many others."
After speaking to supporters, O'Malley walked through a neighborhood in Johnston followed by a horde of reporters and knocked on a voter's door.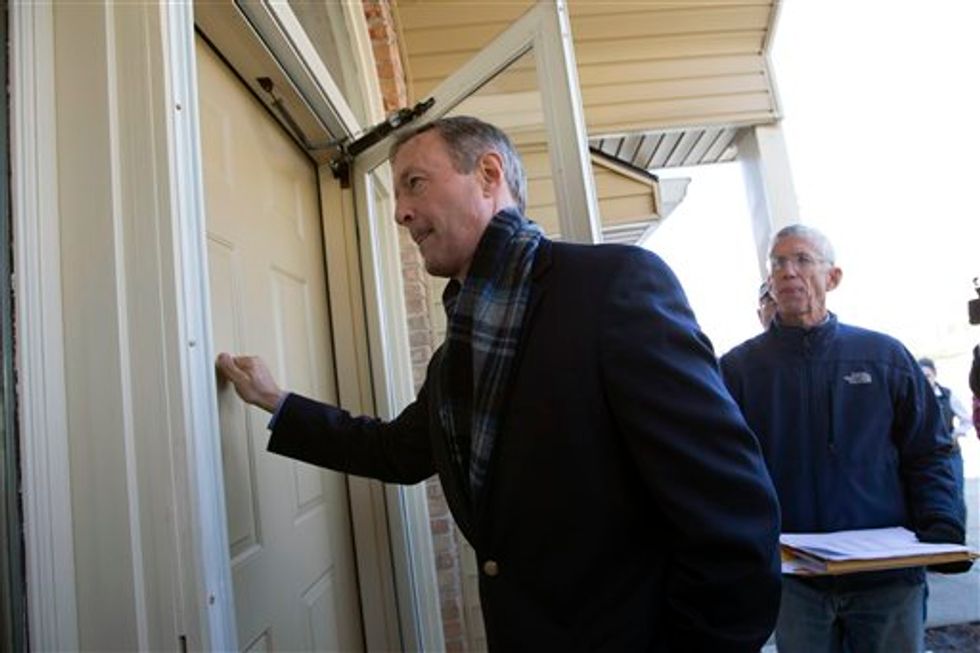 O'Malley canvases in Johnston, Iowa on Sunday. (AP/Mary Altaffer)
The strategy is to motivate his campaign's precinct captains to make O'Malley's case at the caucuses, so that his voters won't have to choose another campaign to support due to falling below the 15 percent threshold.
But if that does happen, O'Malley wouldn't say who his voters should switch to, saying only that they should "follow their instincts."
Despite the polls, O'Malley was cheery about his chances.
"I think that there's a lot of people in both of my opponents' camps who would say that I am their second choice," he said. "So let's see what happens on caucus night."
When asked by TheBlaze whether pulling voters from Clinton or Sanders would be an artificial bump that doesn't show his actual support levels, O'Malley essentially said that he'll take what he can get.
"No, I see it as a hard-earned bump," he said. "That's why we need to hold strong. The people that have come to my candidacy and are holding strong in my candidacy at this point have made up their mind pretty firmly that they believe I would be the best choice for the fall, and now they need to go into their caucus and persuade their neighbors as well."
—
Follow the author of this story on Twitter and Facebook:
[facebook //www.facebook.com/plugins/like.php?href=