In order to help black males graduate, the University of Connecticut is constructing a dorm with a living space only for them.
Called the ScHOLA2RS House, the living community for African American males is set to open in 2016. According to UConn's website, the ScHOLA2RS House is "a scholastic initiative to groom, nurture, and train the next generation of leaders to address grand challenges in society through the promotion of academic success in undergraduate programs at the University of Connecticut and in competitive graduate programs."
Dr. Erik Hines, an assistant professor of educational psychology and the future faculty advisor to those in the dorm, said UConn will implement the living space as a "forward-thinking" solution to the fact that black male students graduate at a lower rate.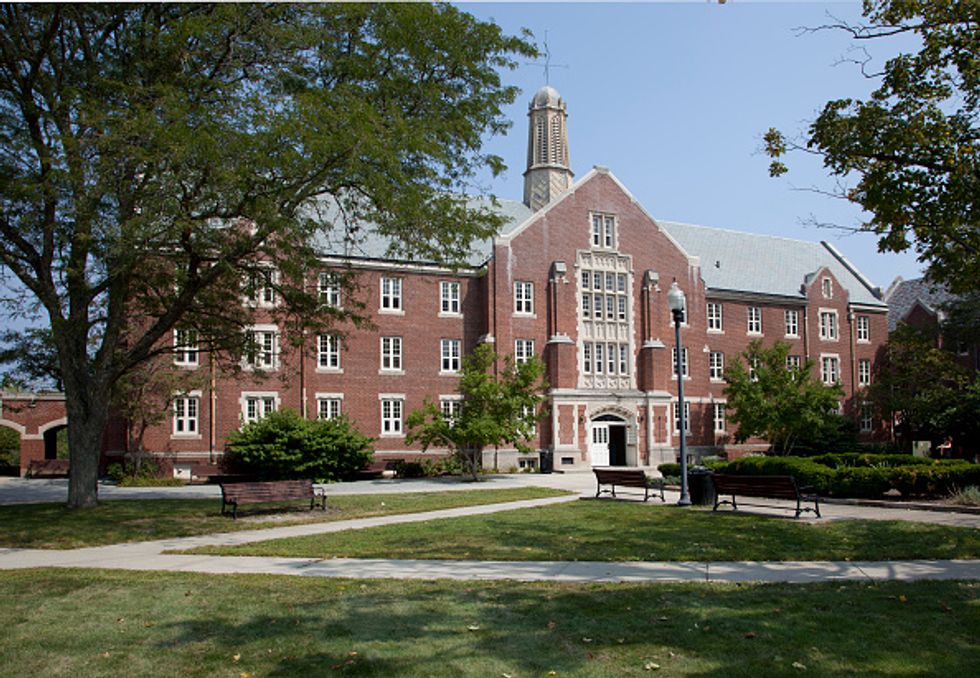 University of Connecticut (UConn) main campus. (Photo by Carol M. Highsmith/Buyenlarge/Getty Images)
"It is a space for African American men to one, come together and validate their experiences that they may have on campus. Number two, it's also a space where they can have conversation and also talk with individuals who come from the same background who share the same experience," Hines told WTIC-TV.
However, some students have taken issue with the idea.
"I was not pleased, my immediate thought was 'What?'" Haddiyyah Ali, a fourth-semester Africana studies and political science major told the Daily Campus. "I know there had to be a lot of research that went into it…but just for me coming from a student perspective, my initial thought was what about black women and girls – what about us?"
"Just this idea that 43 black men get retention programming and everyone else is left in limbo," Ali continued. "I will always contest to the fact that black men on the campus aren't given enough resources, I will in no way dispel that fact, but my questioning isn't if they need, but is if they need it in this way."
David Ouimette, executive director of first year programs and learning communities, told the Daily Campus that UConn received a grant specifically for a living-learning community.
"It's interesting this hang up on the living part. I don't really understand the hang up," he said. 
"The white portion of the University of Connecticut is probably not ready for it," Isaac Bloodworth, a puppetry major, said of the criticisms. "You have people who are going to go against it because they are just racist and they see this as a form of segregation or that we're getting better things than they are."
Bloodworth continued to say that while he's supportive of the community, he's fearful that the living space could lead to a racial divide on campus.
ScHOLA2RS House will be housed in a more than 200,000-square-foot dorm set to open in 2016, according to WTIC.