After weeks of cajoling from progressive activists, state lawmakers and the candidates themselves, the Democratic National Committee has agreed to allow for more sanctioned debates among the three presidential contenders.
DNC Chairwoman Debbie Wasserman Schultz announced the decision Sunday after all three candidates — former Secretary of State Hillary Clinton, Vermont Sen. Bernie Sanders and former Maryland Gov. Martin O'Malley — had all decided to participate in an additional NBC/Union Leader debate in New Hampshire set for Feb. 4. The debate will be after the Iowa caucuses and before the New Hampshire primaries — a time when, traditionally, a Democratic presidential debate has occurred.
"Our Democratic candidates have agreed in principle to having the DNC sanction and manage additional debates in our primary schedule, inclusive of New Hampshire this week," Wasserman Schultz said in a statement.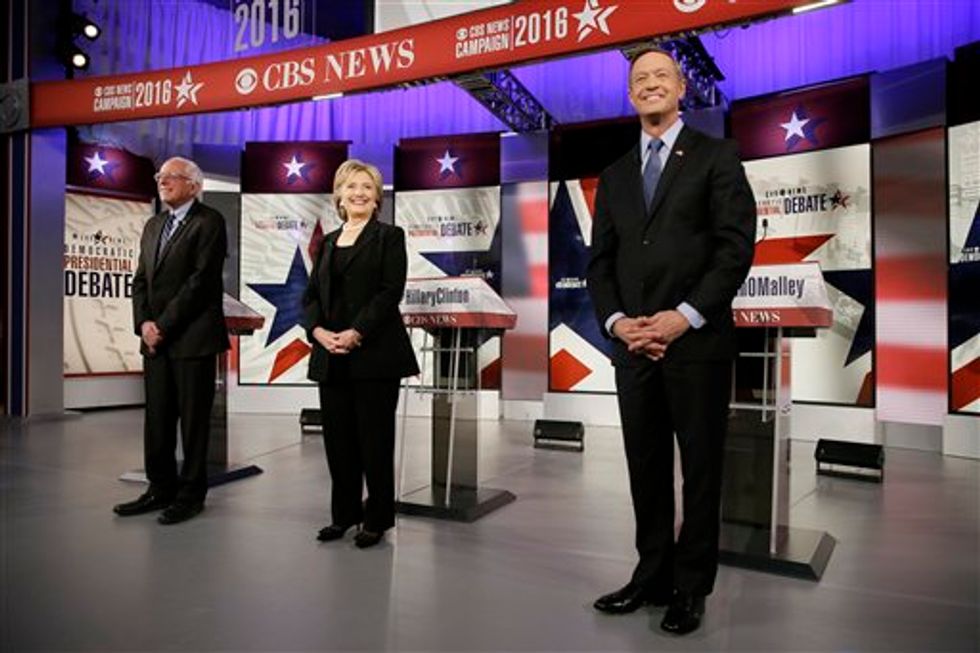 Democratic presidential candidates Vermont Sen. Bernie Sanders, left, Hillary Clinton and former Maryland Gov. Martin O'Malley take the stage before a Democratic presidential primary debate Nov. 14 in Des Moines. (AP Photo/Charlie Neibergall)
"We have consistently worked with our campaigns to ensure a schedule that is both robust and allows our candidates to engage with voters in a variety of ways, whether through debates, forums or town halls, while also leaving them the flexibility to attend county fairs and living-room conversations for the direct voter contact that matters so much in the early states," she continued. "Those principles will continue to guide these negotiations."
Just last week, Wasserman Schultz had said the DNC has "no plans to sanction any further debates." According to the DNC's policy, candidates who participate in unsanctioned debates would forgo the opportunity to participate in further sanctioned debates.
Wasserman Schultz has faced harsh criticisms from Democrats for sanctioning only six debates and at inconvenient times. 
New Hampshire state Rep. Jackie Cilley (D) told TheBlaze after the NBC/Union Leader debate had been announced — and originally denounced by the DNC — that she and many others "have been extremely disappointed at the party structure, the DNC, having such a limited number of debates and holding them at such an incredibly poor time." 
Cilley is a part of the New Hampshire Debates, a coalition of progressives upset over the DNC's official debate schedule who lobbied for more debates — particularly the one in the Granite State.
"It's sort of hard to look [at the debate schedule] and say there wasn't some design behind it," she said. "I hear from folks that there's a lot of skepticism for the motivation to clinging to that debate schedule."
Jay Surdukowski, an attorney and leader of the New Hampshire Democrats, told TheBlaze that activists had worked for more than six months to bring about the additional New Hampshire debate.
"The stakes are just too high to play politics and deny Granite Staters a prime-time chance for a final reckoning before voting commences," he said.
After the DNC agreed to sanction their debate, Surdukowski thanked all of the Democratic presidential candidates and said the New Hampshire Debates was "pleased" that the DNC would allow the debate as well as work "with the candidates on recalibrating the broader debate schedule to allow our fellow Americans more meaningful opportunities to hear from our three outstanding candidates in coming months."
"We are thrilled our efforts were a catalyst for such a democratic outcome which will impact the presidential race well beyond the Granite State's borders," he said.
O'Malley and his camp have also been vocal in the call for more debates.
"He's the only candidate who has consistently said that the DNC's debate schedule is undemocratic, limits voters' opportunities to hear from our candidates and gives undue oxygen to Republicans like Donald Trump," Haley Morris, a spokesperson for O'Malley, told TheBlaze.
Originally, Sanders had said he would not participate in any unsanctioned debate — potentially derailing the NBC/Union Leader contest and upsetting many members of the New Hampshire Debates group. Over the weekend, Hillary for America Chair John Podesta slammed Sanders' campaign and asserted that Clinton's camp met all of their demands — the addition of three more debates in March, April and May aside from the February New Hampshire debate. Podesta said Sanders' campaign still "refused to take yes for an answer, apparently because they are intent on avoiding a debate in New Hampshire."
"There is nothing worse than a debate about debates," Podesta said.
However, all three candidates — Sanders included — are expected to attend the Thursday debate.
Clinton's campaign has called for one of the additional debates to be held in Flint, Michigan — the town embattled in a water crisis. The DNC has said that it will discuss the logistics of the additional debates after the Iowa caucuses.