As former Secretary of State Hillary Clinton delivered her victory speech Monday night following the Iowa caucuses, an 18-year-old Drake University student whose face was adorned with Clinton stickers became the focus of attention.
But for Peter Clinkscales, he wasn't excited that Clinton narrowly edged-out Vermont Sen. Bernie Sanders. Instead, he was just looking for a good time.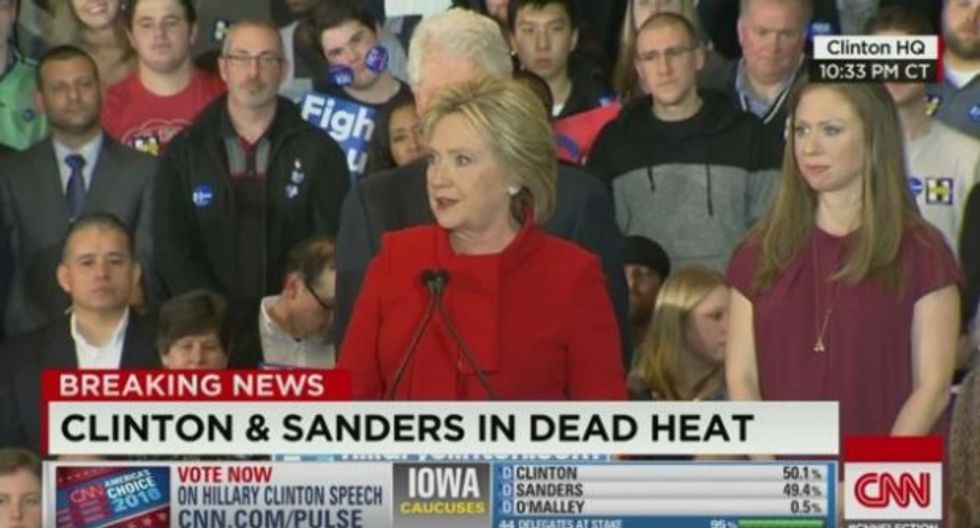 Image source: CNN
"I had stickers in my hand and I thought, 'Wouldn't it be cooky if I put stickers on my face?' Clinkscales told the Independent Journal Review Tuesday. The student added that he made it to the VIP area, which was behind Clinton, for her speech by just following people with the proper credentials.
Clinkscales, who confirmed that he is still undecided, said that he was unable to caucus Monday because he had class. But when asked if being present for Clinton's speech swayed him, he told the Independent Journal Review that he didn't hear Clinton because he was "preoccupied."
"I couldn't hear much, and I had stickers on my face, and I was preoccupied," he said. However, in an interview with the New York Daily News, Clinkscales said that he "isn't even a Democrat" but added, "Bernie Sanders is pretty rad."
The goofy student added that it's been a "lifelong dream" of his to become a meme, and he can now cross that off his bucket list.
Clinkscales had quite an impact Monday night as big-time publications satirically labeled him the "winner of Iowa." Specifically, Gawker declared that "Sticker Kid" won Iowa, while Mashable labeled him the "MVP" of Clinton's speech.
Gawker is officially calling Iowa for Sticker Kid pic.twitter.com/HMjiljGAqA

— Gawker (@Gawker) February 2, 2016
—
Follow the author of this story on Twitter and Facebook:
[facebook //www.facebook.com/plugins/like.php?href=