NASHUA, N.H. – In her first New Hampshire event following the Iowa caucus, Democratic presidential candidate Hillary Clinton said that her win in Iowa has infused her campaign with "energy and excitement."
"I'm so thrilled that I'm coming to New Hampshire after winning Iowa!" Clinton said. "I have won and I've lost there — and it's a lot better to win."
Clinton only briefly mentioned the tight race she has found herself in with her "esteemed opponent" Vermont Sen. Bernie Sanders, a race she called a "contest of ideas."
"Close elections matter," Clinton continued.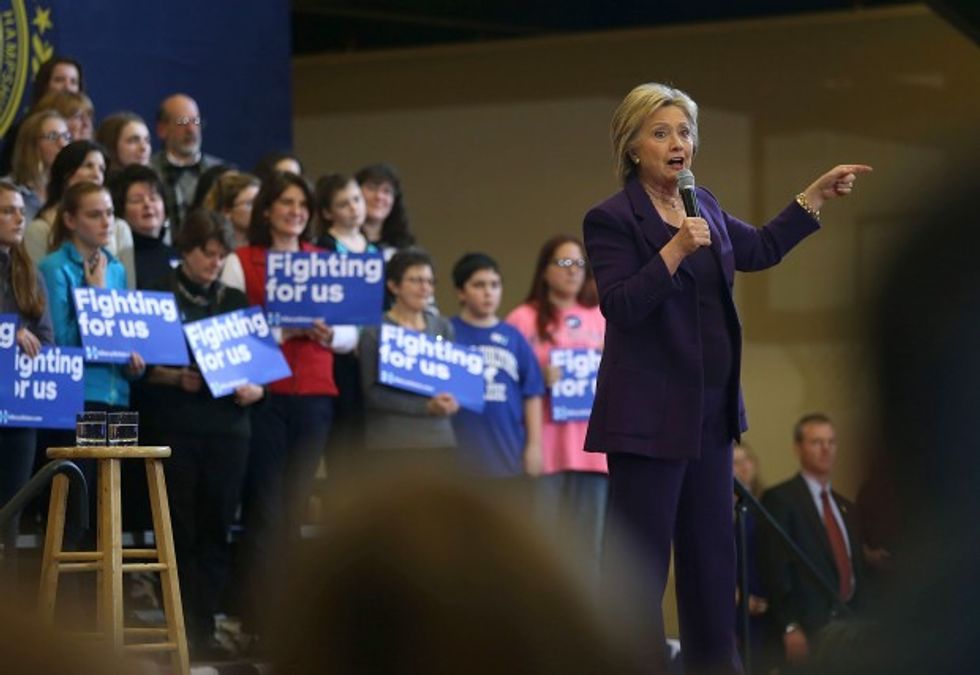 Democratic presidential candidate former Secretary of State Hillary Clinton speaks during a "get out the vote" event at Nashua Community College Tuesday in Nashua, New Hampshire. A day after narrowly defeating fellow Democratic candidate Sen. Bernie Sanders (Vt.) in the Iowa caucus, Clinton is campaigning in New Hampshire a week ahead of the state's Feb. 9 primary. (Justin Sullivan/Getty Images)
The former secretary of state won a narrow victory over Vermont Sen. Bernie Sanders in what the Democratic Party of Iowa said was the closest Iowa Democratic caucus in history.
The results in six Democratic counties were so close that they were reportedly decided by a coin toss — all of which ended in Clinton's favor.
Clinton received 49.9 percent of the total vote in Iowa, Sanders won 49.6 percent.
Former Maryland Gov. Martin O'Malley suspended his bid for the Democratic nomination Monday evening after receiving less than 1 percent.
According to a CNN poll conducted prior to the Iowa caucus, Sanders leads Clinton by 23 points in the Granite State.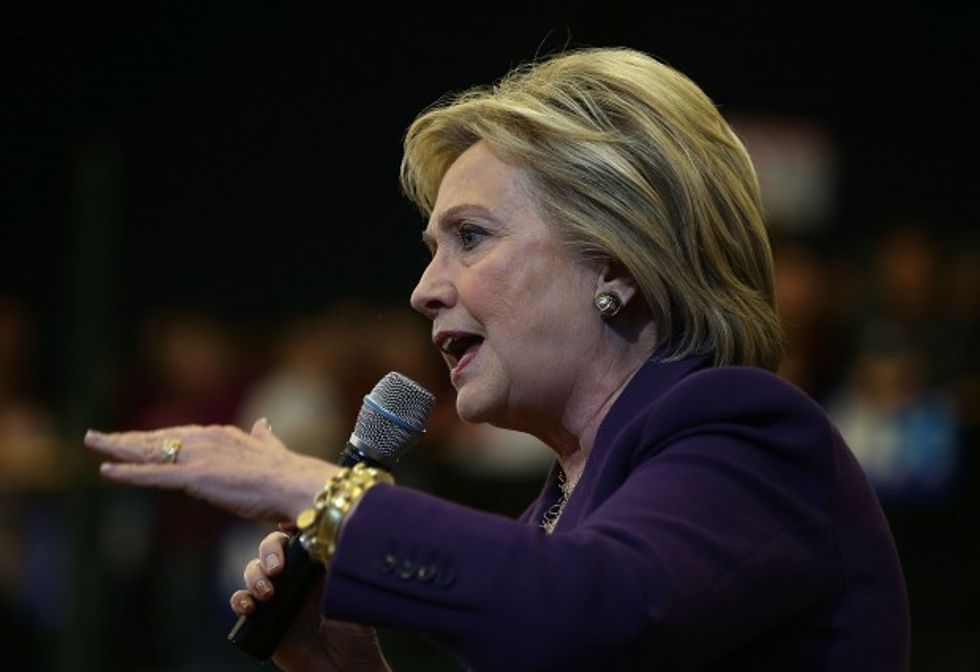 Democratic presidential candidate Hillary Clinton speaks to a campaign rally in Nashua, New Hampshire, Tuesday. (Justin Sullivan/Getty Images)
During the Nashua event, Clinton sharply criticized her Republican rivals for their differing views on varying issues, including health care, climate change and economics.
She praised President Barack Obama's efforts in getting the Affordable Care Act passed and joked that "before it was called Obamacare, it was called Hillarycare."
"A Republican president and a Republican Congress will repeal the Affordable Care Act as fast as they can," she added.
Clinton accused the Republican field of trying to bring "collective amnesia" over the American people by offering tax cuts to the wealthy.
"Trickle-down economics was a failure then, and it will be a failure tomorrow," she said.
And while discussing climate change, Clinton said that the Republicans "are doing what the Koch brothers told them to do" and that they should talk to "high school science teachers" to learn about the issue.
On abortion, she criticized the Republicans for resisting societal "advancements" and pledged to fight for federal funding for Planned Parenthood. She also recognized members of the pro-abortion political action committee Emily's List who were in attendance and thanked them for their work.
Clinton was introduced at the event by her husband, former President Bill Clinton, who, she pointed out "does know a little bit about the job we are competing for."