During a memorial service Saturday for seven Hamas militants killed when the tunnel they were in collapsed on them, Hamas rolled out what it called a "locally-produced" tank it said was fashioned out of an Israel Defense Forces' tank captured two years ago.
However, a number of observers, both Palestinian and Israeli, noticed that there was something odd about the armored fighting machine which a Hamas spokesman warned would be used on the "path of jihad."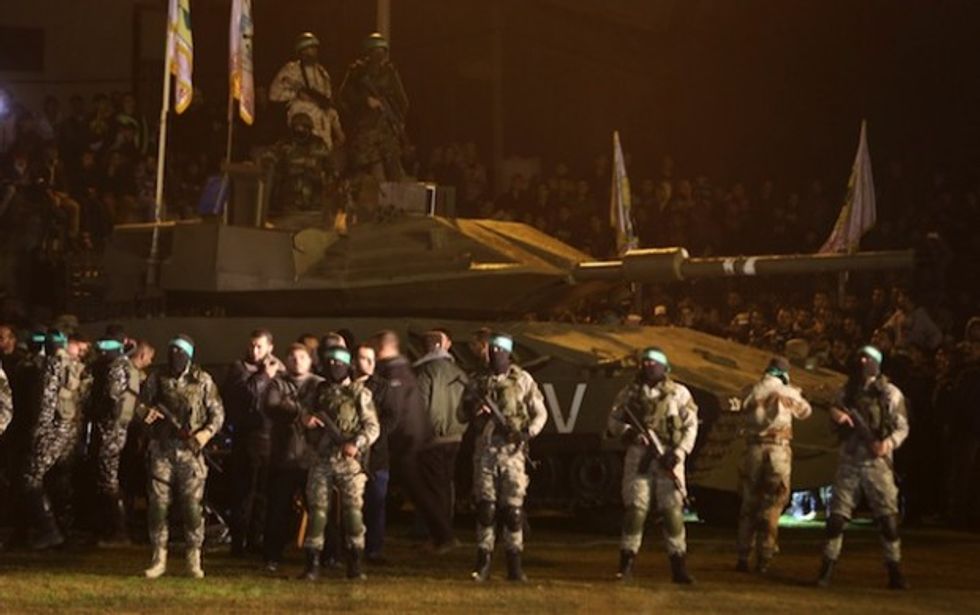 Palestinian members of the Izzedin Al-Qassam Brigades, the armed wing of the Hamas movement, gather around a mock Israeli tank Jan. 31 in Gaza City during a gathering to pay tribute to the brigade's militants who died after a tunnel collapsed in the Gaza Strip. (Mahmud Hams/AFP/Getty Images)
Israeli Prime Minister Benjamin Netanyahu's spokesman Ofir Gendelman pointed out that the contraption appeared to be a mockup constructed of wood placed atop another vehicle whose wheels could be spotted poking out of the bottom.
Hamas paraded yesterday a "captured, rebuilt Israeli tank". FYI, tanks aren't made of wood and don't run on wheels. pic.twitter.com/cP1e8KFjAJ

— Ofir Gendelman (@ofirgendelman) February 1, 2016
Others suggested the gun turret was actually a sewage pipe.
The pro-Israel Elder of Ziyon blog reported Tuesday that a poster was created by Hamas' rival Fatah mocking the tank display. The poster stated: "Can they excite the feelings of their supporters with … sewer pipes and fiberglass panels?"
During his speech inaugurating the tank, Hamas' Izzedin Al-Qassam Brigades spokesman Abu Obeida warned the Islamic movement was "preparing ourselves for the day that we shall meet those [Israeli] tanks."
"Let us point our index finger toward heaven and renew our pledge of allegiance to Allah and to the commanders of the Izzedin Al-Qassam Brigades and vow to continue on the path of jihad and resistance," he said at the ceremony according to a translation by the Middle East Media Research Institute, which posted televised excerpts aired by Hamas' Al-Aqsa TV.
Senior Hamas leader Ismail Haniyeh said Friday that Palestinian fighters are digging tunnels into Israel and testing rockets in order to prepare for a new round of fighting with Israel.