A 7-year-old girl from Kentucky with a rare blood disorder is bringing smiles to millions with her sweet singing voice and killer dance moves.
Audrey and her parents have been posting videos of her dancing for about a year, but her rendition of Selena Gomez's "Love You Like a Love Song," which so far has received more than 14 million views, might be enough to put the pop singer out of work:
Gomez commented on the video Monday, offering Audrey praise and encouragement for her performance: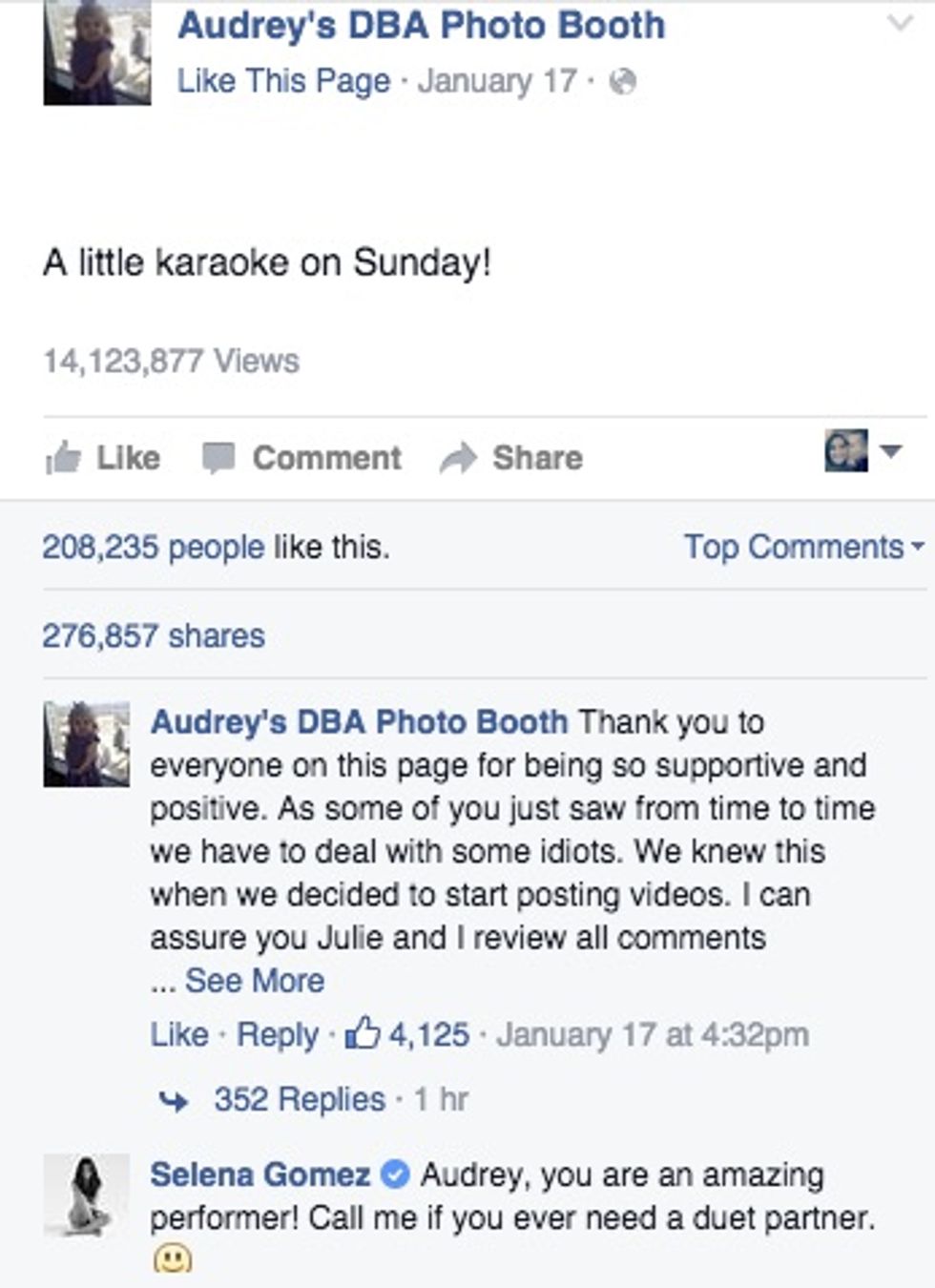 Image via Facebook
And the publicity will serve more than just Audrey's confidence. Next month, she and her parents will host their second annual "In Honor of Audrey DBA Fundraiser" to raise money for the Diamond Blackfan Anemia Foundation. The event will include music, food, games, prize drawings and a silent auction.
Diamond Blackfan Anemia is a rare blood disorder that prevents bone marrow from creating enough red bloods cells to carry oxygen throughout the body. So far, there is no cure.
Audrey's parents, Scott Nethery and Julie Haise, set up a Facebook page to advertise fundraising events and showcase their adorable daughter's dance routines in the hope that their efforts will draw attention to the life-threatening condition.
"The goal is to one day find a safe, reliable cure," a description on the page reads. "But this is still many years away. For a rare disease like DBA there are typically too few researchers to truly push research forward."
"Diamond Blackfan Anemia is an emotional roller coaster that always seems to speed up and even go upside down at times," Scott wrote on Facebook.
According to the Daily Mail, Audrey has undergone 20 blood transfusions and will likely have to go through more in the future.
Half of people living with DBA need a transfusion once every three to five weeks, the Daily Mail reported.
It's hard to see the struggle in Audrey's energetic videos, but the 7-year-old was also born with a cleft palate and a hole in her heart. She hasn't been able to grow as fast as her peers, in part due to the steroids she has to take for her DBA.
Despite all of this, Audrey's father says that his daughter is a force of optimism and spunk.
"Audrey is a happy, loving, smart, little girl who loves to dance, listen to music, and collect dolls and stuffed animals," he told the Daily Mail. "She is incredibly strong and leaves an impression on everyone she meets!"
(H/T: Daily Mail)