A new Gallup survey finds that the U.S. has more Republican states than Democratic states for the first time since taking the measure eight years ago — marking what could be good news for the GOP going into November's presidential contest.
The Gallup report finds that 20 states are either solidly or leaning Republican, while 14 states are solidly or leaning Democratic. That's a dramatic departure from the first poll that measured the partisan inclination of states in 2008, when the Gallup poll found 35 states were solidly or leaning Democratic.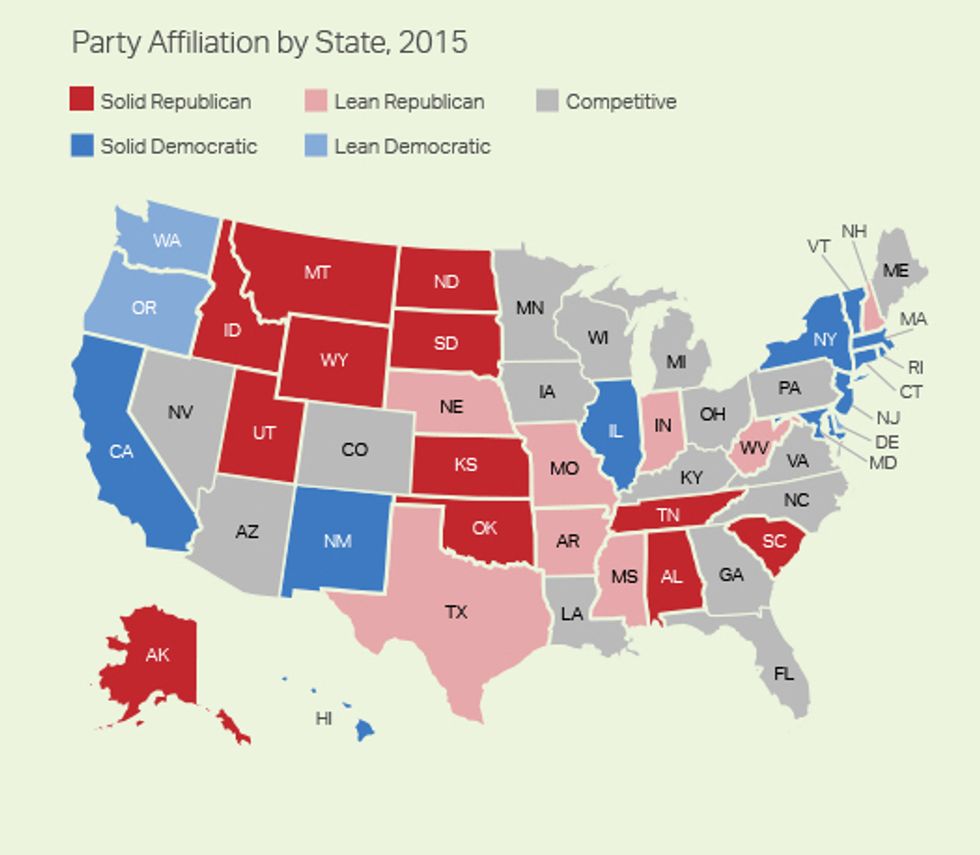 Image source: Gallup Daily Tracking
Wyoming is the most Republican state while Vermont and Hawaii are most Democratic.
This is no guarantee that the Republican nominee will carry all 20 states. Obama carried just 28 states as opposed to the 35 Gallup cited in 2008. But the poll is an indicator as to how much breathing room a party nominee will have in pursuing support in the 16 battleground states. It also marks a steady decline for the Democratic Party.
Nevertheless, Democrats have an edge nationally, where they lead Republicans 43 percent to 40 percent — in large part because the Democratic left is concentrated in large cities. But presidential races are a competition for Electoral College votes rather than popular votes.
In recent years, there have been a roughly equal number of Democratic and Republican states.
The survey found 13 states changed their political classification in 2015, and of that, 11 went to the Republican column, mostly shifting from competitive to leaning Republican. Meanwhile, Maine, Pennsylvania and Michigan each moved from Democratic-leaning to competitive.