A video depicting President Barack Obama as a murderous devil was reportedly projected onto multiple buildings in Moscow, Russia, Friday morning, along with a message that said he needs to be tried in international court.
The video was released on the YouTube channel "60sec." The video shows different projections while a clock counts down from 60 seconds.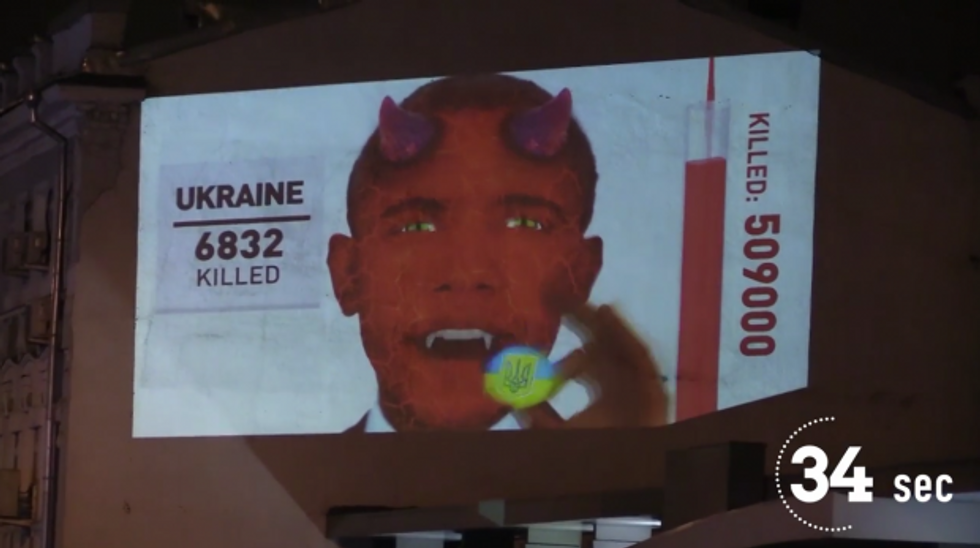 Image source: Youtube
When the projections begin, Obama's face is normal. But as they continue to play, his face and head transform to appear more devil-like, while he eats the flags of various countries where the United States is allegedly responsible for killing people.
The projections then show the number of people that the U.S. is allegedly at fault for killing. The video shows the projection on several different buildings.
Toward the end of the video, the video projects an alleged death toll of 561,832 and concludes with the caption: "Obama, welcome to the Hague tribunal in 2016."
One of the buildings the video was projected on was next to the British embassy in Moscow, according to the Washington Times.
The Russian News Service, which first reported news of the video, offered a possible explanation of the projections.
"Coup in Iraq, Syria, Ukraine and other countries have often led to civil war, the killing of civilians and other war crimes. According to many experts, they were organized by a direct or indirect participation of American political consultants and financial aid Western NGOs, as well as directly on the orders of the US president."
(H/T: The Washington Times)
—
Follow the author of this story on Twitter and Facebook:
[facebook //www.facebook.com/plugins/like.php?href=