Donald Trump is back.
The 2016 Republican frontrunner's return to the stage showed a change in strategy, after his decision not to show up to last Thursday's debate in Iowa might have contributed to his second-place finish in a state he led for months.
Trump admitted to feeling pressure to perform well in Saturday's ABC News debate going into Tuesday's primaries in New Hampshire, and even said he considered the debate "more important than the ground game."
"I had to do well tonight, and there was a lot of pressure tonight," Trump said in an interview with CNN after the debate.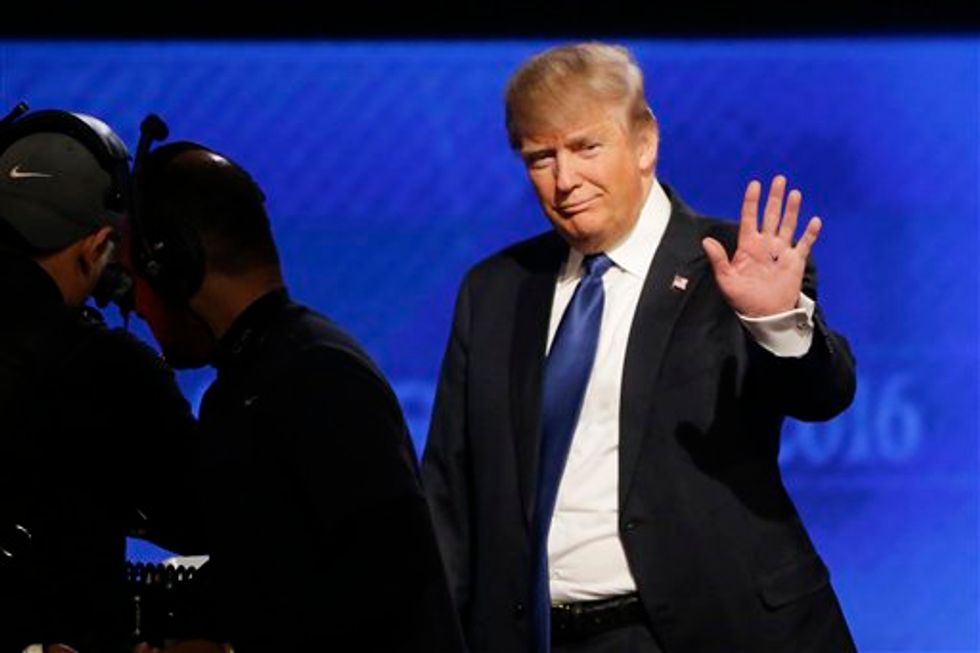 Donald Trump waves as he leaves the stage at Saturday's debate in Manchester, N.H. (AP/David Goldman)
Trump currently leads by more in New Hampshire than he did in Iowa, polling at 30.7 percent compared to Sen. Marco Rubio's 16.4 percent and Sen. Ted Cruz's 12 percent according to the Real Clear Politics polling average in the Granite State.
But his second-place finish in Iowa called into question how much of Trump's consistent support in polls will translate to actual votes on election day.
In the interview with CNN after the ABC News debate, Trump was defiant after taking a beating by Cruz in the caucus state.
"It wasn't a loss," Trump said when asked what the loss meant for his campaign, arguing that he came in second in the state and "probably" came in first if Cruz hadn't picked up a number of Ben Carson's supporters after his campaign inaccurately reported that the neurosurgeon planned to drop out of the race.
"I got burnt by the fact that Ben Carson lost a lot of votes," Trump said.
Trump hit the same point in his closing statement, attributing Cruz's win in Iowa to his campaign spreading that Carson was "taking a break" from campaigning.
"That's because he got Ben Carson's votes by the way," Trump said to start his closing statement, "but we won't say that."
Rubio, who surged to a close third place in last week's Iowa caucuses, got the most talk time of any candidate in Saturday's debate, but spent too much of it on the defensive. The first-term Florida senator took heavy fire from Gov. Chris Christie over the youth and perceived inexperience on the world stage.
Rubio countered Christie's criticism by accusing Christie of not returning to New Jersey during a blizzard a few weeks ago, but he may as well have brought out a baseball and a tee.
"You know what the shame is, Marco?" Christie said. "The shame is that you would actually criticize somebody for showing up to work, plowing the streets, getting the trains running back on time when you've never been responsible for that in your entire life."
Christie and Bush spent much of their time creating problems for candidates like Cruz and Rubio. Ohio Gov. John Kasich, who's put in the most time in New Hampshire, had some strong moments but didn't stand out significantly from the pack.
Cruz's best moment was a strong answer on drug addiction, in which he told the story of his sister's overdose.
—
Follow the author of this story on Twitter and Facebook:
[facebook //www.facebook.com/plugins/like.php?href=