Donald Trump got booed three times in rapid succession during an exchange with Jeb Bush over eminent domain — a wildly unpopular process in New Hampshire.
When asked to explain his support for the government's ability to take land from private citizens for projects like the Northern Pass in New Hampshire, the businessman and Republican frontrunner doubled down on his previous position.
"So many people have hit me with commercials and other things about eminent domain," Trump said at Saturday night's ABC News debate. "Eminent domain is an absolute necessity for a country, for our country. Without it you wouldn't have roads, you wouldn't have hospitals, you wouldn't have anything."
Trump said conservatives including many of his opponents say they're against eminent domain, but they support the projects that need eminent domain to exist.
"The Keystone Pipeline — without eminent domain, it wouldn't go 10 feet," Trump said. "You need eminent domain. And eminent domain is a good thing, not a bad thing."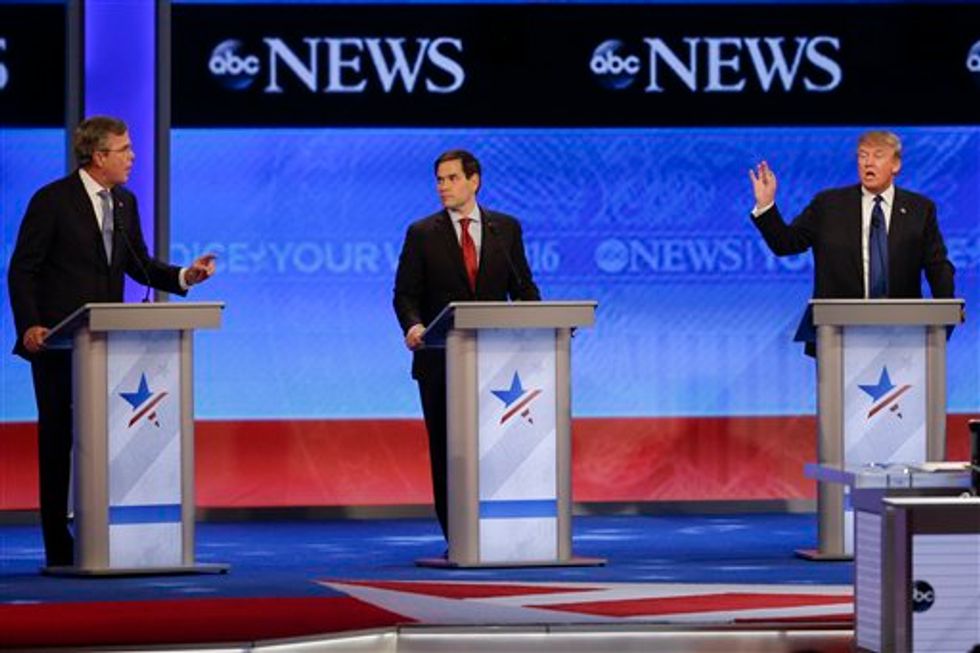 Former Florida Gov. Jeb Bush and businessman Donald Trump spar as Sen. Marco Rubio, R-Fla., listens. (AP/David Goldman)
Trump added that "when eminent domain is used on a person's property, they get a fortune. And if they're smart they'll get two or three times the value of their property."
Former Florida Gov. Jeb Bush jumped in, arguing that there's a difference between using eminent domain for public purposes and for private purposes, and accused Trump of using eminent domain to his advantage to build a "limousine parking lot for his casinos" — not public use.
"What Donald Trump did was use eminent domain to try to use eminent domain to take the property of an elderly woman on the strip in Atlantic City," Bush said. "That is downright wrong."
Trump then tried to jump in, and went back and forth with Bush for a second before saying: "Let me talk — quiet."
His harsh tone elicited loud boos from the crowd at the New Hampshire debate, which appeared to get under Trump's skin.
"That's all of his donors and special interests out there," Trump said.
He then got booed again, but kept going:
"That's what it is," Trump said. "And by the way, we needed tickets, you can't get them. You know who has tickets for the television audience? Donors, special interests."
He then blamed the fact that the crowd booed him on not needing their money.
The [Republican National Committee] told us, we have all donors in the audience," Trump said. "The reason they're not loving me is I don't want their money. ... I don't want their money and I don't need their money and I'm the only one up here who can say that."
Bush and Trump continued to argue about whether the Keystone XL pipeline is a private use or public use of eminent domain — Trump said it was a private use but Bush said it was a public use.
Bush interrupted Trump at one point during the exchange, to which Trump said sharply, "Excuse me, Jeb."
The crowd booed one more time, then ABC went to a commercial break.
—
Follow the author of this story on Twitter and Facebook:
[facebook //www.facebook.com/plugins/like.php?href=