Carolina Panthers star quarterback Cam Newton has been the picture of joy all season.
He's had every reason to be: He led his squad to a league-best 15-1 record, was named the league MVP and drew as much attention for his on-field celebrations as for his on-field skill.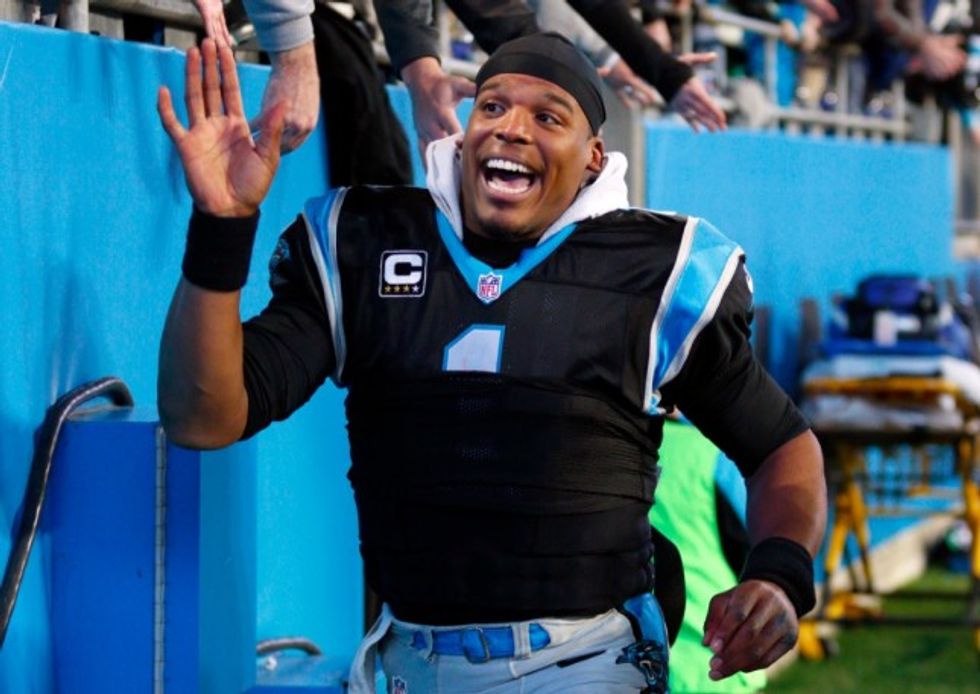 Carolina Panthers' Cam Newton (1) celebrates his team's 15-1 regular season record following an NFL football game against the Tampa Bay Buccaneers in Charlotte, N.C., Sunday, Jan. 3, 2016. The Panthers won 38-10. (AP Photo/Bob Leverone)
Newton's reactions to his nonstop triumphs even raised the ire of a Tennessee mom who wrote a letter that went viral complaining of his "chest puffs," "pelvic thrusts" and "arrogant struts and the 'in your face' taunting" as the Panthers dismantled the Titans.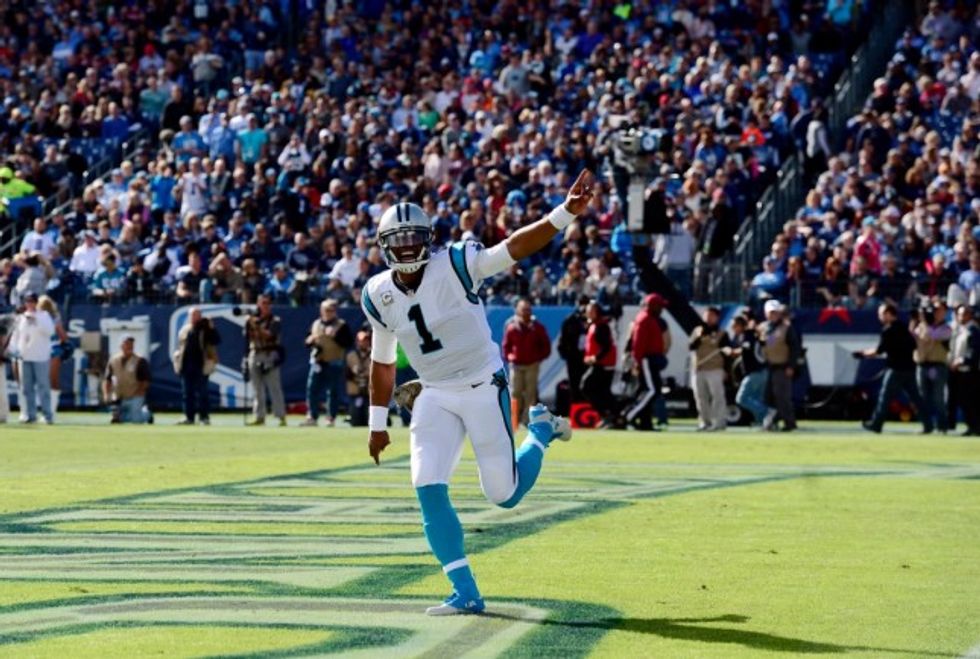 Carolina Panthers quarterback Cam Newton celebrates a touchdown against the Tennessee Titans in the first half of an NFL football game Sunday, Nov. 15, 2015, in Nashville, Tenn. (AP Photo/Mark Zaleski)
After his team bested defending NFC champs the Seattle Seahawks in the playoffs — and Newton tossed a Seahawks flag to the turf in celebration — a fan started a petition to have "one of the most unprofessional, unsportsmanlike individuals on the face of the planet" banned from Seahawks home games forever.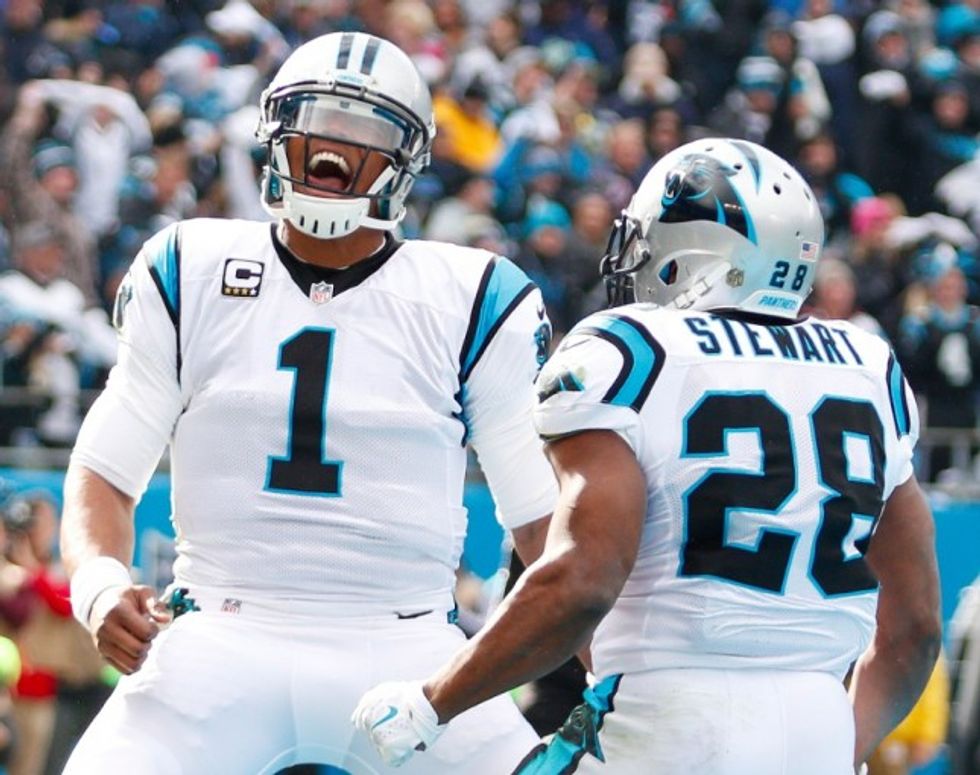 Running back Jonathan Stewart (28) of the Carolina Panthers Panthers celebrates with quarterback Cam Newton (1) after a touchdown against the Seattle Seahawks in the NFC divisional playoffs, Sunday, Jan. 17, 2016, in Charlotte, N.C. The Panthers won 31-24. (AP Photo/Bob Leverone)
And most folks figured the Panthers' explosive play would propel them to certain victory over the Denver Broncos in Super Bowl 50 — and we'd be treated to one more round of Newton's exultations.
Neither came to pass.
After losing the Super Bowl 24-10 Sunday, Newton sat in a press conference wearing a hood over his head and looking terribly dejected — and answering questions from the media probably was the last thing he wanted to do.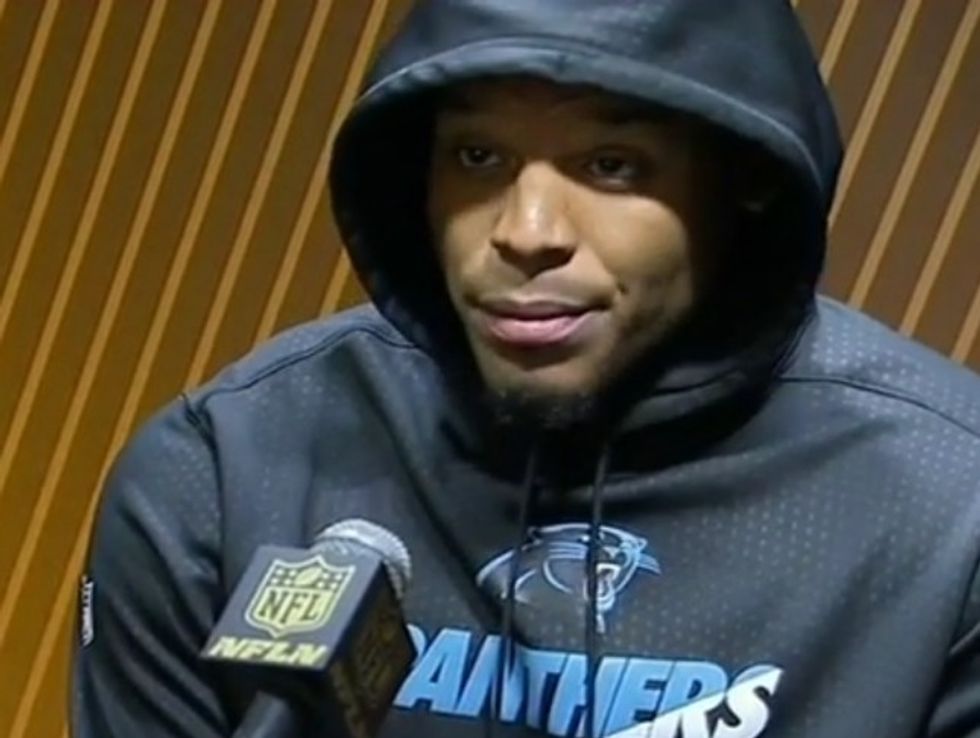 Image source:YouTube
Indeed, his answers mostly ranged from one to three words — highlighted by "we lost" after a reporter asked if he could put into words "the disappointment you feel right now."
Finally, after little more than two minutes in front of the familiar microphone, Newton had enough: "I'm done man." Then he walked away.
Here's the clip:
Here's a second video that shows his walkout:
This story has been updated.