A double-decker bus exploded on a bridge over the Thames River in London Sunday, causing many to panic and speculate about a possible terrorist attack.
They probably would have appreciated someone telling them that what they were seeing was just a shoot for a new action movie starring Jackie Chan and Pierce Brosnan.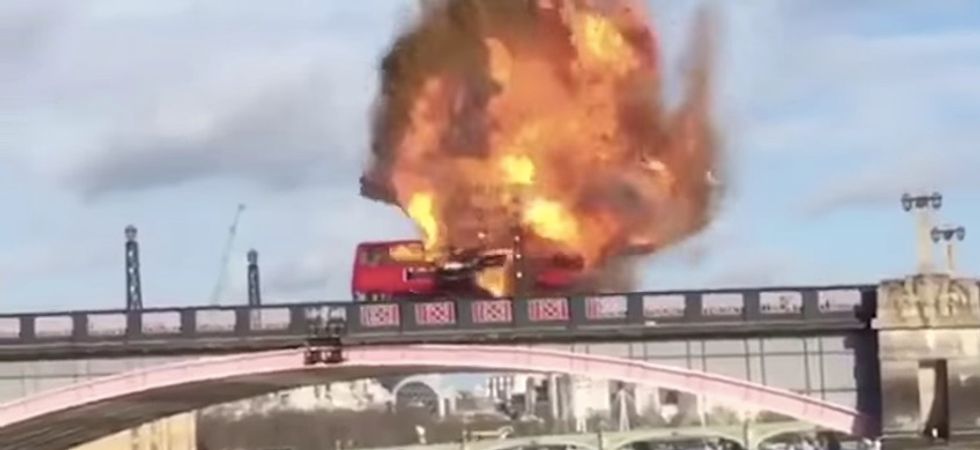 Image source: YouTube
The film's production crew did attempt to warn Londoners that they would be filming Sunday, but many did not receive the memo. Some residents voiced their complaints on social media, arguing that more could have been done.
Hey film types next time you blow up a bus on Lambeth Bridge maybe tell us first so children in park aren't freaked? pic.twitter.com/8Ui6YoE9N0

— Sophie Kinsella (@KinsellaSophie) February 7, 2016
Because of the bridge's prominent location, it would be impossible to notify absolutely everyone. Still, some felt that it would have been proper to elaborate as to why the bridge might be closed:
Lambeth Bridge shut for filming tomorrow morning. Beware of controlled explosions! pic.twitter.com/TKz8xuatdO

— London SE1 (@se1) February 6, 2016
In other cities, such as Los Angeles, film crews will often explicitly warn residents of the exact nature of the action scenes being filmed in order to minimize the amount of alarm caused by them:
Some gangster movie starring George Clooney. #PasadenaLife pic.twitter.com/TFC4omoie0

— Sanden Totten (@sandentotten) February 1, 2016
The movie that has now received some premature publicity is called "The Foreigner." The film's tagline, according to IMDb is, "The IRA took his family. The police looked the other way. Now he must get revenge." Other than that, the only thing we can confirm is that there is a scene involving a very realistic bus explosion.
(H/T: Gizmodo)