Republican presidential candidates Sens. Marco Rubio (Fla.) and Ted Cruz (Texas) are "running from their heritage," according Rep. Xavier Becerra (Calif.), a top Democratic lawmaker.
In an interview with South Carolina Democratic Party Chairman Jaime Harrison, Becerra, chairman of the House Democratic Caucus and member of the Congressional Hispanic Caucus, said that there are some Republicans who want to pass immigration reform, but it's "unfortunate" that almost all of the presidential candidates are "saying the wrong thing."
"Here's the real problem I have with Ted Cruz and Marco Rubio. It feels like they're running from their heritage, in my book. They don't want to say who they are," Becerra said. "I mean, I'm a proud Democrat, but I'm Latino before I'm Democrat. I can't erase this skin, so I'm always going to be brown. I don't always have to be Democrat, and if my party abandons me, my values, I can change."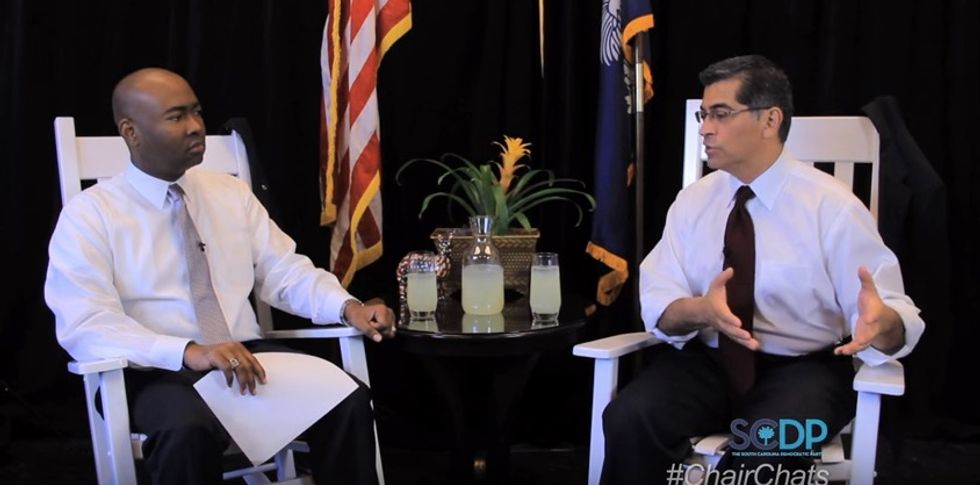 Image source: YouTube
"You're exactly right," Harrison replied.
"So why would Marco Rubio and Ted Cruz flip-flop on issues, hide, run away from the issues that they are," Becerra continued as he pointed at his skin. "The purest example of that is the way they're attacking these children who are coming in at the border who are seeking refuge from the violence in Central America."
Becerra also said both GOP candidates "haven't said anything about this law that gives a Cuban an extreme advantage over anyone else," as he asserted that as soon as a Cuban child crosses into the U.S., he or she is immediately granted a refugee status.
"Yet they blast and attack these immigrant families who are trying to do better for their kids," he said. "So you can be conservative. You can say we have to put up a wall, but by God, make sure everyone has to be behind that and can't get a special privilege just because of their particular national origin."
Becerra said he would welcome any Cuban immigrant who wished to enter the country and work hard but wanted to acknowledge the "real hypocrisy in immigration and to have two candidates who seem to run from who they are and make it difficult for us to get things done."
Harrison said that Becerra's interview is indicative of why the congressman, who has endorsed former Secretary of State Hillary Clinton in the 2016 election, is "seen as a superstar in the [House] Democratic Caucus." There has been speculation that Becerra could be the eventual Democratic presidential nominee's vice presidential pick.
Harrison's interview with Becerra ahead of the South Carolina primary is part of a series of "Chair Chats" the chairman records.