Canadian government documents reveal plans to use seven Canadian military bases to house newly arrived Syrian refugees, including preparing government-funded mosques and purchasing Korans, a conservative news outlet reported.
The Rebel news and commentary site reported Monday that it had obtained government documents through an Access to Information request — the Canadian equivalent of a U.S. Freedom of Information Act request — detailing the plan and budget to house more than 6,000 Middle Eastern migrants on seven military bases in Ontario and Quebec.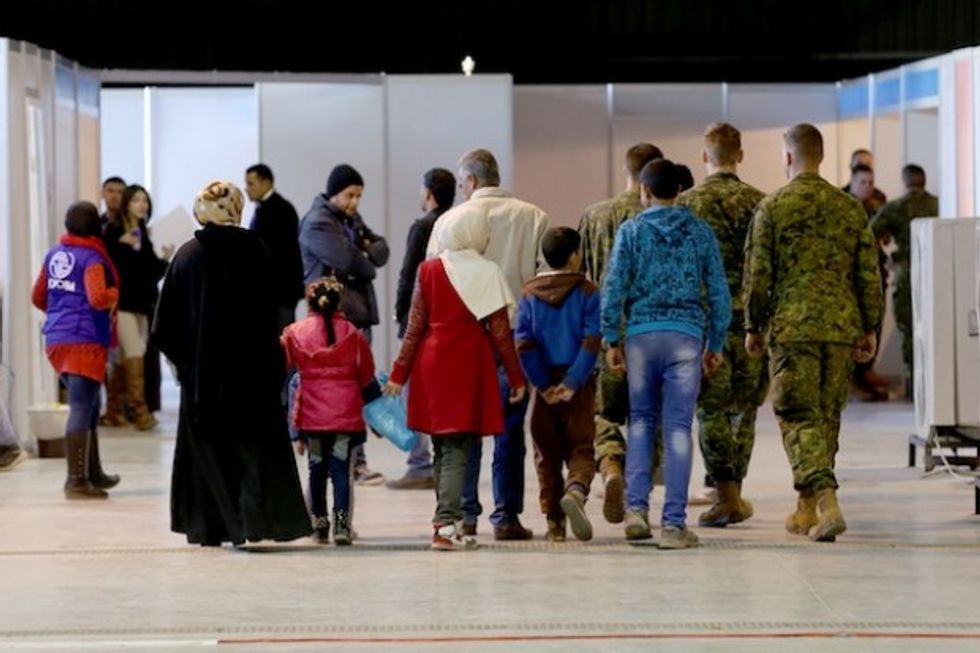 Syrian refugees wait at Marka Airport in Amman, Jordan, Dec. 8 to complete their migration procedures to Canada, which has announced that it will take around 25,000 Syrians from Jordan, Lebanon and Turkey. (AP Photo/Raad Adayleh)
Canadian journalist Ezra Levant reported:
Included in the Department of National Defence budgets are hundreds of thousands of dollars set aside for "religious support," including the purchase of Muslim Korans, prayer mats and foot-washing towels.

The plans also call for the construction of mosques or "worship centres," using taxpayers dollars.
Levant reported that the budget for Quebec totaled more than $33 million U.S. dollars for the first six months, calculating that "for a typical migrant family, that's a $200,000/year [$144,000 U.S.] subsidy — not including medicare or welfare."
According to the report, the plans call for 3,000 migrants to be housed on the CFB Valcartier base in Quebec.
Other revelations in the documents — which were in English and French — described payments of $155,000 U.S. for "religious support" for migrants arriving in the province of Quebec.
Documents included emails exchanged between officials about buying Korans and Muslim prayer rugs for the new arrivals.
In Ontario, $54,000 U.S. was discussed for setting up a Muslim worship center as well as $4,700 U.S. for prayer rugs at one base and $15,600 for rugs at another base.
"Imagine putting poorly vetted Muslim migrants from terrorist-central in Syria right in the heart of our Canadian military bases. It's crazy," Levant opined. "I can't help thinking I bet there are a lot of homeless Canadian citizens who wish they could get free housing, food, chauffeurs, recreation, the works."
These government-released documents included prayer rugs ("tapis" in French) and Korans ("Coran" in French) in the budget. Note that 50 Bibles were also budgeted: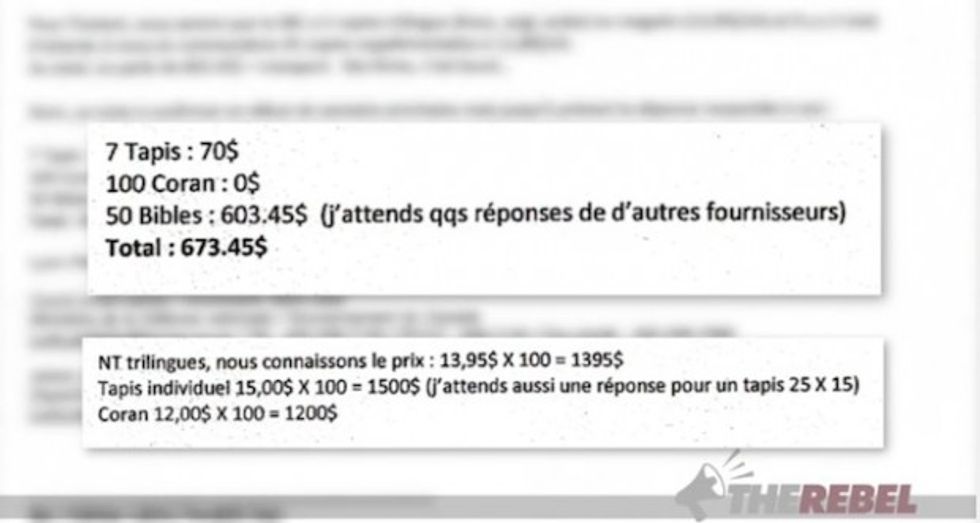 Image source: TheRebel.me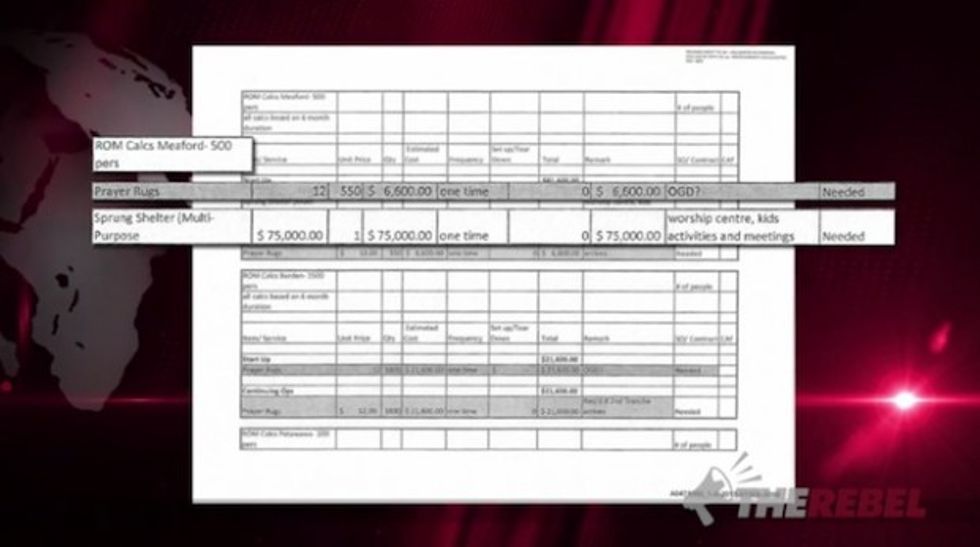 Image source: TheRebel.me
The report emerged on the day that Prime Minister Justin Trudeau announced that Canada would withdraw its planes from coalition bombing missions against Islamic State group targets in Iraq and Syria.
"The people terrorized by [the Islamic State] every day don't need our vengeance, they need our help," Trudeau told reporters.
Six Canadian jets had participated in the bombing missions. Canada will keep two surveillance planes and refueling aircraft in the region and triple its soldiers training Kurdish troops in Iraq, Reuters reported.
The Canadian Broadcasting Corporation reported in November that soldiers at the military base in Valcartier north of Quebec City had been told they should prepare for eviction to make space for Syrian refugees.
The CBC reported that the base had issued a call for tenders to winterize 10 buildings including heating installation, floor and ceiling insulation and new exterior walls.
Beyond its report on the government plans to place migrants on military bases, The Rebel website appealed to readers to sign a petition calling on the Trudeau government to "hit the pause button" on the plan to bring in new refugees given the migrant challenge currently overwhelming Europe.
The petition is calling on Trudeau to "pause this plan until the safety of Canadians is assured" following revelations that terrorists have entered Europe under the guise of seeking asylum.
Canada aims to settle 25,000 refugees by the end of this month, with about two-thirds expected to be government-funded, according to the Canadian Press.
See the full story at The Rebel, including images of the documents it obtained.