German car manufacturing companies Volkswagen and Daimler are recalling roughly 1.5 million cars due to mounting concerns regarding defective Takata airbags, according to statements issued Wednesday.
This recall marks the latest trouble that the Japan-based Takata Corporation has faced since some of its inflators were found to be defective and some airbags exploded when activated, spouting shards of metal that haves caused both injuries and deaths, according to CNN Money. At least 10 deaths worldwide have been linked to Takata's airbags. Nine of these deaths occurred in the U.S., and the Takata catastrophe has marked one of the world's largest recalls, affecting automakers such as Honda, Ford, Nissan and Toyota.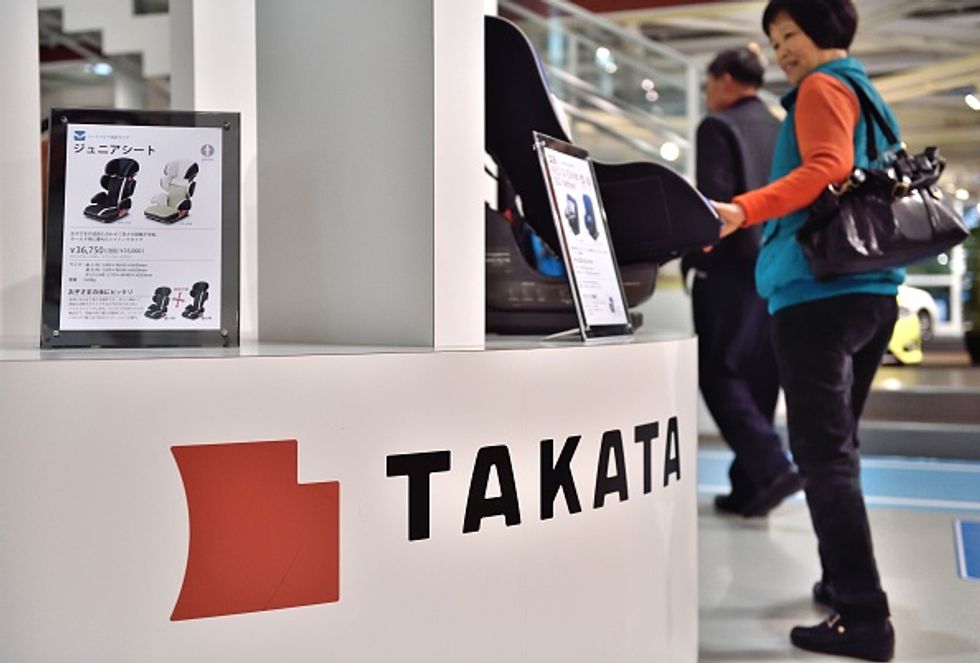 Visitors walk past displays of Japanese auto parts maker Takata Corp at a car showroom in Tokyo. (Kazuhiro Nogi/AFP/Getty Images)
Volkswagen announced that it would be recalling 680,000 of its VW models in the U.S. built between 2006-2014, according to Reuters. It will also be recalling 170,000 Audi models from 2005-2014, USA Today noted. Daimler also announced that 840,000 of its vehicles, including various Mercedes-Benz models from 2005-2014, as well as some Daimler vans from 2007-2014, would be recalled. Daimler estimated that its recall costs could result in a charge of 340 million euros ($382.53 million) for the company.
Takata's airbag malfunctions were first exposed in 2014, and safety concerns have continued to arise due to the uncertainty surrounding just how widespread the defects could be, USA Today reported. As air bag inflators continue to rupture during crashes, Takata has been investigating whether or not the ruptures indicate an issue with the ammonium nitrate propellant in the inflators, although conclusive proof remains to be found. Subsequently, Takata agreed to pay penalties up to $200 million as recalls are accelerated in a deal with the National Highway Traffic Safety Administration.
—
Follow Kathryn Blackhurst (@kablackhurst) on Twitter
—
Front-page image via Shutterstock