Muskegon High School officials cancelled classes Wednesday after at least four people were shot outside the Michigan school Tuesday, authorities said.
Officials believe the incident was prompted by a fight that occurred in Grand Rapids sometime last week, Muskegon Heights interim Police Chief Dr. Joseph Thomas told WXMI-TV.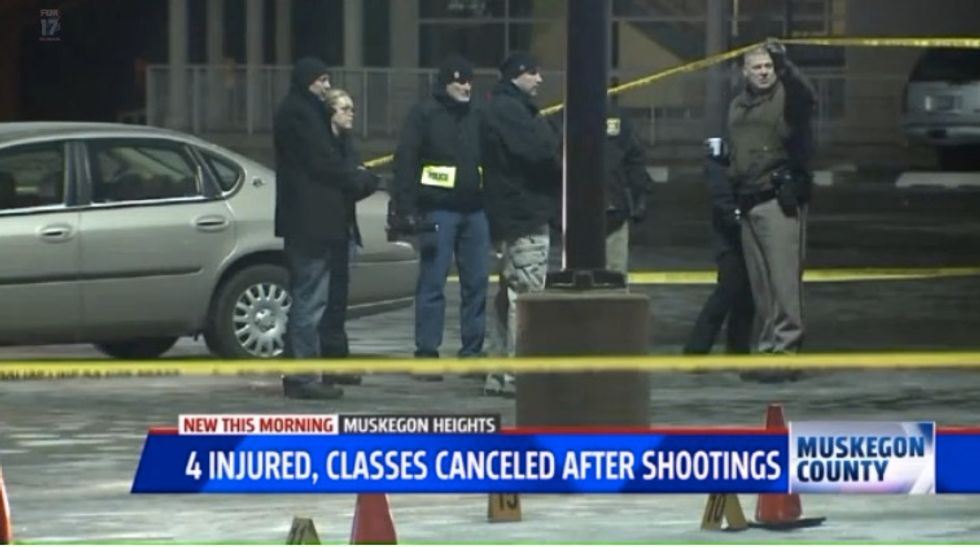 Image source: WXMI-TV
Thomas said the suspects involved may have been trying to "settle the score" at a Muskegon High School basketball game.
Authorities told WXMI that the proper security precautions were in place prior to the basketball game. Michigan State Police and Muskegon County Sheriff's Department officers were present at the time of the incident.
"Between the Muskegon Heights Police Department, the Sheriff's Department and the Michigan State Police, we did everything we could to stop this from happening," Thomas said.
Michigan State Police are investigating two related shootings that occurred near each other Tuesday evening. One of the shootings involved an officer, WXMI reported.
Muskegon County Sheriff Dean Roesler said police know that at least one person was armed and confronted the officer, which prompted the second shooting.
"This could have been a very tragic situation," Roesler said. "We could have had a lot more injuries, we could have had a lot more issues to deal with if we had not responded in the matter we did."
Roesler said the Sheriff's Office will be conducting an internal investigation to review deputies' actions. At this point, he told WXMI, it appears the deputy acted in compliance with state law.
Though the names of the individuals involved have not been released yet, Thomas confirmed that some of the suspects are in custody.
The four victims of Tuesday's shooting are being treated at Mercy Health Muskegon's Hackley hospital, according to MLive.com. The case is still under investigation.