Atheist activists penned a letter to President Barack Obama on Feb. 4, imploring the commander in chief to "do something no American president has ever done: reach out to secular America."
The letter, which was penned by Freedom From Religion Foundation co-presidents Annie Laurie Gaylor and Dan Barker and sent to Obama on the same day that he addressed the National Prayer Breakfast last week, asked Obama to welcome the "nonreligious to the 'American family.'"
"It is laudable for the president to embrace citizens of all colors and religious viewpoints as being part of 'one American family' and to caution citizens not to be 'bystanders to bigotry,'" the letter read. "But there is one U.S. minority that has been consistently excluded from such notice: nonreligious Americans."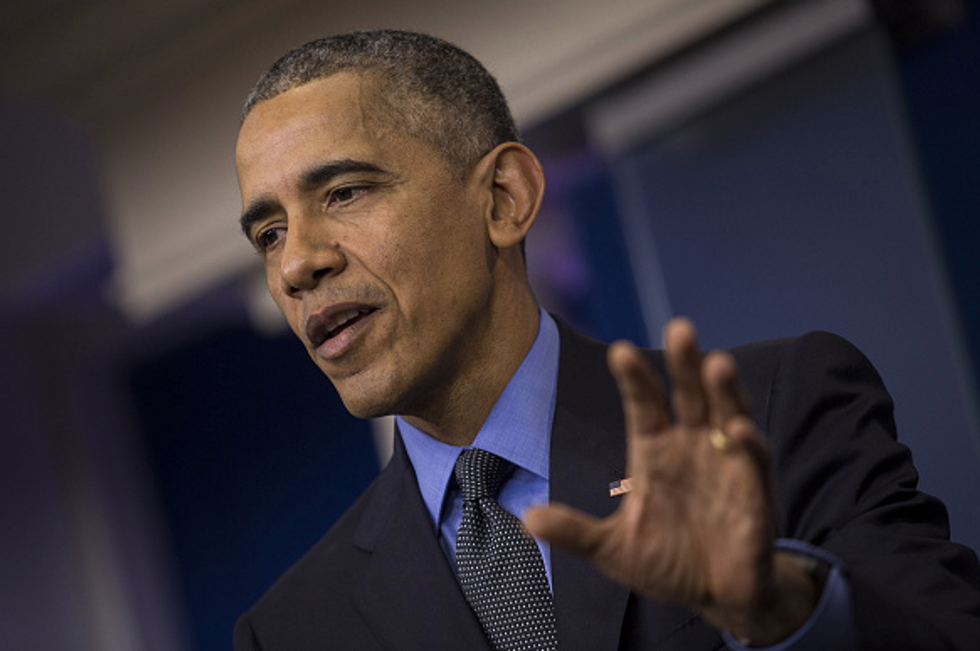 President Barack Obama speaks during a news conference in the Brady Press Briefing Room of the White House in Washington, D.C., U.S., on Friday, Dec. 18, 2015. (Drew Angerer/Bloomberg via Getty Images)
It continued, "We respectfully invite you, in your final year in office, to do something no American president has ever done: reach out to secular America. Such attention from the Office of the President would demonstrate that freethinkers, atheists, agnostics, secular humanists and rationalists are accepted citizens."
Among its other sentiments, Gaylor and Barker asked Obama to "make a historic appearance" at the Reason Rally, an event planned in Washington D.C. on June 4 that will encourage atheists, agnostics and those unaffiliated with a faith to converge for a secular revival of sorts.
The text went on to say that the event offers Obama "an ideal opportunity for the office of the president" to welcome and address those in attendance, claiming that atheists and agnostics fall victim to "unwarranted stereotypes, putdowns and assumptions that we cannot be good people or good citizens."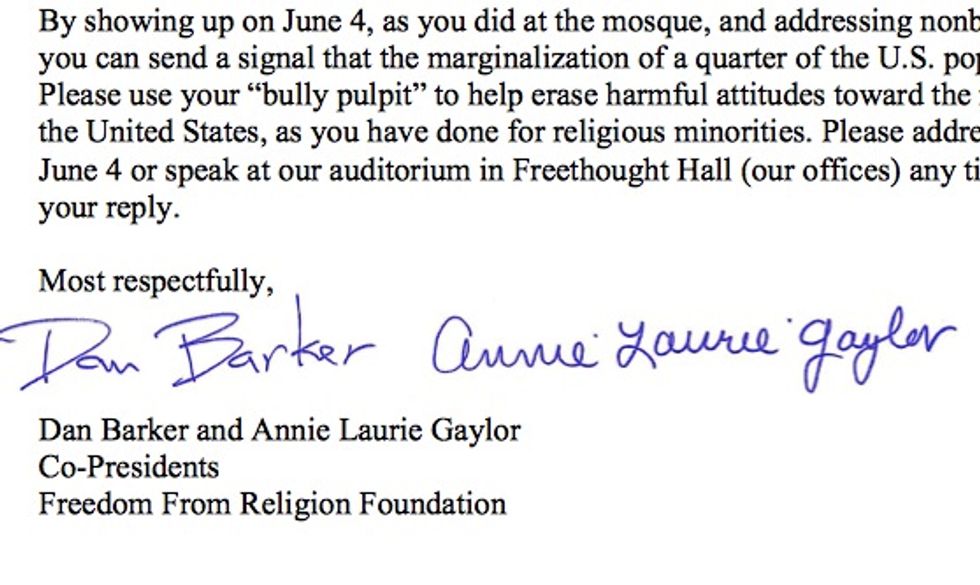 A screen shot from the Freedom From Religion Foundation letter
Gaylor and Barker concluded by citing well-known religious skeptics who they said have made monumental contributions to society. They then renewed their call for Obama to attend the Reason Rally.
"By showing up on June 4, as you did at the mosque, and addressing nonbelieving Americans, you can send a signal that the marginalization of a quarter of the U.S. population is unacceptable," the letter read. "Please use your 'bully pulpit' to help erase harmful attitudes toward the nonreligious minority in the United States, as you have done for religious minorities."
Read the entire letter for yourself here.
As TheBlaze previously reported, the "nones" — or religiously unaffiliated — are not necessarily atheist or agnostic. While the umbrella group most certainly includes non-believers, recent Pew Research Center data shows that 61 percent of "nones" still believe in "God or [a] universal spirit," though that proportion is down from the 70 percent that was observed in 2007.
That data also found that only 3.1 of the nation considers itself atheist, with an additional 4 percent calling themselves agnostic.
--
Follow the author of this story on Twitter and Facebook: