The price of gold hit its highest point in a year, surging by almost 4 percent, amid concerns of a tumbling stock market and lower dollar value, Reuters reported.
Spot gold increased by about 3.6 percent to $1,240 an ounce, the highest level since February 2015. Further, this is on track to be the largest daily increase since Dec. 1, 2014, Reuters reported.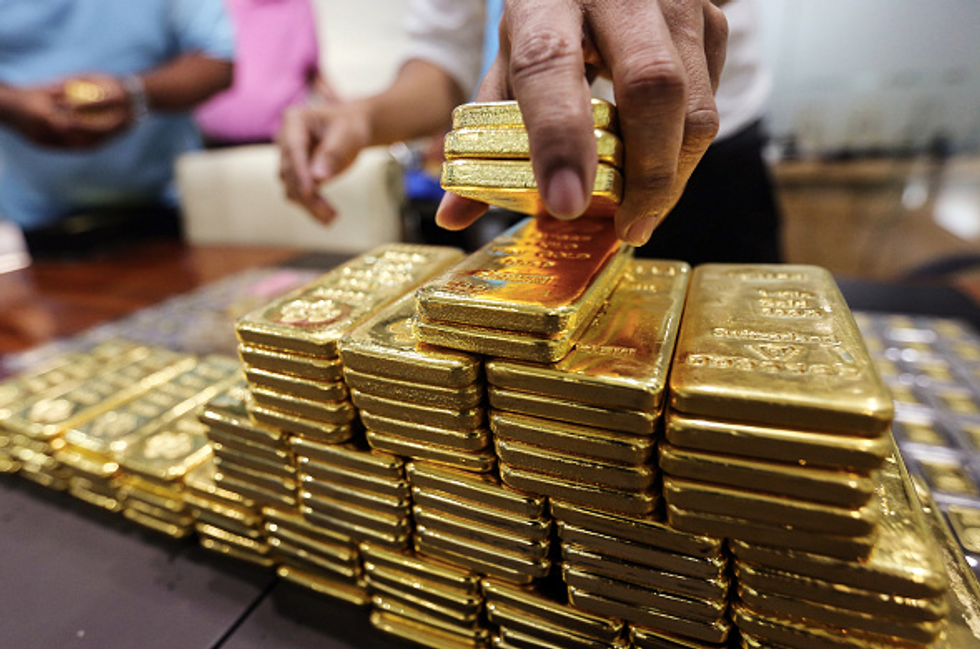 An employee arranges one kilogram gold bars for a photograph at the YLG Bullion International Co. headquarters in Bangkok, Thailand, on Wednesday, Jan. 13, 2016. Thailand's biggest buyer of gold will boost purchases by about 25 percent to 160 tons this year, said chief executive officer Pawan Nawawattanasub. (Dario Pignatelli/Bloomberg via Getty Images)
"We have a good explanation for gold's rally; it is to do with worries about the U.S. economy and the rest of the world," Macquarie analyst Matthew Turner said. "Investors are concerned that central banks' solution (is) negative interest rates or at least not raising rates - and that is gold friendly. The key risk to gold is that the U.S. economy manages to put in a good performance, like it did last year."
Federal Reserve Chairman Janet Yellen's comments hinted at no interest rate increases. But investors worried even a small increase could cause recession.
From Reuters:
Gold-backed exchange-traded funds have recorded net inflows since the start of the year, signaling renewed investor interest.

"Investors are returning to gold as a core diversifier and safe haven investment," James Butterfill, head of research at ETF Securities, said in a note. "Given the increasingly challenging investment and economic environment, we expect this trend to continue."

Silver rose 1.9 percent to $15.60 an ounce, its highest since November 2015.

Spot platinum climbed 1.2 percent to $938.49 while palladium rose 0.1 percent to $522.50.