A new video by the Islamic State has emerged that reportedly shows a child blowing up a car full of men.
According to multiple reports, the child is believed to be four-year-old British boy Isa Dare, sometimes referred to as "Jihadi Junior."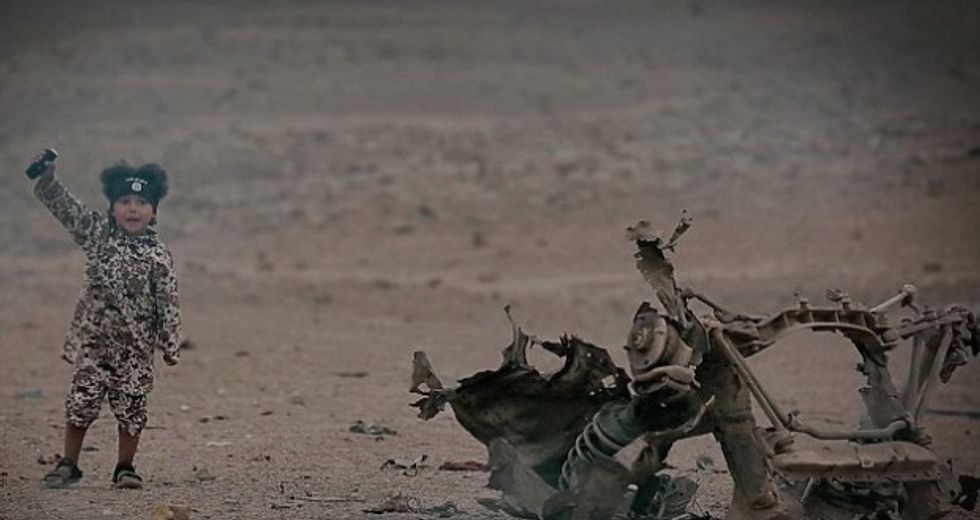 A scene from a new ISIS video that reportedly shows a child blowing up a car full of men. Image source: The Daily Mail
Isa is the child of Grace (later Khadija) Dare who traveled to Syria after marrying a member of the terrorist group. The husband was later killed.
In a message to British Prime Minister David Cameron, a masked man says, "You will never fight us except behind fortified fortresses or behind walls."
"You've only done two things. Firstly, when you sent your spies to Syria and when you authorized for your men, thousands of miles away, to push a button to kill our brothers who lived in the West. So today, we're going to kill your spies the same way they helped you kill our brothers. So prepare your army and gather your nations as we too are preparing our army."
In scenes from the video published by The Daily Mail, the unarmed men in the car appear to be confessing to spying on ISIS prior to the child detonating a bomb. After the bomb goes off, the child shouts "Allahu Akhbar."
The child also appeared in another ISIS video released in January.
The authenticity of the video has yet to be confirmed.
"They are pure evil for doing this to that little child - pure evil," the child's grandfather, Henry "Sunday" Dare, told the Mirror. "I burst into tears when I saw it was him."
"I am devastated they have used my grandson like that - they are using him as a pawn," he added.