It's been said that love hurts, and there are times when all the chocolate in the world can't mend a broken heart.
But a little aggression might.
This Valentine's Day, a Houston gun range is offering a special promotion: Forget your ex by shooting at teddy bears.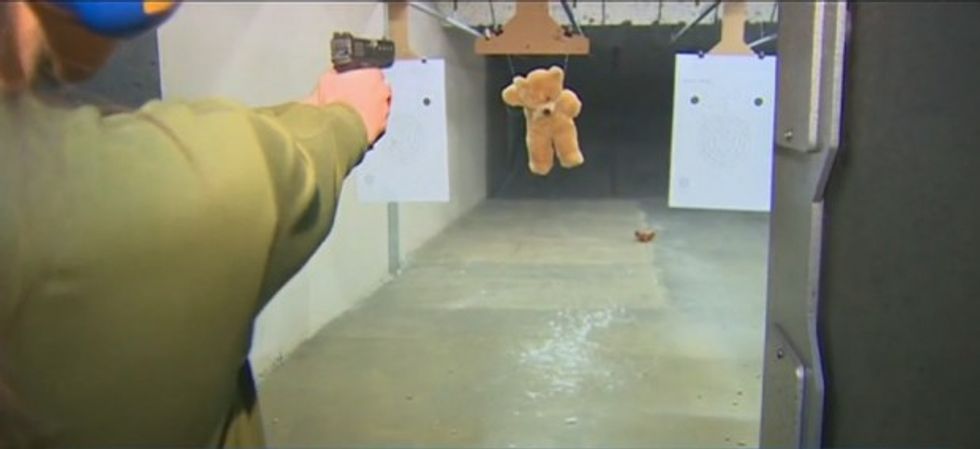 Image source: KHOU-TV
For some, it's the best cure for heartbreak. What else are you going to do with that cheap drugstore present your ex bought for you (and probably several others) last-minute?
Boyert Shooting Range's annual promotion allows distraught lovers to shoot their own bears from or choose a new bear to blast. Only in Texas.
While at least one respondent told KHOU-TV that that promotion is "fun," not everyone feels the same.
"It's kind of a little creepy," Carolyn Grant said. Grant told KHOU-TV that supports the Boyert's strange tradition for a different reason.
I heard it was a fundraiser. If you buy a teddy bear, it raises funds for police dogs and, like it or not, I'm going to shoot a teddy bear," she said.
Others find it strangely therapeutic.
"I'm a single guy and it gives me a chance to let loose a little bit," Johnny Nguyen told KHOU-TV.
See for yourself:
---
(H/T: KHOU-TV)