During remarks at the Faith and Family Forum in South Carolina on Friday, Republican presidential candidate Ted Cruz argued that his rival Marco Rubio didn't want to use Congressional "constitutional authority to defund Planned Parenthood" — a claim the Rubio campaign contests.
"That's a mistake. So he and I disagree on that," Cruz said. "We could have defunded Planned Parenthood in the wake of those videos but too many Republicans in Washington, especially leadership, were afraid to stand and fight."
The Rubio campaign shot back, calling Cruz's attack "false."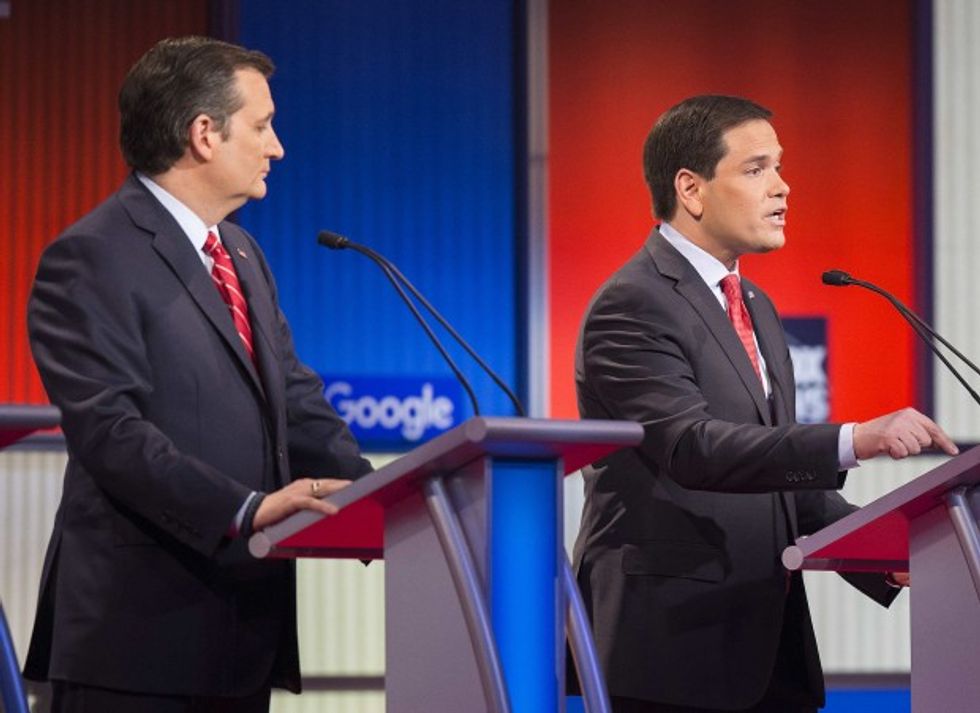 Republican Presidential candidate Texas Senator Ted Cruz (L) looks on as Florida Senator Marco Rubio speaks during the Republican Presidential debate sponsored by Fox News at the Iowa Events Center in Des Moines, Iowa on January 28, 2016. / AFP / AFP PHOTO / Jim WATSON (Photo credit should read JIM WATSON/AFP/Getty Images)
"Senator Cruz and his team will say or do anything to win an election," Jahan Wilcox, a spokesman for Rubio, told TheBlaze. "Marco Rubio has always voted with Tim Scott and Joni Ernst to defund Planned Parenthood and anything to the contrary is false."
Following the release of undercover videos by the Center for Medical Progress alleging that Planned Parenthood is trafficking aborted fetal body parts, Rubio voted for a spending bill that would have defunded Planned Parenthood had it been signed into law by the president, as did Cruz.
In August of last year, both senators also supported legislation that would have defunded the nation's largest abortion provider.
Rubio has repeatedly called for Planned Parenthood to lose its taxpayer funding, even as he faces attacks from rival former Florida Gov. Jeb Bush and New Jersey Gov. Chris Christie, who has since dropped out of the race, who claim he is too pro-life.
"I just believe deeply that all human life is worthy of protection of our laws," Rubio said during the last Republican debate. "I would rather lose an election than be wrong on the issue of life."
Planned Parenthood frequently condemns Rubio's position on abortion and their organization.
.@MarcoRubio said he would oppose #abortion even if 100% of his constituents were for it. #ThingsNOTtoSay #GOPDebate #NotMyCandidate

— Planned Parenthood Action (@Planned Parenthood Action) 1447209616.0
.@marcorubio says defunding PP is a "human rights issue." So do the women who'd lose access to care! #NotMyCandidate http://t.co/Xwhjjsu8yQ

— Planned Parenthood Action (@Planned Parenthood Action) 1443039611.0
TheBlaze's Kaitlyn Schallhorn contributed to this report.
—