Florida Sen. Marco Rubio addressed his position on abortion during the Republican presidential debate Saturday night after rivals' recent attacks that he's too pro-life.
Rubio and Texas Sen. Ted Cruz have recently come under fire from fellow candidates New Jersey Gov. Chris Christie and former Florida Gov. Jeb Bush, who characterize Rubio and Cruz's abortion positions as too hardline for the general election.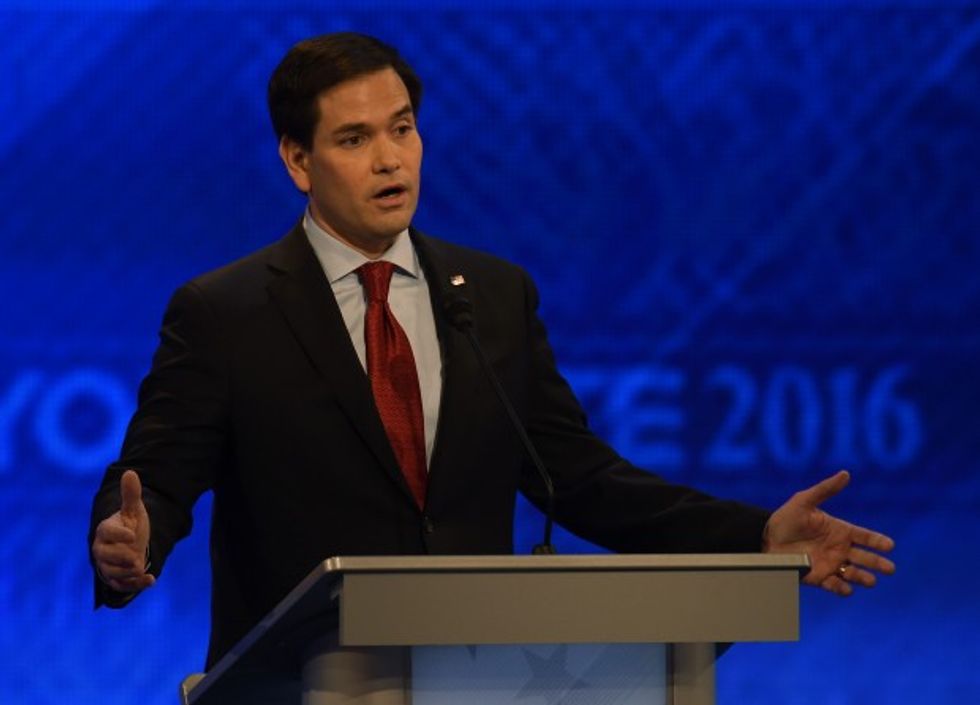 Republican presidential candidate Marco Rubio speaks during the Republican Presidential Candidates Debate February 6, 2016 at St. Anselm's College Institute of Politics in Manchester, New Hampshire. Seven Republicans campaigning to be US president are in a fight for survival in their last debate Saturday before the New Hampshire primary, battling to win over a significant number of undecided voters. (Photo: JEWEL SAMAD/AFP/Getty Images)
"To me, the issue of life is not a political issue," Rubio said. "It's a human rights issue, and it's a difficult issue, because it puts in conflict two competing rights. On the one hand is the right of a woman to choose what to do with her body — which is a real right — and on the other hand is the right of an unborn human child to live. And they're in conflict. And as a policy maker, I must choose which one of these two sides takes precedence. And I have chosen to err on the side of life."
Rubio said that Democrats, particularly former Secretary of State Hillary Clinton, are the real extremists on the issue of abortion.
"Here's what I find outrageous," Rubio said. "There have been five Democratic debates. The media has not asked them a single question on abortion — and on abortion, the Democrats are extremists. Why doesn't the media ask Hillary Clinton why she believes that all abortion should be legal, even on the due date of that unborn child? Why don't they ask Hillary Clinton why she believes that partial- birth abortion — which is a gruesome procedure that has been outlawed in this country — [is] a fundamental right? They are the extremists when it comes to the issue of abortion, and I can't wait to expose them in a general election."
When Bush was asked to respond, he said, "Look, I'm pro-life" and cited his record as Florida's governor, noted that he approved "a choose life license plate" and sent state funds to crisis pregnancy centers.
"But I believe there should be exceptions: rape, incest and when the life of the mother is in danger," Bush continued. "And so, that belief, and my consistency on this, makes me, I think, poised to be in the right place, the sweet spot for a Republican nominee. And others may have a different view, and I respect it. But I think we have to be cognizant of the fact there's a lot of people that are concerned about having a pro-life position without any exceptions."
Rubio interjected that "I do support protection for the life of the mother because I'm pro-life."
"I just believe deeply that all human life is worthy of protection of our laws," Rubio said, adding, "I would rather lose an election than be wrong on the issue of life."
Christie was asked if his "line of attack" may be "harmful to the pro-life cause."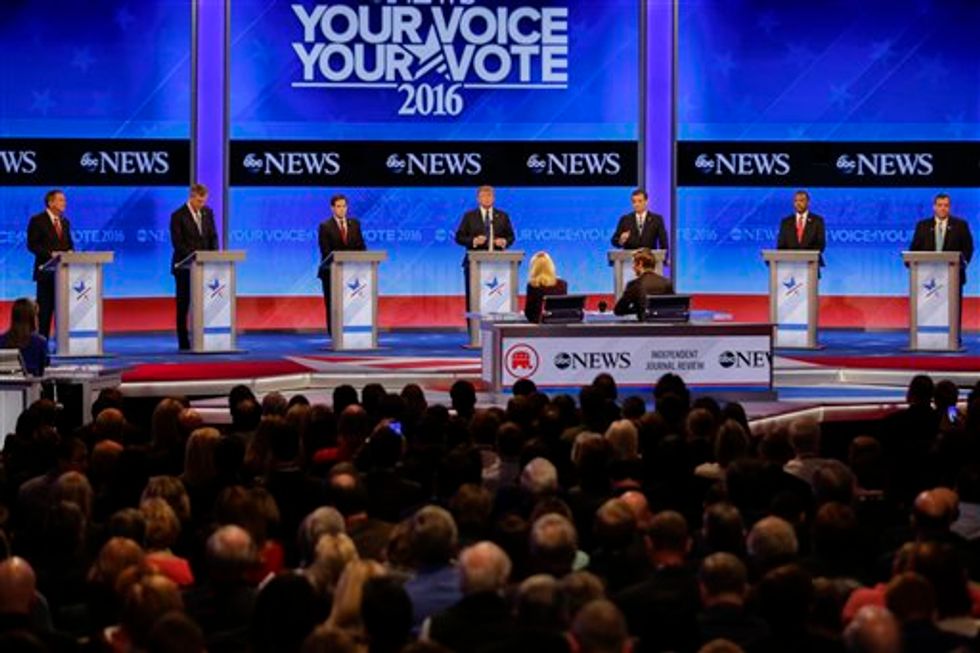 Republican presidential candidates, Ohio Gov. John Kasich, former Florida Gov. Jeb Bush, Sen. Marco Rubio, R-Fla., businessman Donald Trump, Sen. Ted Cruz, R-Texas, retired neurosurgeon Ben Carson and New Jersey Gov. Chris Christie (L-R) line up on the stage at the beginning of a Republican presidential primary debate hosted by ABC News at the St. Anselm College Saturday, Feb. 6, 2016, in Manchester, N.H. (AP Photo/David Goldman)
"Well, I've been pretty helpful to the pro-life cause in one of the most pro-choice states in the union," Christie replied. "I've stood up for the first time and now for the last six years we've defunded Planned Parenthood — not talked about it like they do in Washington, D.C."
"The fact is that I believe that if a woman has been raped, that is a birth and a pregnancy that she should be able to terminate," Christie added. "If she is the victim of incest — this is not a woman's choice. This is a woman being violated.
"And the fact is that we have always believed, as has Ronald Reagan, that we have self-defense for women who have been raped and impregnated because of it, or the subject of incest and been impregnated for it," Christie continued. "That woman should not have to deliver that child if they believe that violation is now an act of self-defense by terminating that pregnancy."
During remarks to reporters in the spin room after the debate, Bush surrogate Sen. Lindsey Graham (S.C.) defended Bush's attack on Rubio, saying that Bush "articulated his position well."
This story has been updated.
—
Follow Kate Scanlon (@kgscanlon) on Twitter