President Barack Obama is designating 1.8 million acres of public land in California to be part of three national monuments, the White House announced Friday, which will almost double the amount of land he designated as national monuments since taking office.
A White House statement says the move provides "plants and animals with the space and elevation range that they will need in order to adapt to the impacts of climate change."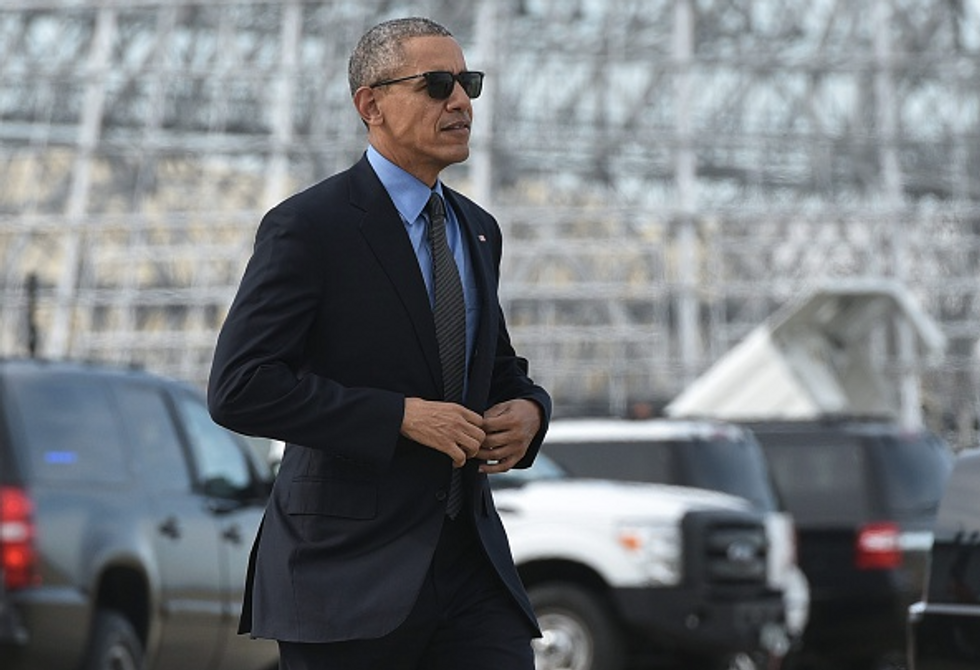 President Barack Obama makes his way to board Air Force One upon departure from Moffett Federal Airfield in Mountain View, California on February 11, 2016. ( MANDEL NGAN/AFP/Getty Images)
The White House made the announcement after Obama was in California, known for its big donors promoting environmentalism, for a one-day fundraising swing for the Democratic party.
The new designation prompted Air Force One to take a different route on Friday.
"Today's designation will nearly double the number of acres of public lands previously protected as national monuments by President Obama," White House spokesman Eric Schultz told reporters aboard Air Force One. "We are minutes away from flying over some of these designated lands. We are deviating from our normal direct route so you can get a glimpse of it. We're deviating for the president and you all. This is a view that will feature Joshua Tree National Park and Pacific Crest National Scenic Trail."
A statement from the White House says, "the monuments will support climate resiliency in the region and further advance the president's unprecedented work to address climate change."
The largest of the monuments is 1.6 million acres for the Mojave Trails National Monument. This includes ancient Native American trading routes and World War II-era training camps. Another designation is 154,000 acres for the Sand to Snow National Monument home to the region's tallest alpine mountain. The third is a 20,920-acre Castle Mountains National Monument, that will connect two mountain ranges, protecting water resources, plants, and wildlife such as golden eagles, bighorn sheep, mountain lions and bobcats, according to the White House.
The new monuments will be linked to 15 congressionally-designated Wilderness areas.
This post was updated to included comments from White House spokesman Eric Schultz.